One of the more unusual concerts this month is "Samantha Chang and Friends" on April 16. Flutist, Samantha Chang, the enterprising woman behind the event, is a fine example of "musician-as-entrepreneur," which is, in my opinion, what you have to be if you want to be a musician. Chang has a head start on many. "I see myself as someone who truly wants to take something I love and make it into a career," she says. "I first started out as a commerce student at U of T, which gave me a lot of insights into the business world. I also worked in the financial district for nearly ten years, and you learn a lot by interacting with the bankers!"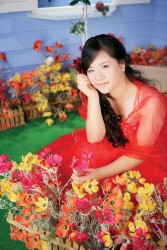 Most musicians, when they do a solo concert select a venue like the Heliconian Hall or Gallery 345, venues with a capacity of about 85. You don't need a large audience to fill the house and you can focus on the music without worrying (much) about filling the hall. The venue for Chang's concert? Koerner Hall, with a capacity of just over 1,100. "If you have a dream," she says, "you have to dream big!" What's more, in a typical solo recital there are at most only a few other musicians – a collaborative pianist, of course, and occasionally a small ensemble. In Chang's upcoming concert there are 16 other musicians – flutists, pianists, cellists, bass players, a violinist, a singer, an oboist, a harpist and even a drummer!
Having put on a few concerts myself, I had to ask how she has balanced the artistic and the management components. "I admit," she says, "I am … sleep deprived … [but] I wouldn't do any of this if I didn't enjoy it. As a musician, I often feel like I am always at work: my ears are constantly listening, and my brain is churning."
So obviously this is no ordinary flute recital. It is a veritable Babette's Feast of a concert: "I like to be entertained at a concert, and I hope to do the same for the audience when I am on stage by presenting … diverse programs and performers." With a view to avoiding giving the audience an overdose of flute, she is including two works for violin that will be played by Conrad Chow, the Debussy violin sonata and the Canadian premiere of Gold Rush Songs by Bruce Broughton. (I mentioned Broughton's name in last month's column in connection with the Scarborough Philharmonic's April 2 concert at which his Triptych for Violin and Chamber Orchestra will be premiered by the same Conrad Chow).
Another original on the program will be a Rumba by Chick Corea arranged for flute quartet by Dimitriy Varelas, an Uzbekistani flutist and former arranger for the Helsinki Wind Quintet, who now lives in Toronto and will be among the performers.
There is more to Chang than business smarts and good programming instincts. She took her first flute lessons at the age of 13 from Mizi Tan, the flute teacher at the Shanghai Conservatory, and played all through high school. In her third year of commerce studies at university, she realized that this what she really wanted to do with her life. She began to take lessons again, holding down a number of part-time jobs to pay for them. After graduating, having responded well to master classes with English flutists, Peter Lloyd and William Bennett, she auditioned for a number of English music schools and was accepted by them all. (Some of you may remember a concert she gave, with an orchestra, at the George Weston Recital Hall a few years back. A video of that concert was her audition!)
She chose to go to London's Royal Academy, where she studied with Kate Hill. There, having been told that she would need to study for two years in order to graduate, she completed all her written assignments by the end of October and after one year received her diploma! "However, I go back every summer," she told me. "I'm considering going back for another degree."
Her artistic vision? "A great musician/flutist is someone who can touch the audience's soul. I love listening to Rampal shape a phrase so effortlessly, same with Moyse, he breathes music! WIBB (William Bennett) has so much enthusiasm for music making that it shows in every performance."
"And what personal qualities does one need to become a great musician?" I asked. "Persistence is key! Patience is a given! Also, learn to listen to other people, learn from their qualities … For me, the flute is the closest thing to singing. You can honestly breathe and speak through your flute."
It's been said that each generation must re-invent the musical tradition. I would take that a step further and say that each musician needs to re-invest in the musical tradition, absorb it as thoroughly as possible and mould it anew, into something that reflects the spirit of one's time and one's own awakening musical soul, infused with life through the assimilation of an artistic tradition. April 16, at Koerner Hall, let's see how Chang is doing on her chosen path.
Brahms, Brahms and Brahms
THE MUSIC OF JOHANNES BRAHMS is prominent in the listings this month. For example, three of Brahms' four symphonies will be performed in April, beginning with the Guelph Symphony Orchestra's performance on April 3 of his fourth symphony. On April 9, the Oakville Symphony Orchestra will perform the third symphony. At the very end of the month, on April 29, the Ontario Philharmonic Orchestra will perform the first symphony in Oshawa and also the next day at Koerner Hall, the last concert in this season's Mooredale Concerts series. The programs for these two concerts consist entirely of music by Brahms, and in both, the incomparable Anton Kuerti will perform Brahms' Piano Concerto No.1 in D Minor.
There's an abundance of Brahms' chamber music too. The Academy Concert Series' concert on April 16 is an all-Brahms program performed in the style of the time. According to Academy artistic director Nicolai Tarasov, the program will "display the depth and the power of Brahms' musical intellect, the wisdom, lyricism, warmth and charm of his melodies, and the manifold beauties and moving, passionate passages contained within [his] music." Tarasov also let me know that this is, in fact, his last concert as artistic director of the Academy Series, a post that will be filled by cellist Kerry McGonigle.
One of the works on the Academy Series' April 16 program is the Clarinet Sonata Op.120, which, coincidentally, will also be performed this month, on April 10, by Katarzyna Marczak, as part of Trio sTREga's concert at Gallery 345. And there will be yet another Brahms-centred program on April 16 presented by The Chamber Music Society of Mississauga. The focus of their program, however, will be the friendship between Brahms and Clara Schumann, and will include music by both. There will also be two opportunities to hear Brahms' Hungarian Dance No.5 on April 2, performed by the Hart House Symphonic Band, and on May 7 by Orchestra Kingston. There will be at least two other opportunities to hear chamber music by Brahms, and several to hear his choral music, including at Tafelmusik's series of concerts between April 7 and 10.
Eye Catchers
THREE OTHER UNUSUAL PROGRAMS in the first half of the month also caught my eye: on April 7 pianist-composer Adam Sherkin, who is from Toronto and has, I believe, recently returned from England's Royal Academy, is giving his Toronto debut at the Jane Mallett Theatre, with a program that combines works by Bach, Beethoven, Claude Vivier and Colin McPhee with three of his own compositions. On April 9 a group of musicians associated with Vermont's famous Marlboro Festival will perform chamber music at Koerner Hall.
Finally, this year is the 39th season of The Associates of the Toronto Symphony Orchestra, which from January to May presents four concerts given by members of the TSO and one by the Toronto Symphony Youth Orchestra. This month's concert, on April 11 is, according to Armin Weber, Director of Marketing for the series, "… one of the biggest concerts the Associates of the Toronto Symphony Orchestra have launched." What makes it one of the biggest is that two ensembles will perform, the first a quartet of traditional Chinese instruments, led by Anna Guo, who plays the yangqin, a Chinese hammer dulcimer. Ms. Guo taught at the Shanghai Conservatory of Music, and from 1985 to 1996, was head of the Shanghai Women's Silk String Quintet. In 1996 she settled in Toronto. The other ensemble on the programme will be a string sextet led by TSO violinist, James Wallenberg. For most of the programme the two groups will perform separately, but for the final work, depicting harmony, the two ensembles will join forces, demonstrating the universality of music and by extension, of humanity. Ah, if only politics could be left to musicians, then we would have concerts instead of wars!
Need I repeat that what I have written about here just scratches the surface of our always abundant listings? So read those listings thoroughly to find what interests you.
Allan Pulker is a flautist and a founder of The WholeNote and serves as Chairman of The WholeNote's board of directors. He can be contacted at classicalbeyond@thewholenote.com.