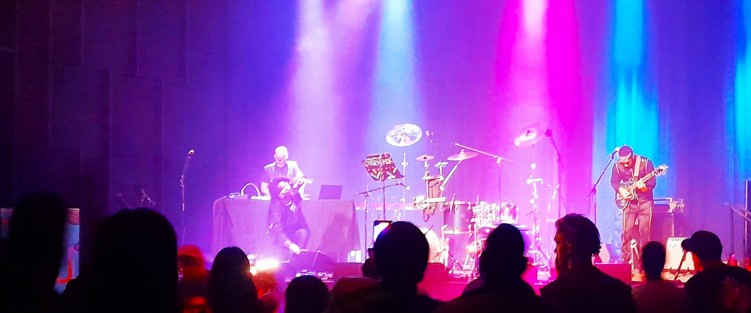 It's no secret: right now, among our various cultural sectors troubling signs can readily be found. Stresses, fissures and cracks, intergenerational change and systemic failures – some chronicled elsewhere in this issue – feel as though they are starting to be as common as the wildfires that scourged the globe this past summer.
Whether this reflects the healthy push-pull of everyday societal dynamics or the ominous rumblings of a cultural tectonic shift, is beyond my ken and the scope of this article. One thing I do know is that Torontonians didn't have to look very far at the tail end of summer to witness a heartening opposing trend.
Resolutely positive in tone and transnational in its musical purview, Global Toronto 2023 (GT23 for short) is Toronto-based Small World Music's annual international conference and showcase for "music with a global outlook." Snappily tagged "Next is Now," this year's fifth edition ran from September 19 to 22, hosting discussions, and performances by 20 jury-selected Canadian musical artists performing at an impressive 11 venues across Toronto.
This year's numbers aren't in yet, but last year's GT22 reportedly welcomed nearly 250 music-sector attendees, including professionals from 16 countries. In addition to performers, most participants were involved in the business of presenting music, at festivals and venues of all kinds. The next is already happening, the GT23 website proclaimed: "if you know where to look and listen. So we continue to turn to our community; to the collective experience and expertise of the wider ecosystem."
Conference themes: One of GT23's strengths is that rather than being almost exclusively a marketplace built around showcasing artists, it is also a significant meeting place for attendees. It features low-key "intentionally intimate social gatherings" encouraging the fostering of personal relationships. Its stated mission is a commitment to "community-based problem-solving around issues of equity, sustainability and accessibility." A case in point: a working session at Humber College examined the theme Conference of Conferences – Fixing Broken Models, scrutinizing the way professional music gatherings like GT can do better.
Another interesting example was a session titled Highway 401 Connection, at It's OK* Studios, exploring the music networking activity centred on the major interprovincial artery between Windsor and Quebec City. (Passing though both Toronto and Montreal, "The 401" encompasses the region where more than half the population of Canada resides.)
The session was presented in partnership with Mundial Montréal, Canada's other annual gathering of music industry professionals from culturally diverse backgrounds. Observing what many of us have known for generations – that despite their geographical proximity, culturally Ontario and Quebec remain for the most part still disjointed – the session explored ways regional artists and industry professionals can develop and grow networks that strengthen cross-regional relationships, with valuable contributions for how to expand that kind of interconnectedness coming from the conference's international delegates with similar geographical connections and disconnects.
Conference delegate responses: The culminating Friday September 22 session, Next is NOW: What happened, what's to come took place at Toronto Metropolitan University, and looked back at what had been learned, heard and experienced during the previous four days of GT23, and to the work ahead, using the interactive Mentimeter app to codify delegate responses. For example delegates were asked to provide a single word to describe their experience, and their fascinating colour-coded responses, when assembled, looked like this:
Responses to the question, "What new perspective … words of wisdom … are you going to implement?" were equally varied, ranging from the idealistic – "protect artists' dreams" and "being united takes us further than competition: if you win, I win," to sound practical advice (government agencies are you listening?) – "make the pie bigger."
Won over by the artistry of the performer showcases, delegates wrote things along the lines of "Bring some of this AMAZING music to my region," and "Improve connections with Canada's multicultural scene," along with personal but no less important expressions like "More smudges," "Diaspora: longing and belonging." "More hugs," and "Dance," also made the list.
Showcase artists: The power of GT23's 20 music showcases in eight concert venues across the city is impossible to overstate in terms of the exceptional range and musical depth of the performers selected by the five-person jury. All were new to Global Toronto, though a few will undoubtedly be familiar to local fans: Okavango African Orchestra, Eliana Cuevas, Moneka Arabic Jazz, Moskitto Bar, and BLISK come to mind.
On the other hand, the most memorable showcase thrill at a conference like this is more often discovering a musician or music unknown to you. You can still visit the GT23 Artists page post-conference for thumbnails on all of them. (The thrill of musical discovery was not restricted to conference attendees either. Wristband passes were on sale to the public, and a good time was had by all.)
Venue power: The conference had a helpful GT23 Plan Your Experience keyed map, providing a window onto the conference landscape – the 11 concert and conference venues spread over the city. From Harbourfront along the lake, to the Aga Khan Museum in deepest Don Mills, to the Assembly Hall and Humber College in southern Etobicoke, the venues chosen conveyed the sense of a vibrant local cultural ecosystem cooperatively supporting music performance. Some of these venues date back to the late 19th century – the City of Toronto-run Assembly Hall was built in 1898, and Longboat Hall in 1889 – while others like TD Music Hall, and independent Black-operated It's OK* Studio, opened just this year. Established institutions like Toronto Metropolitan University, Royal Conservatory of Music, Harbourfront Centre's Toronto International Festival of Authors, Lula Lounge and Drom Taberna rounded out the venue list.
GT23's gift: It's no secret that Toronto's live performing arts community and the venues which support it were hard hit during the pandemic, particularly during the unpredictable, rolling lockdowns, and the sector has been slow to recover. One of the gifts of GT23 to local artists, presenters, fans and visitors alike was how it helped reconnect the dots between these cultural hotspot hubs on the Toronto map.
Working to mentor and celebrate the music scenes growing here, increasing their international viability, and helping build much-needed resilience, GT23's optimistic mandate shone through the cracks – transcending parochial concerns that could have bogged it down, to illuminate possibilities of building a hopefully more equitable international musical ecosystem – with a place for Canadian musicians, many singing songs from other places.
Andrew Timar is a Toronto musician, composer and music journalist. He can be contacted at worldmusic@thewholenote.com.