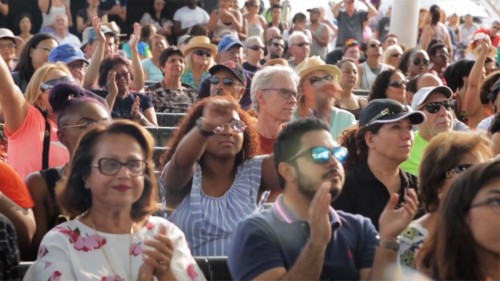 Established in 1997 by Toronto music curator Alan Davis, Small World Music Society has for years maintained its position as one of the city's premier presenters of culturally diverse music. All in, they reckon they have presented and partnered on close to 800 concerts and related events in venues ranging from top-tier concert halls to their own venue, from outdoor festival stages to clubs across Greater Toronto, making SWMS one of the this country's most significant global music presenters, reaching audiences of many kinds.
Full disclosure: I first met Davis when he was a programmer at The Music Gallery, probably back in the late 1980s. Later on he joined Gamelan Toronto, a community music group I started in 1995; in fact, one of Small World Music's first projects, in 1997, was to present the Gamelan Summit Toronto, a ten-day festival of which I was the founder and artistic director. I have also performed as a musician at SWM-produced concerts since. And over the last decade I've followed various aspects of Small World Music Society's programming and evolution here in The WholeNote. One example was when its Small World Centre, a hub for the culturally diverse arts community, opened six years ago; another was my summer 2017 World View column about the 2017 launch of Polyphonic Ground, a multi-organization umbrella group of ten GTA-based music presenters working collaboratively to showcase the voices and sounds of Toronto's global music scene.
So I was all ears when, early this year, SWM announced not only its annual springtime Asian Music Series, but also an ambitious Global Toronto conference. It was all set to go in May as a showcase for select culturally diverse Canadian musicians, plus a place where Canadian and international buyers could meet, greet, hear and book them. Then the COVID-19 crisis suddenly locked (almost) everything down, and both those events were cancelled. End of story it seemed.
But then on the morning of June 24 I received an email release triumphantly announcing, "Small World 2020 - A Vision for the Future and a New Brand Image to match!" It sounded, for all the world, almost like a corporate relaunch! A revived Global Toronto 2020 (pivoted into an online event, scheduled for the end of July) was part of the package. So was a revival of its artist development program, eMERGEnce (in partnership with the National Arts Centre) – in the form of a series of socially distanced livestream broadcasts of some of its eMERGEnce musicians from its rejigged health and safety-compliant Centre (studio) in downtown Toronto.
In the course of only a couple of days, it seemed, this had once again become a story worth attending to, so I followed up (not for the first time over the years) with a phone call to Davis, reaching him at his office. How much of all this, I wondered, is about brand image and how much of it reflects actual pivotal change?
"It's been almost a quarter century since we embarked on this journey," he reflected. "Much has changed in the years since, but the essence remains. We continue to believe that music is a common language that has the power to unite, that it can be a conduit to build community and overcome barriers. And that essence is reflected in our new logo, website and community engagement programs," he replied. "It rearticulates our values and launches us into a third decade of supporting diverse artists and celebrating with the community,"
On the new website, it is worth noting, that Davis is now identified as founding director, alongside executive director Umair Jaffar, who has been serving the organization for about 18 months in that role. Jaffar brings to the table considerable experience working in areas where the arts, heritage, culture, community and business intersect.
Small World is clearly rethinking its core mission. In a recent online statement Jaffar declared, in part, "We are announcing it loud and clear that Small World is not just a concert presenter. We are questioning everything about what a presenter can be, rethinking our role and refocusing our resources to support, inspire and elevate the music sector to truly represent the diversity of our city."
It's perhaps a more activist new vision: "We are challenging norms and creating new ways of working to enable opportunities for underrepresented artists and industry professionals" Jaffar states, "using the power of music to … build a replicable model that keeps equity at its core."
Also of note, the current Small World management team also includes Jonathan Campbell, as head of programs. An author of a 2011 book on Chinese Rock & Roll, before joining Small World, Campbell has worked with many of Toronto's major cultural institutions in communications and programming. At Small World, he is currently tasked with managing the Global Toronto music industry showcase and eMERGEnce.
Of the two initiatives, eMERGEnce is the easier to wrap the mind around. Described as an "artist development program for underrepresented and marginalized newcomer, refugee and emerging artists," it supports "career sustainability and integration into Toronto's music landscape and the Canadian cultural infrastructure." Lofty goals, to be sure, but with an action plan to match them, including career-development workshops, networking opportunities, music incubation, mentorship and performances. Early in the year a cohort of 26 musicians was chosen to participate in the inaugural year's program organized by Small World staff, and with Suba Sankaran, well-known to WholeNote readers – most recently as co-curator of Tafelmusik's Indigo Project, as the program's artist mentor.
I had already tuned into its initial series of spirited concerts on YouTube, one performed by Jafar Zabeh and friends, and another by Baobá. But beyond those, Davis waxes enthusiastic about the longer view for the program: "It formalizes what Small World has done to support artists, building on our strengths, reputation and connections. It is timely and well suited to a 21st-century arts organization in a city that is the centre of Canada's music industry and a constant magnet for newcomers. As a music presenter we understand that we need to invest in the next generation in order to reveal that there is a path for underrepresented and marginalized artists."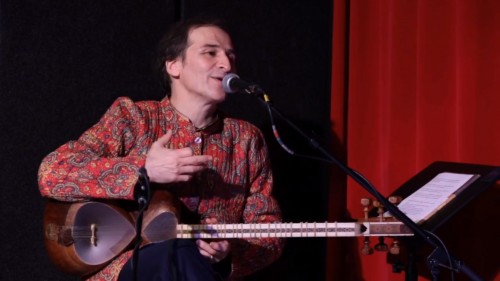 The eMERGEnce program grew out of a successful Small World application to Toronto Arts Council's Newcomer and Refugee Arts program. A powerful moment in a video shot by Small World encapsulates both the inspiration for the program and the struggles faced by people trying to start a career in a new home. "In the video," Davis explains, "Jafar Zabeh, a newcomer Iranian classical musician, shared a poignant story of frustration about the difficulty of trying to play music when the muscles in his hands are cramped from the demands of his restaurant dishwasher job. We hope to have a positive impact on people such as Jafar, assisting him and others like him, to build a viable life and maintain his musical practice."
As mentioned, the program is loaded with tools and experiences that will sustain careers – career workshops, in-depth one-on-one mentoring sessions, talks by Canadian music industry professionals, monthly jam sessions where cohort members explore music together and break down social isolation, and of course performances. The final component is "collateral creation" which guides participants in making a career promotional audio and video to illustrate their electronic press kit.
And so, finally, we come to Global Toronto, the story that attracted my attention in the first place.
Like so many music-related events, Global Toronto 2020 (GT) has announced that it will pivot online with programs starting Monday, July 27 through Friday, July 31.
Calling the online Global Toronto conference "more than just a marketplace," Small World sees it as hitting a positive note during "these unprecedented times" – an aspirational call for "our sector to emerge from this moment transformed and thriving. We believe GT20 can help make this transformation possible."
Conference details are a bit thin at press time – the event is still a month away, but seven programming areas have been announced. As the face-to-face conference was designed to do, these will include panel discussions, professional development webinars and breakout sessions, and artist spotlights where attendees meet the jury-selected GT musicians, with further activities including spotlights on festivals, conferences and other gatherings, regional network meetings, and finally what's dubbed musical discovery: "uncovering the best local music from around the world."
How close they can come to fulfilling these "face to face" goals of the original conference in a virtual environment remains to be seen, but if you're anything like me, itching to be freed from your four-month-long lockdown restrictions, you'll be wishing them well. I particularly feel the need to reconnect with friends and colleagues in music. It's already the tail end of June, and it's still unclear how and when these things will once again be possible in any meaningful way. Travel is certainly out for the foreseeable future, cutting all of us off physically from our national and international connections – so key for global musicians.
Meeting with fellow music professionals from around the world online at Global Toronto may be the next best thing at the moment. And for that I'm grateful.
Andrew Timar is a Toronto musician and music writer. He can be contacted at worldmusic@thewholenote.com.