In previous columns I've explored something I called hybridity in Toronto music -- transculturalism as it manifests itself musically, both in the disciplines of composition, improvisation and performance practice, and in the way audiences respond to music reflecting these hybridized values. This column connects the dots between a few Toronto concerts featuring hybrid sounds.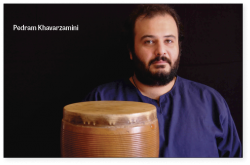 Pedram Khavarzamini is World Music Artist-in-Residence at the U. of T.'s Faculty of Music. Over the last decade or two the GTA has been the beneficiary of a wave of talented, primarily emerging career Iranian musicians. The tombak (principal Iranian goblet drum) virtuoso, teacher and composer, Pedram Khavarzamini, stands prominently among them. Moving to Toronto last year, this accomplished musician and scholar has steadfastly maintained the traditions of tombak technique and repertoire and introduced new audiences to them. He is also known for his innovations in cross-cultural collaboration and musical experimentation. Both the traditional and collaborative sides of Khavarzamini's work were on ample display in his exciting May 16, 2015 Music Gallery concert, "East Meets Further East," which he shared with Montréal tabla soloist Shawn Mativetsky. Their drum duo at the end of the night was a memorable marvel of musical respect and communication. It reminded the audience that transcultural challenges can be met and honoured at the highest level.
A pioneer in another – and more hybrid - arena too, Khavarzamini also composes for Persian-centric percussion ensembles. His main outlet is Varashan, a group he directs and composes for. Its performance was yet another musically satisfying feature of the May 2015 Music Gallery concert I attended.
In addition to his eloquent performances set in international halls with leading Persian and international musicians, Khavarzamini has also taken tombak teaching onto the global stage. Offering conducting workshops and individual instruction to scores of students in Iran, Europe and North America, live and via Skype, he has become a leading instructor on his chosen drum and its indigenous musical idioms.
Khavarzamini's activities as a virtuoso percussionist, composer, teacher and group leader have already attracted the attention of learning centres. His appointment this fall at U of T's Faculty of Music provides proof of this. Searching for insights into this development in his career, I exchanged several emails and Facebook chats with Khavarzamini in the penultimate weekend of October. He confirmed that his Artist-in-Residence duties will, among others, include "leading masterclasses and the newly formed U. of T. Iranian Music Ensemble," activities which will involve several dozen music students.
An excellent opportunity to witness the impressive breadth and depth of Khavarzamini's work can be had at a November 17 free concert at University of Toronto's Walter Hall, where he will lead the Iranian Music Ensemble and members of Varashan. The Persian instrumentation will include multiple tombaks, the dayereh (medium-sized frame drum with jingles), santoor (hammered dulcimer), kamancheh (bowed lute), tar (plucked lute) and perhaps a vocalist. Then on December 3 the Iranian Music Ensemble directed by Khavarzamini takes part in a World Music Ensembles concert at Walter Hall alongside the Klezmer Ensemble and the Japanese Taiko Ensemble. These biannual public concerts, along with their York University counterparts, have for decades subtly influenced the general Toronto reception of non-mainstream European- and American-centred musics, perhaps even laying the groundwork for the kind of hybrid creations increasingly appearing in a whole range of venues.
David Virelles: Gnosis featuring Román Díaz at the Music Gallery. David Dacks, the Music Gallery's artistic director, has certainly not shied away from engaging in musical hybridity, as he made clear in an X Avant festival story in The WholeNote last year.
However he remains very aware of the inherent complications of mixing and matching musical genres, especially the ever-prickly notion of authenticity. "If one is attempting to join culture A to culture B in a coherent musical statement, one must be really attuned to power relationships, comparative structures/forms/tuning/language, your own personal experience and other points of connection or difference between musical ingredients one is working with." He gives a down-home example: "randomly sampled African chants over breakbeats just won't fly anymore."
Fortunately we're mostly in good hands, Dacks adds. "In crazy, diverse Toronto, many musicians are cognizant of these factors, not just academically, but internally. The resulting hybrid musical creations are way more than pastiches, they are declarations of one's transcultural (going back to last year's term) life experiences."
For Dacks the November 27 and 28 concerts, "David Virelles: Gnosis featuring Román Díaz," at the Music Gallery, co-presented by the Music Gallery, Arraymusic and Lula Music & Arts, are a case in point. For those unfamiliar with Virelles' music, the billing "futuristic Afro-Cuban chamber music" gives a taste of what one might expect.
Immigrating to Canada from Cuba at 18, pianist and composer Virelles began his musical studies at Toronto's Humber College and continued them at the University of Toronto. He came under the mentorship of saxophonist Jane Bunnett, long celebrated for her support of both Cuban music and musicians. Virelles has since developed into a cutting-edge jazz innovator. Achieving career success along the way, last year he released his first ECM recording Mboko, in the words of Dacks, "taking Cuban music places it's never been."
The 32-year-old Virelles is "capable of tropically intense polyrhythms and irregular but internally logical phrasing, which befits an artist who came to jazz through Thelonious Monk, Andrew Hill, and Bud Powell." About five years ago Virelles moved to New York to further his career and has since worked with jazz leaders like Henry Threadgill, Andrew Cyrille and many more. Earlier this year he scooped the Downbeat Rising Star – Piano award.
The Music Gallery partnership with both Arraymusic and Lula Music & Arts in presenting Gnosis is part of the story. As Dacks explains: "Gnosis, is a big project (hence a rare two-night stand at The Music Gallery). It's a chamber piece, requiring some 12 musicians. Rick Sacks … [has committed members] of the Array Ensemble to the group, plus most of the rehearsals will be at their Arrayspace. It's turned into a big part of their season too." As for Lula Music & Arts, they're "a natural promotion partner in this project. Virelles played there frequently [when he was a Toronto resident] and it's the nerve centre for so much Latin music in Toronto."
Another significant element in the work is the inclusion of Abakuá drums by Cuban master drummer Román Díaz with four other Cuban drummers. Hermetic and little known even within Cuba, Abakuá is an Afro-Cuban men's initiatory fraternity, a secret society, with roots extending back to Nigeria and Cameroon. Despite its secret nature, the percussion and vocal dance music of the Abakuá, as well as other music of West African origin, have been found by researchers to have collectively infused and influenced virtually all genres of Cuban vernacular music, including rumba and son.
Dacks notes that Díaz "has been playing with Virelles for quite a while now" drawing on Cuba's deep African musical heritage as an essential element of the performance. Rather than using Abakuá songs and drumming as a superficial pinch of ethnic spice in a jazz score, they have instead chosen to perform it as it occurs in Afro-Cuban ritual practice (echoing Dacks' earlier comments about authenticity). "Abakuá drums have never been in a concert hall setting, so this is absolutely a new form of music that Virelles is exploring."
For Dacks, it's not "just a 'local guy makes good' show, it's bigger than that. Virelles is already the most experimental pianist of Cuban origin I've ever heard, and he has become a major creative force. As such, this is a unique opportunity for the Music Gallery and our partners to help him take the next, ambitious step."
Quick Picks
Continuing with this month's theme of musical hybridity, the Aga Khan Museum presents two concerts which can easily be included in that portfolio.
November 28 the Kinan Azmeh City Band mounts the AKM's auditorium stage with a concert blending jazz, Western classical and Syrian music. Kinan Azmeh, clarinet, Kyle Sanna, guitar, John Hadfield, percussion, and Petros Klampanis, double bass, perform works from their album Elastic City.
December 5 the spotlight shifts to the Indo-Afghan music of the veteran singer Ustad Eltaf Hussain Sarahang. Starting his career as a young court musician – appointed as Royal Musician to the Court of King Zahir Shah of Afghanistan (reigned 1933–73) – Sarahang has enjoyed a career spanning decades as a leading exponent of the hybrid traditions of Indo-Afghan music.
Andrew Timar is a Toronto musician and music writer. He can be contacted at worldmusic@thewholenote.com.