This year's summer weather has drifted gracefully on right to the end of September. While some 2,500 years ago the Greek physicist-philosopher Parmenides argued that "nature abhors a vacuum," it also surely needs a rest. Or is September slowly becoming another August in our corner of the concert world?
Whether or not it's because the seasons themselves are shifting and smearing established concert-going cycles, the warm September we have just experienced was oddly reminiscent of the rest of the summer music break. Several series of concerts with a world music component, and a hint of summer to them, are commencing in late September or even October. These include the Small World Music Festival, Music Gallery's X Avant Festival, and concerts at Massey Hall, the Aga Khan Museum and the always well-attended noon-hour shows at the COC's Richard Bradshaw Amphitheatre. And Kingston, Ontario's new jewel of a venue, the Isabel Bader Centre for the Performing Arts, launches the premiere concert of its Global Salon Series this month. Welcome aboard!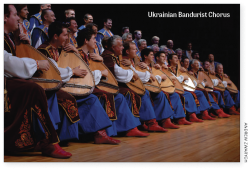 Ukrainian Bandurist Chorus: Before I touch on a few of those concerts however, and departing from my usual chronological presentation, I would like to explore the fascinating story of the Ukrainian Bandurist Chorus. On October 24 it is presenting "Celebrating the Bandura: Past, Present and Future" at Massey Hall with Ruslana, its Ukrainian guest star. The UBC is an American-Canadian group with a history spanning two continents, but it also has a strong local membership.
Ukrainian Canadians are a significant presence in this country. They are the ninth-largest ethnic group, representing the world's third-largest Ukrainian population after that of Ukraine and Russia. Following the collapse of the Soviet Union, Ukraine became an independent state in 1991. Canada swiftly recognized it, the first country to do so. Strong bilateral ties, as many readers will know, have characterized the relationship ever since. Fewer, however, may realize that the first of these cultural links was forged generations ago.
The Detroit-based Ukrainian Bandurist Chorus' website states that the "first professional bandurist chorus was formed in Kyiv in 1918 during the height of the country's brief period of independence." It was during the subsequent 1920s, a transformative period of Ukrainian national awakening, that language, culture, and specifically the UBC, "developed into a professional touring troupe," among the most prominent of its kind.
By the next decade, however, the UBC narrative quickly turns very dark. Under Soviet leader "Joseph Stalin's rule, artists and intellectuals were arrested, exiled or executed in an attempt to eradicate every remnant of Ukrainian culture," states the website. "Many conductors, chorus members and blind bandurist-minstrels were accused of enticing the populace to nationalism and were executed ... their songs banned throughout the Soviet Union."
But perhaps I've gotten ahead of myself here. What is a bandura, and how does its Ukrainian history tie into the group that will perform in October at Massey Hall? Ray (Roman) Beley and Orest Sklierenko, both veteran Toronto members of the UBC, helped me understand a few key notions. We spoke via a conference call on September 14.
The bandura, a kind of large-bellied lute with features of a zither, is a "multi-string plucked instrument, the voice and soul of Ukraine," noted Beley. From all I've heard and read, the bandura is much more than a mere musical instrument; it symbolically embodies Ukrainian national identity, its songs reflecting the turbulent history of the Ukrainian people.
Pre-20th-century folk banduras usually had fewer than two dozen strings in diatonic tunings. Typically handmade by the musicians, no two banduras were exactly the same. The oral tradition bandurist (a.k.a. kobzar) was a troubadour who sang a wide-ranging repertoire of para-liturgical chants (kanty), psalms, social dances and epics (dumy) accompanying himself on the bandura. On the other hand the more recent Kyiv or Kharkiv style bandura, played in ensembles today, is a grander affair. It possesses 65 or more strings, some with levers enabling the bandurist to change keys during the performance. (There's a strong GTA connection here too. I was intrigued to learn that among the leading contemporary bandura designers and makers is the Oshawa native Bill Vetzal.)
Beley picks up the story. "After years of exploitation and persecution under Soviet and Nazi regimes, in 1949 some 17 members of the all-male Ukrainian Bandurist Chorus immigrated to the United States." Many established a home base in Detroit and Cleveland, where they continued to perform the UBC repertoire of four-part songs – tenor I, tenor II, baritone, bass – accompanied by banduras in several ranges.
"In North America, the UBC carried the torch for songs with lyrics that were banned under Soviet rule," continued Sklierenko. "We carried on Ukrainian historical and religious traditions free of the censorship that made it impossible in the homeland at the time." An active member of UBC since 1990 when he was just 13, Sklierenko pointed out that Canadians of Ukrainian descent have played key and very early roles in the group, "perhaps ever since the Chorus' first Toronto performance on October 22, 1949."
The UBC "has performed in Massey Hall several times since the 1950s," added Sklierenko, so the upcoming 97th anniversary concert on October 24 is somewhat of a homecoming – with a special twist. Joining the Chorus on stage will be Ruslana, the 2004 Eurovision Song Contest and World Music Awards winner, an artist who can boast the best selling Ukrainian album ever, the 2003 Dyki Tantsi (Wild Dances). This remarkable singer, songwriter, producer, musical conductor and dancer also served as a deputy in the Ukrainian parliament and is an internationally recognized social activist. In 2013 and 2014 she played a prominent role in the pro-EU Euromaidan movement. Beley, a current bass bandura player with UBC, told me that Ruslana "will perform her pop hits at Massey Hall before joining forces with us in Ukrainian songs in our repertoire."
In previous columns I've written about several other Toronto ensembles with proud Ukrainian roots. The activist community-minded women's Kosa Kolektiv, and the self-proclaimed "Balkan-klezmer-gypsy-party-punk-super-band" Lemon Bucket Orkestra, presently winding up its international tour, come readily to mind. Sklierenko knows them well. "Playing a core role in community building and also on an official international level, the UBC represents the Ukrainian diaspora in Canada and in the U.S.A. In addition we are eager to reach out to both bandurist and non-bandurist groups like Kosa and Lemon Bucket. I see great potential for synergy here."
I asked why the bandurist choruses are all male. Were they consciously modelling themselves on the practices of the earlier, exclusively male, kobzar troubadours? "Interest among Ukrainian women in taking part in the bandurist tradition has been steadily building," noted Sklierenko. "In fact there's an all-women's North American bandurist chorus being formed right now."
As co-chair of the UBC's 2018 centennial anniversary celebrations, Sklierenko laid out the group's ambitious three-part plan to reconnect with the homeland and to ensure the continuation of the bandurist legacy. These include "a Ukrainian tour, a fund to fuel R&D and to pass on the craft of bandura building, and an educational component including workshops." The latter category also includes support for UBC's summer camps in Pennsylvania, since 1979 the central site for passing on bandurist traditions and recruiting new talent. Partly reflecting the success of the camps, today the majority of UBC members are second and third generation Americans and Canadians, all of them volunteering their time to further the mission of the ensemble.
The evidence of the UBC's plans, and of the passion and commitment to pursue them, all points to the bandurist performance legacy, sparked nearly a century ago in Ukraine, surviving well-rooted in the diaspora. The legacy also appears well-positioned to be passed on to future generations of performers in both North Americans as well as in its threatened land of origin.
Small World Music Festival: The 14th annual iteration of Small World's signature fall Music Festival runs until October 4 this year. Its ambition is no less than to "capture the world in a ten-day festival." This year it brings international and Canadian performers representing music from Mali, Korea, Cuba, Ethiopia, Palestine, Spain and Estonia to Toronto stages.
October 1 at Revival Bar, Vieux Farka Touré and his band makes a return Toronto visit presented in association with Batuki Music Society. Touré is best known for his virtuoso guitar style blending African guitar techniques with Western blues and rock, and an easygoing onstage charm. There's a family touring connection to this town. I well recall seeing his Malian father Ali Farka Touré lay down seamless guitar grooves and plangent vocals accompanied by a lone gourd drummer one summer in a small open room at the Harbourfront Centre.
October 2 the emerging Estonian singer and violinist Maarja Nuut appears at the Small World Music Centre. She repurposes old Estonian village songs, dance tunes and stories, often to live looped fiddle accompaniment and solo improv melodies. Nuut's music cumulatively builds with a minimalist texture, one which can support emotional intensity, yet never losing sight of what the composer calls a peaceful, yet "lively relaxed state which … makes you want to prolong being in the moment and concentrate."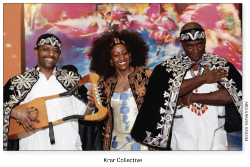 October 4 the Krar Collective will rock Lula Lounge, the trio armed with a krar (six-stringed bowl-shaped Ethiopian lyre), kebero (drums) and impressive vocals. Judging from their videos, they're purveyors of sold grooves, expressive melismatic melodies and a huge sound. Bandleader Temesgen Zeleke uses an octave pedal as well as wah-wah on his electric krar but also plays an acoustic five-string model that is quieter and plucked rather than strummed, to support his eloquent vocals. The Krar Collective is a musically compelling, neo-traditional band taking traditional instruments, songs and genres, combining them into a new mode of delivery for their audiences. NB: for full enjoyment, come ready to dance.
End of an era, and passing it on: On October 1, the York University Department of Music presents "Faculty Concert Series: Rhythms of India" featuring Trichy Sankaran with the Autorickshaw trio at the Tribute Communities Recital Hall. After 44 years of service at York, where he has taught generations of students, me included, Professor Sankaran has recently retired – from teaching at York, not from performing or teaching elsewhere. This concert is his parting gift to the institution he served so long. He will share the stage with the next generation, including his daughter, vocalist Suba Sankaran, co-leader of the JUNO-nominated Indo-jazz-funk fusion ensemble Autorickshaw and her bandmates, bass guitarist Dylan Bell and tabla player Ed Hanley, Sankaran students all. The musicians will perform solo and ensemble works by the master percussionist and composer. I invite all whose life has been touched by this outstanding musician – and there have been many from around the world – to attend this once-in-a-lifetime celebration.
Andrew Timar is a Toronto musician and music writer. He can be contacted at worldmusic@thewholenote.com.