Here be dragons is an English translation of the Latin phrase "hic sunt dracones," a notation gracing a few medieval manuscript maps and reflecting the wider period practice of drawing dragons, sea serpents and other mythological creatures to identify regions of the unknown and fearful, dangerous or unexplored territories. Some researchers suggest the term may be related to the existence of giant lizards called Komodo dragons indigenous to a few small remote Indonesian islands – and which are still a tourist draw, in the region and beyond, as when in 2003 the first Canadian Komodo dragon was hatched at the Toronto Zoo.
Tales of such creatures, morphed by repeated telling into hybrid beasts, were common not only throughout Asia but also much of the world, acquiring complex and conflicting transcultural rap sheets over the centuries. The great majority – although not all – of dragons depicted in European stories and iconography represent chaos and evil (think St. George and his confrontation with his alter beast). In Chinese legend and lore, by contrast, they are generally considered beneficial and represent orderly government, potency, auspiciousness, strength and good luck for those worthy of it. The Emperor of China often used the mythical animal as a symbol of his imperial power; in a more philosophical vein the dragon represents the yang principle complementing the phoenix's yin. In recent decades the term "descendants of the dragon" has become a self-identifying marker of national, ethnic identity among some Chinese, both in the Chinese homelands and throughout the extensive diaspora.
A case in point is the Sound of Dragon Music Festival making its Ontario debut in five Southern Ontario venues from May 20 to 24. Its artistic director, Vancouver-based Lan Tung, explained in a recent phone conversation that the first characters calligraphed in the festival's descriptive Chinese title refer to dragons singing across the ocean. It's a potent poetic metaphor for music deeply rooted in Chinese tradition but expressed with a characteristic Canadian inclusive accent. Tung's instrument the erhu, as well as others such as the pipa, zheng, sheng and ruan will share the spotlight with the violin, viola, cello, bass, flute and clarinet, enlivened with world percussion instruments. Together they perform scores by composers of several nationalities.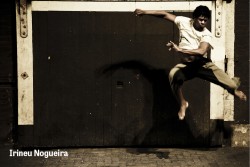 Launched last year in Vancouver, the festival, Tung notes, "brings a unique approach to preserving traditional [Chinese] music, while promoting creativity and innovation." The festival's core contingent is made up of members of the Vancouver Inter-Cultural Orchestra (VICO), along with collaborating musicians from Taiwan and Toronto. VICO, founded in 2001, has been described as "the United Nations of music" (CBC Radio) and "music that sounds like Vancouver looks" (Georgia Straight). It's a significant and I believe particularly Canadian music development — a professional orchestra devoted to the performance of newly created intercultural music. It was one of the first such ensembles in the world and is the only one of its kind in Canada, a testament to the spirit of cultural cooperation many of us like to think exemplifies the best in Canadians.
VICO's core roster consists of 24 musicians, trained in many world music traditions. Its mission is to "act as a forum for the creation of a new musical art form, one in which all of Canada's resident cultures can take part…." It moreover "serves as a voice for Canadian composers and musicians of diverse backgrounds, and fosters the creation of musical works that fuse and transcend cultural traditions." To date VICO has commissioned and performed over 40 new works by Canadian composers.
The Sound of Dragon Festival, Tung explains, aims "to intertwine diverse styles: ancient, folk and classical Chinese repertoire, as well as contemporary Canadian compositions … and creative improvisation." By presenting musicians from different ethnicities, nationalities, and musical genres, it aspires to "re-define Chinese music and reflect Canada's multicultural environment."
Each concert of the festival has a slightly different focus. It kicks off May 20 with a free concert at the Blue Barracks of the Fort York National Historic Site where members of VICO, Taiwan's Little Giant Chinese Chamber Orchestra and the Toronto pipa virtuoso Wen Zhao perform traditional and contemporary music written for Chinese instruments, joined in the second set by guest players from Toronto's creative music scene to collectively explore and improvise with multiple combinations of Chinese, Western and other instruments.
May 21, as part of Small World's "Asian Music Series," the Sound of Dragon Festival takes the Small World Music Centre stage, presenting an intimate evening with musicians from the Little Giant Chinese Chamber Orchestra and VICO, joined by Wen Zhao, pipa soloist. The concert finale features the Toronto premiere of Vancouver composer John Oliver's Eagle Flies to Mountain, a work which animates notions of the four elements (earth, air, water, fire) through musical combinations, and which also invokes the essential complementary duality of the ancient concept of yin and yang.
The following day, May 22, the festival moves north of Steeles Ave. to the Flato Markham Theatre. Free Chinese instrument workshops in the afternoon will be followed by an evening concert featuring a 12-member chamber orchestra conducted by the Taiwanese maestro Chih-Sheng Chen. The orchestra, consisting of VICO core instrumentalists augmented by musicians from Taiwan and Toronto, will perform Lan Tung's 2014 signature work Sound of Dragon, a lively blend of the well-known Chinese piece Crazy Snake Dance infused with North African rhythms and sprinkled with improvised solos.
Saturday May 23, the festival shifts to the Aeolian Hall in London presented in a concert by Sunfest, formally known as the London Committee for Cross-Cultural Arts Inc. Members of VICO and Little Giant Chinese Chamber Orchestra join forces once again to present a program of Chinese folk music arrangements and commissioned Canadian works, including "Indian, klezmer, Persian, Chinese and Taiwanese," and no doubt Euro-North American essential features too.
May 24 the Sound of Dragon Festival completes its Southern Ontario tour with a concert at The Jazz Room, Huether Hotel in Waterloo, produced by Neruda Arts, K-W's world music presenter.
Meden Glas: May 2 Toronto's Meden Glas releases its debut album Balkan Mixologies at the Music Gallery. The group is directed by ethnomusicologist Irene Markoff, a specialist in Balkan and Turkish vocal styles and the bağlama (long-necked lute). Members of its expanded group and Bulgaria's virtuoso kaval (end-blown flute) player Nikola Gaidarov will join the core quintet. Together they present a journey into the vocal styles, intricate rhythms and instrumental music of Croatia, Bulgaria, Macedonia, Greece, Turkey, Sardinia, Russia, as well as that of the Kurds and Roma. They promise an "adventure that will bend your ears and get the evening kicking with your dancing feet!" I'm in.
Footsteps of Babur: May 8 the Aga Khan Museum in conjunction with the Aga Khan Trust for Cultural Music Initiative present "Footsteps of Babur," referring to Babur, the founder of the Mughal Empire, and the legendary lavishness of 16th-century Mughal court life in which music of many kinds and from many regions and performance genres played a prominent role. Musicians Homayun Sakhi (Afghan rubab), Salar Nader (tabla) and Rahul Sharma (Indian santoor) evoke the light refined music that filled the palace rooms of Mughal India and Afghanistan in centuries past. Sharma is the son of the important Northern Indian santoor player Shivkumar Sharma, often credited as the man who established his instrument in Hindustani classical music performance.
Jayme Stone's Lomax Project: Also May 8, "Jayme Stone's Lomax Project," also the title of their delightful new album takes the Koerner Hall stage. Two-time JUNO-winning banjoist, composer and band leader Stone has distilled and reinterpreted songs made by the American ethnomusicologist and folklorist Lomax, along with his distinguished instrumental and vocal collaborators. Lomax is justly celebrated for his field recordings conducted over the 50 years straddling the middle of the 20th century. The project revives for our century the voices and spirit of that era's rural Americana. We hear stirring renditions of sea chanties, fiddle tunes, work songs, moving Georgia Sea Islands African-American a cappella singing and Appalachian ballads. It's an important roots revival album, and audiences can expect Stone at the core of his tight ensemble at Koerner Hall adding deft touches of his musically nuanced, never superfluous, banjo playing.
Asian Heritage Month at the TPL: May is Asian Heritage Month in Toronto. As in previous years the Toronto Public Library is celebrating it in various ways, including free music performances given by select musicians from Toronto's Asian music diaspora. May 16 at 1pm the Richview, Etobicoke branch presents Andrew Timar (yes that's me moonlighting as a musician) and dancer Keiko Ninomiya in a program of "Southeast Asian Dance and Music Fusion" set within a North American aesthetic. North York Central Library's Auditorium's stage will be particularly musically active this month. May 21 "The Music of China" takes to its intimate stage with a program of "regional, contemporary, and Western music." For "An Afternoon of Persian Music" on May 23 the polished Shiraz Ensemble performs music from the Persian Qajar dynasty, plus works by the important composer and santur player Farāmarz Pāyvar (1933—2009), as well as improvisations.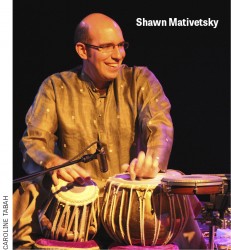 Pedram Khavarzamini and Shawn Mativetsky: May 16 Pedram Khavarzamini and Shawn Mativetsky headline at the Music Gallery in a program titled "East Meets Further East." The concert's goal is to highlight Iran and India's deep drumming traditions. Montrealer Mativetsky, performing with bassist George Koller, is an accomplished tabla performer and educator, an exponent of the Benares gharana and disciple of the tabla maestro Pandit Sharda Sahai (1935—2011). Mativetsky teaches tabla and percussion at McGill University and is a passionate advocate of tabla in contemporary music of many genres. Khavarzamini, who was among the most sought-after tombak teachers and players in Teheran when he was a resident there, will perform with tar virtuoso Araz Salek. He has co-authored several books on the drum's technique and repertoire. In the early 2000s he was invited to join the Greek music innovator Ross Daly's group Labyrinth and moved to Europe to pursue his music career. He has toured the world with musicians such as Dhruba Ghosh, Dariush Talai, Vassilis Stavrakakis, and others. Last year he relocated to Toronto, a move which is our city's and our country's gain. These two outstanding Canadian drummers will explore much of the range of their respective instruments and rhythmic vocabularies, culminating in a collective performance.
Lulaworld Festival: The Lulaworld Festival is celebrating its tenth anniversary, and this year it's a whopper. More than two dozen concerts, family workshops, Brazilian parade and other events at the Lula Lounge and environs between May 27 and June 6 work the theme "Celebrating the Music and Dance of the Americas!" Presented by Lula Music and Arts Centre, it's billed as the summer's Toronto 2015 PAN AM Games pre-party, guaranteed to "get Toronto dancing to the music of the Americas." Even if you don't dance in public, you can expect a healthy serving of Toronto's finest world, jazz and Latin musicians, often collaborating with international guest artists on Lula's intimate stage. With a festival on such a vast scale, I can only hint at the musical – and dance – wealth to be discovered.
May 27, the festival's opening night, Toronto's leading Brazilian dance company Dance Migration is joined by guest Sao Paolo-based percussionist Alysson Bruno and Irineu Nogueira.
May 30 the Lula All Stars release their new CD. The group of musicians with roots from across the Americas plays at Lula Lounge's weekly live salsa series, co-led by Sean Bellaviti and Luis Orbegoso.
Saturday, June 6, the Lulaworld stage at the Dundas West Fest will be chockablock with Latin jazz, salsa, Jamaican ska, Afro-Caribbean jazz, Spanish rock and pop, Canada's biggest participatory Brazilian drumming parade and "family-friendly workshops." Best of all, it's all free.
Andrew Timar is a Toronto musician and music writer. He can be contacted at worldmusic@thewholenote.com.