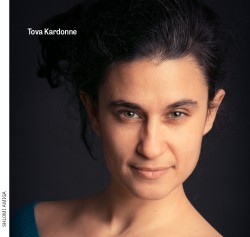 During the relentless winter choke-holding the eastern half of our continent we occasionally see signs of weather more benign. Not that I'm complaining about our crisp white-scaped great outdoors, mind, but I'm not complaining either about music's special power to open the world's window wide to another, less icy landscape.
A case in point is The Lanka Suite. In it the multi-talented emerging Toronto-born composer, vocalist and violist Tova Kardonne evokes Sri Lanka's lush natural and human landscapes, expressing her outsider musical explorations in her distinctive jazz and chamber music-inflected music. The Ashkenaz Foundation and Koffler Centre for the Arts co-present the work performed by a choir, an instrumental ensemble, as well as a vocal and an instrumental soloist, in concert at The Music Gallery on March 14.
I called Kardonne on a frosty February afternoon to chat about her ambitious Lanka Suite, and how she got there. Even before pursuing a career in music, she told me, her passion for mathematics – in which she has a degree – initially took centre stage. "I developed a taste for aspects of beauty and emotion in mathematics, for its elegance as well as its ugliness. These are parallel to characteristics I also felt in music." But she also pursued viola and piano studies at the Royal Conservatory of Music, as well as singing alto in a series of choirs. "Singing (and playing) the alto voice is a great place to be for a composer: right in the middle of the music!" It's a practice she actively maintains with Andrea Kuzmich's Broulala, Christine Duncan's The Element Choir and with the GREX vocal ensemble directed by Alex Samaras. (The latter choir has a core role in the performance of The Lanka Suite on March 14. )
In addition to music, Kardonne explained that dance has been another key to her artistic expression. "I originally studied dance with Jeannette Zingg of Opera Atelier. Later, in '99 I was introduced to the freedom and discipline of contact improvisation, attending downtown Toronto's weekly Contact Dance Jams. Improvised movement reinforced my evolving understanding of creation and intention. Though I didn't quite realize at the time, it would prove important in shaping my compositional process down the road." In 2014 she remounted an evening titled "60×60 Dance," continuing her ongoing engagement with the dance world. It featured 60 different combinations of Canadian choreographers and composers, a complex project she co-curated and produced.
Having completed a degree at Humber College concentrating on vocal jazz, composition and arranging in 2008, jazz certainly figures in Kardonne's musical language. She has involved a number of Toronto's jazz elite in The Thing Is, her current eight-member band. It has included Jim Vivian, Dave Restivo, Ted Quinlan, Peter Lutek, Rich Brown, Rob Clutton and several others since its inception. Currently she favours musicians with mixed resumés who are able to excel in what she calls "non-idiomatic improvisational contexts." That's why she notes "my band is called The Thing Is, because it reflects an open-ended process of becoming," an ensemble musical work. She creates an evolutionary, boundary-crossing and collegial atmosphere in the ensemble: "As my music evolved, it has attracted different kinds of musicians. At least two of them have been around [the scene] for long enough that I don't really know where they 'come from'."
Kardonne points out one more significant element informing The Lanka Suite: for the lack of a better term, its "world music" features. It goes back to the Klezmer bands she played in, starting in her teens, as well as her grandparents' Eastern European Jewish roots. "My mixed family heritage directed me along the path of seeking connections through the differences." Citing her studies of Cuban santería batá drumming, North and South Indian drumming patterns, and her participation in the Brazilian Samba Elégua group, she conludes that "deep down, I'm driven by rhythm." In The Lanka Suite this fascination is reflected in unusual time signatures and phrases, drawing from both South Asian and Eastern European folk idioms, though couched in the instrumentation of a jazz combo with its affiliated rich harmonic field.
I asked Kardonne for The Lanka Suite's back story. The four-part composition was "inspired by a trip with my partner [the experimental electric guitarist] Nilan Perera to Sri Lanka in 2012. He wished to reconnect with family for the first time since the end of the conflict in 2009 and to talk to some of the generation of artists who had grown up in the midst of conflict, not as he had, in the diaspora." While Kardonne was a complete stranger to the country, she recounts that "those things which were most new and strange nonetheless had parallels in my experience." Her first-hand observations elicited contrasting emotions of joy as well as confusion. She also encountered a society in transition, rebuilding the fabric of families and institutions after a devastating 30-year civil war. One music seed was sown when Kardonne heard a girl sing to entertain fellow bus commuters on the A9 highway to Jaffna, the northernmost city on the South Asian island nation. She notated the girl's song and it surfaced in the work's first movement titled "A9 to Jaffna."
On returning home, her life-altering experience compelled her to rethink her "own understanding of life back in Canada through the lens of what I learned from Sri Lanka." The profound themes she explores in her lyrics for The Lanka Suite include Sri Lankans' essential connection to the land and the importance of self-definition through politics, even though this trust seems inevitably doomed to be betrayed by the political class. The ravages borne by the abundant natural world and the shifting role of women are also examined.
When she first presented The Lanka Suiteat The Rex Hotel last year in its stripped down eight-musician version, the favourable audience reception centred on perceptions of cultural familiarity, despite the score's vibrant mash-up of musical idioms. Various listeners "picked up on what in the music seemed familiar to them" reported the composer, "but I certainly felt vindicated when people told me 'I hear you and that's my music too.'" Infusing additional jazz sparkle to The Lanka Suite's full airing at the Music Gallery, the multi-JUNO Award winningflute and soprano saxophonevirtuosa Jane Bunnett joins Kardonne, her seven-piece band The Thing Is, and the GREX choir.
Opening the evening is Khôra, the experimental music project of Toronto's Matthew Ramolo. He performs his music on acoustic and electronic instruments, as well as field recordings and analogue/digital processing, summoning "the spirit of Eastern modes, contemporary classical, avant and sacred minimalism, experimental rock and various forms of electronic music."
Other Picks:
March 6 and 7, Tuvan singer Radik Tyulyush and Inuk diva Tanya Tagaq, two masters of throat singing, split the bill at the Aga Khan Museum, presented with the support of Small World Music. Though drawing on musically distinct cultures over 6,000 kilometres apart, it's a rare pleasure for Toronto audiences to witness these outstanding performers on a single stage. The abundantly talented Tyulyush, a member of perhaps Tuva's most successful music group Huun Huur Tu, is not only a leading performer of the several types of indigenous throat and "regular" singing, but is a master of several Tuvan instruments including the igil, doshpuluur, shoor and khomu. He's a Tuvan rock star to boot. His set opens the concert.
Tagaq follows. I covered her Polaris Prize performance and reviewed her brilliant album Animism which sealed the win last fall in The WholeNote. There's no doubt in my mind that she's among the most musically, emotionally and politically compelling avant-garde vocalists working today. I'm not sure if I have ever deemed a performance a must-see in this column, but her live vocal confrontation, accompanied by her band, of a screening of the silent film Nanook of the North (1922) is such a show.
March 12 at the Sony Centre for the Performing Arts, Japan's Kodo Drummers return to Toronto, after a four-year absence, with their "Kodo One Earth Tour: Mystery." I've seen them before and this taiko (Japanese drum) group which has been setting the bar high for decades keeps improving, making theatrically engaging, powerful music. For those who have never seen them live, they also incorporate various flutes and other Japanese instruments in their precision shows. "Mystery" is the second Kodo program directed by the famous kabuki actor Tamasaburō Bandō, designated a National Living Treasure in Japan. He became Kodo's artistic director in 2012, and during his tenure has aimed to deepen Kodo's theatricality and to give more prominence to women performers. Of special interest, the pre-show discussion at 7pm features members of Toronto's Nagata Shachu Japanese Taiko and Music Ensemble examining the history of taiko in Japan, the various drums used in performance, the costumes worn, how the music is taught and learned, as well as the development of the modern taiko movement led by groups such as Kodo.
March 26, the Mississauga- based singer and songwriter Vandana Vishwas presents a selection of her sugam sangeet songs at the Musideum. Songs in the ghazal, bhajan, geet, thumri, folk, Indo-jazz and light classical genres, often reflected on Indian film soundtracks, are collectively known as sugam sangeet. Vishwas, who performed for ten years as an All India Radio artist until she left India, is accompanied by George Koller, one of Toronto's favourite bass and dilruba players, tabla maestro Ed Hanley and Vishwas Thoke on acoustic guitar.
March 29 the Small World Music Society in association with Batuki Music Society presents the Toronto debut of Tal National, Niger's most popular group, at the Drake Underground. Drawing on regional West African music genres like highlife, soukous, Afrobeat and desert blues, Tal National has evolved a joyous dance-centric music driven by drums, guitars and deep grooves. While at home they are known to play till daybreak, bets are off that will happen at the Drake. One sure thing however: the relentless cyclical energy of their music will propel dancers far longer than even they thought possible.
Andrew Timar is a Toronto musician and music writer. He can be contacted at worldmusic@thewholenote.com.