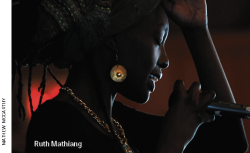 Since 2008 the Batuki Music Society has been tirelessly promoting African music and art in Toronto, seeking out local artists and working with them to book venues. It does much more than typical presenters however, providing the valuable service of advising musicians on career development, recording and touring. Moreover, Batuki appears to have an even larger social mission. As expressed on the society's website, it provides "visibility and necessary publicity to artists who hail from minority groups by placing them in concerts and festivals in mainstream venues to help them integrate." Incorporated as a non-profit community-based organization in 2008 by artistic director Nadine McNulty, Batuki's artistic vision encourages local African musicians to participate in enriching the diverse arts and cultural scene through live music concerts, visual arts exhibits, film, spoken word/poetry, dance and festivals.
Spiritual Songs of Sub-Saharan Africa
Batuki Music Society's programming usually heats up during Black History Month and this February is no exception. On February 14 it is presenting "Spiritual Songs of Sub-Saharan Africa" at the theatre of the Alliance Française de Toronto. Reflecting spirituality in African music, the songs are rooted in multiple genres performed across the vast continent, from Guinean griot and Ghanaian highlife and gospel, to South Sudanese spirituals, Ethiopian soul, back to Congolese rumba and Zimbabwean spirit music.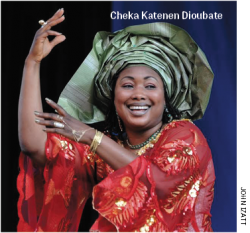 The concert's curatorial aim is to present the evolving nature of African music from its rural roots to its contemporary urban and transnational mediations, with an emphasis on its spiritual content. The performers have been drawn from Toronto's rich pool of sub-Saharan African musical talent. Confirmed are seven of the city's finest African singers, Frederica Ackah, griot Cheka Katenen Dioubate, Ruth Mathiang, Blandine Mbiya, Evelyn Mukwedeya, Memory Makuri, and Netsanet Melesse. The seven singers are backed by an impressive band consisting of Donne Roberts (guitar), Tichaona Maredza (rhythm guitar), Quandoe Harrison (bass), Fantahun Shewankochew Mekonnen (acoustic krar), Kofi Ackah (drums, percussion), Ruben Esguerra (congas), and Amadou Kienou (djembe).
I'd like to sample the rich program for you. Performing the songs of the Shona people of Zimbabwe will be Evelyn Mukwedeya and Memory Makuri accompaning themselves on the mbira (sometimes called thumb piano), as well as hand clapping, hosho and dancing. The playing of the mbira dzavadzimu, which used to be a deeply entrenched male preserve, is an important ingredient in conducting healing ceremonies among Shona communities. In the 1970s Stella Chiweshe, also a traditional healer, challenged that male exclusivity, becoming one of the first female mbira players. She is now a role model for younger women like Mukwedeya and Makuri.
Blandine Mbiya, a singer and songwriter from the Kasai region of the Democratic Republic of Congo performs songs in the gospel-inspired rumba genre as well as those in the so-called bazombo trance music. The latter – the Bazombo are members of the much larger Bakongo group whose communities lie near the Angola and DRC borders – is a music genre reputedly associated with witchcraft and other ceremonies, though solid evidence of this is hard to locate for outsiders. On the other hand, the popular DRC rumba (aka African rumba, which also overlaps with soukous), exhibits Cuban and older Franco-Belgian missionary choral strains. Rumba's rise to prominence has been directly linked to the suppression of the Congo's indigenous spiritual music practices during the colonial period.
Cheka Katenen Dioubate is a Guinean griot whose job description includes storyteller, historian, poet, musician and praise singer. Griots are central to the maintenance of Mande traditions in West Africa. Serving as a living archive, they are keepers and singers of the oral history and culture of the people, performing at marriages, funerals and other rites of passage. Dioubate brings to the stage a powerful voice and commanding presence, as befits the griot who must serve as intermediary between generations of her ancestors and her living audience.
Our last stop in this incomplete concert preview is Ethiopia, as represented by the songs of Netsanet Mellesse. This singer has an impressive recording back catalogue, having produced traditional Ethiopian, pop and gospel albums back home. One of Ethiopia's finest krar players and composers Fantahun Shewankochew Mekonnen will accompany Mellesse at the Alliance Francaise.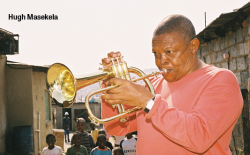 Vusi Mahlasela and Hugh Masekela: This is not Batuki Music Society's only big presentation this month. On February 28, in association with Koerner Hall, they co-present "Vusi Mahlasela and Hugh Masekela: 20 Years of Freedom." This concert is billed as "freedom songs honouring 20 years of democracy in South Africa and the official end of apartheid" and headlines the trumpeter, singer and composer Masekela and singer/songwriter Mahlasela.
The award-winning Mahlasela, known as The Voice in his home country, is celebrated for his distinct, powerful voice and his poetic lyrics. He has released seven studio albums on Sony and worked with numerous international recording stars. His songs of hope with themes of struggle for freedom, but also forgiveness and reconciliation with enemies, inspired many in the anti-apartheid movement.
In his eighth decade, Masekela, the world-renowned multifaceted musician and defiant political voice, is still going strong. Credited as one of the founders of world fusion music, his global career began in the South Africa of the 1950s with stylist roots which tapped into jazz (ragtime, jive, swing, doo-wop, bop), musicals and pop, as well as multiple African genres including mbaqanga, South African music with rural Zulu roots. His group, the Jazz Epistles, released the first African jazz LP in 1959, followed by 40 more albums over his career. His 1986 anti-apartheid anthem Bring Home Nelson Mandela (1986) was an inspiration and rallying cry around the world at the time. After decades in exile, following the release of Nelson Mandela from prison in 1990, Masekela returned to live in South Africa. It may well be on the Koerner Hall program celebrating twenty years of South Africa's democracy.
Other picks:
February 6 The Royal Conservatory's World Music series presents Pavlo and his band at Koerner Hall. The Toronto native with two Juno Award nominations who goes by a single name, Pavlo may have coined the term "Mediterranean guitar sound" for his brand of music, but for his current tour Pavlo integrates "exotic instruments," as the promotion notes. His fans can expect Pavlo's signature sound with acoustic Spanish guitar upfront in the mix, but also infused with Chinese erhu, Portuguese guitarra, Arabic ney, Indian sitar and Greek bouzouki.
Also February 6 the Small World Music Centre's still new intimate theatre is undertaking its first screening, rescheduled from last year. The Stirring of a Thousand Bells (2014) by emerging American filmmaker Matthew Dunning is an experimental documentary consisting of two videos taking the audience on a kaleidoscopic visual and musical tour of life in Surakarta, a city in Java, Indonesia. It features footage of its centuries-old royal court gamelan music and dance culture, still vital today. A live music concert "Imaginary Soundtrack for Ambient Worlds: Indonesia meets Canada" by the Andrew Timar and Bill Parsons Duo, playing Indonesian kacapi and suling, will begin the program. (Yes I'm that Andrew Timar).
February 8, the Flato Markham Theatre audience will be in for a treat – a concert that showcases two generations of one family with a proud musical lineage, encompassing several strands of world music. Amjad Ali Khan, the renowned veteran maestro of the sarod (Hindustani plucked lute) is joined by his sarod-playing sons Amaan and Ayaan Ali Khan for this rare three sarod concert. Billed as "The Sarod Project," percussionists Issa Malluf (Arabic/Middle Eastern percussion) and ace Toronto tabla player Vineet Vyas join the soloists.
Hindustani music is certainly Khan's forte but in the first set he will demonstrate his affinity for an even wider sweep of musical geography, ranging from various regions of India to the Middle East. His sons Amaan and Ayaan will then demonstrate their traditional Hindustani music cred by performing a raga to be announced at the hall, exemplifying the living tradition that has been passed down from father to son for several generations "Music is the greatest wealth in our family," confirmed Amjad Ali Khan.
February 13 and 14 the Aga Khan Museum in partnership with the Aga Khan Music Initiative presents "Wu Man and the Sanubar Tursun Ensemble" at the AKM auditorium. This multicultural meeting of the Chinese pipa virtuoso Wu Man and the celebrated Uyghur singer Sanubar Tursun, explore ancient cultural links between Chinese and Central Asian music traditions. Wu Man, who has multiple Grammy Award nominations as well as the 1999 City of Toronto Glenn Gould Protégé Prize to her credit, is a cross-cultural collaboration veteran. She's worked extensively with the Kronos Quartet and Yo-Yo Ma's Silk Road Project, among several others. Sanubar Tursun, who has become an iconic Uyghur cultural figure, employs her delicate, sensuous yet also athletic vocals in renditions of classical muqam and folk songs. The soloists are accompanied by an ensemble of Uyghur musicians.
If these concerts are any indication, it promises to be a rich and musically eventful February.
Andrew Timar is a Toronto musician and music writer. He can be contacted at worldmusic@thewholenote.com.