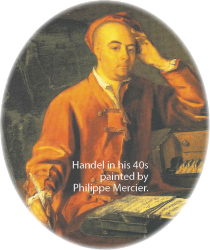 I'm writing this column on March 18, a year to the day after the unexpected passing of Bruce Kirkpatrick Hill, an event that affected many choral singers throughout the city (read my column about this here). In honour of a man who loved choral music and the choral community, I'm going to dispense with my usual rants and jokes and get right to as many concerts as possible.
Off the top, a nod to a concert that will be over before the magazine is out: The Toronto Mendelssohn Choir's "Sacred Music Concert" takes place on Good Friday March 29. The concert includes Palestrina's Missa Papae Marcelli — likely the composer's best known work — and Allegri's Miserere. This composition from 17th century Italy is a haunting setting of the Latin translation of Psalm 51. Choral and plainchant passages alternate with a virtuosic solo quartet. As well, Canadian composer Timothy Corlis' God So Loved the World is premiered here. Based in Vancouver, Corlis is an experienced choral singer that has moved on to composition.
For those who like Handel's oratorios (and like an alternative to that other minor work of his that always gets performed at Christmas), there are two opportunities to hear Solomon, a work written in 1748. It is full of inventive choral writing and has a number of beautiful solo arias. Oddly, both performances are taking place on the same weekend of April 20–21. Solomon is performed in Oakville by the Masterworks of Oakville Chorus & Orchestra and in Toronto by the Pax Christi Chorale.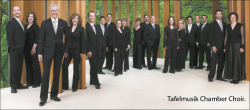 More Handel in the form of odes, serenades and oratorio choruses can be heard performed by the virtuoso Tafelmusik Chamber Choir, May 1–5 and 7, in "A Handel Celebration." This concert will be a terrific opportunity to hear the breadth of expression in Handel's choral works.
For those who would like to hear some choral jazz and gospel this spring, on April 6, We Are One Jazz Choir performs in Beach United Church's monthly series titled Beach Jazz & Reflection. This concert is funded in part by a freewill offering. On April 5 and 6 the York University Gospel Choir performs at the Ivan Fecan Theatre at York University.
Paul Halley's Missa Gaia: Earth Mass is a popular work that has been performed many times since it was composed in 1982. To some degree Missa Gaia anticipated the focus on environmentalism that is now part of mainstream social and political discourse, and that has been made all the more urgent because of the increasing threat of global warming. The work is performed by the students of the Cardinal Carter Academy for the Arts on April 3 and 5.
On April 13 the Healey Willan Singers present "España" a Latin-themed concert that includes music by Brazilian composer Heitor Villa-Lobos. Villa-Lobos was a brilliant composer who wrote music of both flamboyance and depth. This concert includes his Missa Sao Sabastiao, first performed in 1937. I'm not aware of any recent concerts of Villa-Lobos' work, so this is a rare opportunity for Torontonians.
On April 20, the Cantores Celestes Women's Choir presents a concert titled "The Circle of Days." This includes Fauré's Requiem, the premiere of Belarusian-American Sergey Khvoshchinsky's setting of Dona Nobis Pacem, and David Hamilton's The Circle of Days. The concert takes place at Runnymede United Church and is a fundraiser to help buy sewing machines and other materials for the Ituna community in Zambia.
If things seem a bit loud in Aurora on April 27, the "Aurora Choral Celebration" is probably the reason. I count at least five choirs that will be taking part in this event, which will undoubtedly be fun and lively, and an opportunity to hear many enthusiastic choral singers. Works include Handel's Ye Boundless Realms of Joy (one of the composer's Chandos Anthems, written for a church setting between 1717 and 1719) and All The Little Rivers by veteran Canadian composer and choral activist Larry Nickel.
This month provides two opportunities to hear Brahms' renowned German Requiem. The Etobicoke Centennial Choir performs it on April 6 and the Achill Choral Society performs it on April 28 in Colgan.
Another late-Romantic setting of the Requiem text takes place on May 4, when Chorus Niagara performs the Verdi Requiem in St. Catharines. The opposite of an introspective setting like that of Brahms, this version when executed well is overwhelming, a sonic force of nature like an earthquake or volcano. The concert celebrates the occasion of Chorus Niagara's 50th anniversary.
On May 5 the Echo Women's Choir presents an eclectic program titled "Mouth Music" that includes The Road to Canterbury, by American composer Malcolm Dalglish, a setting of Chaucer's Prologue to the Canterbury Tales, and William Westcott's In the Almost Evening, a setting of lyrics by Canadian writer Joy Kogawa. Eastern European choral music is a specialty of this choir, and the concert includes songs from Bulgaria, Macedonia and the Republic of Georgia.
Often, the focus on large-scale religious works of the European classical canon can obscure the reality that composers also wrote music to celebrate the joys and pleasures of temporal love. On May 4 and 5 the Cantemus Singers' "Love Songs," a concert appropriate for spring, includes works by Josquin, Byrd, Janequin and Schütz. These composers are the backbone of the early music repertoire and this is a rare opportunity to hear their music performed live.
Having just given a lecture on making a living as a musician last month, I am more than usually aware of how difficult it can be to fund music making. Choirs are fighting hard for both audience share and the funds necessary to execute concerts, as ticket sales can never approach more than a fraction of performance expenses.
Two choirs are holding their own fundraisers. On April 6 the Amadeus Choir presents "A Celtic Celebration." The event includes live and silent auctions. Lydia Adams, the choir's conductor, also leads the Elmer Isler Singers and is a central figure in Canadian choral endeavour. On April 20 the Toronto Jewish Folk Choir hosts a fundraising concert of solos and songs titled "Sing Me a Song in Yiddish."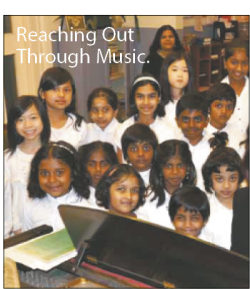 Last but perhaps most urgently, Reaching Out Through Music program holds a benefit concert and silent auction on April 20, which includes the participation of the St. James Town Children's Choir. Many of the families of St. James Town are struggling to provide basic care for themselves and their children. The Reaching Out Through Music was created to provide children with group and private music lessons. For young people in economic need music can be a focus for discipline, self-expression and hope. This is one of the most important areas of musical outreach in the city.
Finally, I would like an opportunity to write more extensively about the phenomenon of the show choir, and will do so at some point. This combination of singing and stage work may well be the future of choral music in North America. Show Choir Canada conducts its national championships on April 20 and 21 in the Queen Elizabeth Theatre at Exhibition place. This is an event that will be excellent for children and may be a way to inspire their interest in choral singing. 
Ben Stein is a Toronto tenor and theorbist. He can be contacted at choralscene@thewholenote.com Visit his website at www.benjaminstein.ca.