It doesn't seem to matter how long I've been out of school – I always think of September as the beginning of the new year. This is certainly true for choirs across the province where choristers from Thunder Bay to Windsor are eagerly anticipating a new season of choral delights. While most of us have been enjoying a break, conductors and choral administrators everywhere have been busy planning the year and preparing for rehearsals. Repertoire has been selected, guest artists engaged, venues secured, contracts finalized, promotional materials created – and this is just part of it!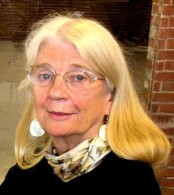 It seems fitting that on August 30, at the Toronto concert of the Ontario Youth Choir, Choirs Ontario presented the 2009 President's Leadership Award to Jessie Iseler for her remarkable career with the Elmer Iseler Singers. Established in 2001 to commemorate Choirs Ontario's 30th anniversary, the President's Leadership Award recognizes choral musicians and supporters who have made an exceptional contribution to the promotion and advancement of choral music in their communities. There's little doubt that Jessie is deserving of this honour.
Having dedicated most of her professional life to the choir as its manager, Jessie Iseler has been the driving administrative force behind its tremendous success. With their strong national and international artistic presence, an impressive list of television and radio appearances, and over 50 recordings to their credit, the Elmer Iseler Singers are widely regarded as one of Canada's finest choral ensembles. This reputation is in no small part due to the dedication and sheer hard work of Jessie Iseler.
Through Jessie, and husband Elmer Iseler's combined efforts, the choir set a model of performing, recording, commissioning and touring that inspired conductors throughout North America. Jessie's dedication to the choir and to Canadian choral music inspired her to press for levels of funding for touring, commissioning and recording that were hitherto unknown by professional choirs in Canada. Together with artistic director Lydia Adams, the Elmer Iseler Singers continue to demonstrate artistic excellence while pursuing creative innovation. The choir recently completed a tour of Northern Ontario with several performances of the ground-breaking Cree opera Pimooteewin, by Tomson Highway and Melissa Hui.
The choir also has an impressive record of choral-educational initiatives. For over a decade, Jessie helped to administer the ensemble's position as the professional Choir-In-Residence at the University of Toronto's Faculty of Music, through the Elmer Iseler Chair in Conducting.  The current success of the Get Music! project that sponsors numerous symposia and workshops linking youth and the industry of sound recording is another example of their visionary arts education. Over the years the choir has engaged countless young Canadian vocal professionals, and launched many successful vocal careers.
Jessie's passionate advocacy for choral music, and profound commitment to the Elmer Iseler Singers, continues to be a source of inspiration to Canada's choral community. Congratulations, Jessie!
The Elmer Iseler Singers have a concert on October 4: a programme called "Gibbons to Gospel," with the Nathaniel Dett Chorale, at Our Lady of Perpetual Help Church. These two professional groups are off to an early start; for amateur choirs, it usually takes a little longer to get going. But as the fall progresses, the hard work and preparations of September will bear fruit, as many other Ontario choirs present their season-opening concerts. It won't be long before voices in chorus are heard, in a wide variety of musical styles, throughout the province.