Would you like to swing on a star,
carry moonbeams home in a jar,
and be better off than you are....
"Embracing" is a word that can be used two ways. Interesting how either way it applies to making music, and particularly to choral singing.
Choral music is "embracing": like a hug that is big enough for as many as many need one. Simple folk melodies and great majestic scores all invite us to be "in the music" as choristers or as audience. This embrace can transcend all kinds potential barriers: age, gender, race, and other diverse but less visible socio-economic walls in our complicated lives.
We are "embracing music", when we sing with others. With our breathing unified, and often our hearts on our sleeves, we wrap a collective voice around a piece of music and hold it tight, and by extension, around one another. It's an act of love.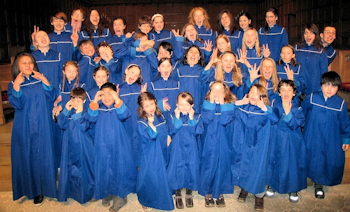 The Timothy Eaton Memorial Church Choir School "Sing Out!" (May 8)