Choral singing is generally considered to be fun and pleasurable. But often an encounter with a modern choral work – in which fun and pleasure may not necessarily be the composer's primary goal – can feel like a child's encounter with a disagreeable vegetable. "Why do conductors give us weird music to struggle through when we're supposed to be having a good time? I'm paying choir dues for this?" On this subject, I am always struck by the range in attitudes among conductors, composers, singers and choral audiences.
Composers must by their very nature be champions of new music, and their desire to connect with either audience or singers may well be secondary to their drive to define an individual musical identity. Conductors must when programming strike a balance between the popular an profitable, and the adventuresome but potentially alienating. If they are lucky, they will have an organization that allows them some artistic license. In general, whatever their personal musical preferences, conductors have a sense of responsibility to work in tandem with living composers to bring new works into being.
Singers are usually the first people to create the sounds that the composer has imagined, and their response is often a visceral one: "This is difficult – I don't like it." Or perhaps, "This speaks to me, although it is unfamiliar." Often a singer's judgment of the music stems from this very subjective first encounter, and may or may not render an unfair verdict on the actual quality of the music itself.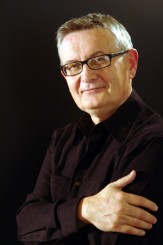 Audiences as a rule have made their feelings known regarding much new music, and the problem that choral groups encounter when debuting new works is the one that has in many ways defined musical life in the previous century: the disconnect between modern composers and modern audiences. Still, composers tend to write more conservatively for choirs than they might for chamber ensembles, soloists or orchestras. And the liturgical background of a great deal of choral music tends to foster an audience-friendly aesthetic. A new composition that connects with an audience is a wonderful thing, and a good premiere can be an exciting experience for both audiences and musicians alike. There are a number of premieres and concerts featuring living composers coming up in the next few weeks that we can certainly hope will fit this paradigm.
The Cantabile Choirs of Kingston have become a choral juggernaut in that region, with seven different choirs and 300 voices performing separately and in tandem throughout the season. Their November 6 concert, "Silk Road," features the premiere of a new composition by Slovenian-Canadian Marjan Mozetich. (The Cantabile artistic director, Mark Sirett, has his own premiere of a piece for choir, brass and organ that will be presented by the Toronto Mendelssohn Choir as part of their December 8 "Festival of Carols.")
Cantabile Chorale of York Region's November 14 concert features a setting of the Requiem mass by Welsh composer Karl Jenkins. Jenkins comes at composition from a jazz background and, like many modern composers, is as likely to draw from world-music influences as from European compositional techniques. His music is tuneful and has some of the hard-won simplicity of the compositions of Carl Orff.
The Mississauga Festival Choir performs Jonathan Willcocks's An English Christmas as part of their December 4 concert. Willcocks is the son of Sir David Willcocks, whose Carols for Choirs has been a mainstay of Christmas choral singing for decades. His son has carved out his own impressive career as a conductor and composer, as well. Hamilton's John Laing also combines conducting and composing. His operetta St. George and the Dragon is performed by the John Laing singers November 6 in Guelph and November 7 in St. Catharines.
The Nathaniel Dett Chorale's Indigo Christmas (December 15 and 18) features works by three African American composers: Glenn Burleigh, Adolphus Hailstorks and Margaret Allison Bonds. These are likely Canadian premieres, although the NDC website isn't clear about this. The most intriguing-sounding work is Bonds' The Ballad of the Brown King, with settings of poetry by the great American writer Langston Hughes.
Premieres and performances of unfamiliar works give concertgoers the chance to help define for future audiences which pieces will become part of a regular concert tradition. This is an ongoing process – and works that were once unfamiliar but are now well known include Bernstein's Chichester Psalms and Ramirez's Missa Criolla (York University Concert Choir, November 23), Fauré's Requiem (Amadeus Choir, November 6) and Britten's St. Nicholas (Orillia's Cellar Singers, November 6).
We are also heading into Messiah season, with a plethora of choices to satisfy Handelian addictions. In The WholeNote's listings, you'll find dozens of performances: small-ensemble Messiahs, opulent thousand-voice Messiahs – just about everything but Justin Bieber's Messiah, or Messiah as interpreted by competing Led Zeppelin tribute bands.
Benjamin Stein is a tenor and theorbist. He can be contacted at choralscene@thewholenote.com.