What is the definition of a successful musician? I thought about this last month after learning that local organist and singer Bruce Kirkpatrick Hill had passed away suddenly and unexpectedly. Word of Bruce's passing spread very quickly throughout the Toronto choral community, and the shock that people felt had to do with his young age — he was only 49 — as well as with its suddenness. But at the funeral service, it was clear that the mixture of grief and respect that defined the event extended well beyond shock. As I walked home, I pondered why Bruce's death — or rather, his life — had touched so many people.
Public recognition is the most obvious indication of success — a reputation draws people to attend a concert, purchase a recording, sign up for lessons. It's usually (but not always) an indication of a standard of artistic achievement for audiences and musicians alike. Another category, less obvious but often more long-lasting, is the behind-the-scenes or just-out-of-the-spotlight professional who works steadily, but has little or no public profile. The majority of musicians fall into this group. A lot of the music that you love the most has been created by artists whose names you have never known.
A third category might be "community musician," a term that can encompass both professionals and amateurs. A community musician can be defined as someone who loves their chosen art form, and devotes their talents and abilities to it with the best of their ability. Sometimes they are known outside their home region, but often they are not. Choral music is in great part driven by the work of talented and dedicated amateurs. This is, in part, because professional choral singing pays very badly — a subject for a future column — but just as significantly, because most choral singers are amateurs in the traditional sense of the word, lovers of the art from who have the drive to foster and maintain it.
Of course, these three categories of success intersect and divide into subsets and levels, and Bruce Kirkpatrick Hill certainly acquitted himself well in the first two areas described above. But at his funeral, and during the week leading up to it, it became clear that Bruce was a community musician of unusual success and achievement.
Some musicians seem to have a particular talent for simply being present. Without any fanfare, they make an impression, and you never forget them. Their assurance and professionalism thread through a musical community and help define that community in people's minds. When they are gone, we feel their absence as a loss beyond their physical presence. Even for those of us who didn't know him well, Bruce made this kind of impression. He was part of the bone and sinew of the Toronto choral scene. In a sense, his very presence seemed to evoke the solidity of the choral traditions that he loved.
Bruce's funeral was held at the Anglican Church of St. Mary Magdalene. Every seat was full, and the rest of the overflow crowd stood at the back for the entire two hour service. When hymns were sung, the church reverberated with the sound of hundreds of trained singers falling naturally into four-part harmony. It was a choral sound unprecedented in the city, one that Bruce would have appreciated.
Ottawa conductor Matthew Larkin (leader of the Toronto-based Larkin Singers) led the St. Mary Magdalene church choir in a selection of anthems. After the final benediction, a mixture of the singers from the Exultate Choir, the church choir, and various choral colleagues and friends of Bruce's, joined together to sing a beautiful setting of the Kontakion, a Byzantine liturgical text from the Eastern Orthordox Christian tradition, composed by Bruce's wife, fellow choral director and composer Stephanie Martin.
If the above reads somewhat like a concert review, it is not because Bruce's funeral was primarily an aesthetic event. Rather, it is that choral concerts are experiences rooted in community, and choral concert repertoire has its roots in these communal experiences — worship of a deity, celebration of the bounty of the earth, tribute to a beloved friend. To be a community musician within the choral tradition is to take part in an ancient activity that is as relevant and necessary to our lives now as it was hundreds, possibly thousands, of years ago.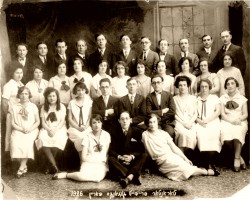 Moving to this month's choral lineup: at this time of year, almost every choir in the region is presenting its final concert of the season, and there are many musical choices in the coming weeks. My recommendation: make sure you go to two or more concerts — one by your favourite group, and one or more given by a group that you have not yet heard. Travel to a part of the city or region that you haven't visited, and get to know a group that comes from that community.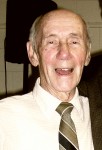 Another community musician of note was Ben Shek, an expert in Yiddish culture, and one of the driving forces of the venerable Toronto Jewish Folk Choir. The TJFC will be giving a concert in honour of Ben, and other members of Toronto's Jewish choral community, on June 3.
On the same night, the Penthelia Singers celebrate their 15th anniversary with a gala concert program of all-Canadian music, and a guest conducting appearance from Mary Legge, another great Toronto choral community musician.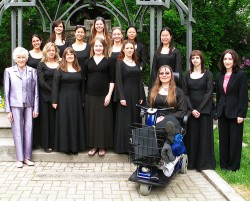 The Tallis Choir performs "The Glory of the English Anthem" on May 5. This concert includes two genuine masterworks, Harris's eight-part setting of Faire is the Hevene, and renaissance composer Thomas Tallis's setting of the Lamentations of Jeremiah.
The Toronto Mendelssohn Choir's final concert of the season (May 23) is a feast of choral riches: the Poulenc Gloria, Leonard Bernstein's Chichester Psalms and William Walton's Belshazzar's Feast.
On June 9, just beyond the scope of this issue's concert listings, Jenny Crober's East York chorus re-christens itself the Voca Chorus of Toronto, with a performance of Paul Winter's crowd-pleasing Missa Gaia. This work combines the sound of recorded animal voices with energetic gospel-derived music, and has been a hit since its premiere in 1982.
On May 4, the Upper Canada Choristers combine the famous Fauré Requiem with works by Venezuelan composer César Alejandro Carrillo. Interestingly, the choir has recently instituted a support program for boys with changing voices, to foster continued choral involvement for nascent baritones and tenors, and to promote to teenage boys a positive message for choral singing as an ongoing activity through adolescence and adulthood.
Ben Stein is a Toronto tenor and theorbist. He can be contacted at choralscene@thewholenote.com. Visit his website at benjaminstein.ca.