Along with gift exchanges and eggnog giggles with loved ones, listening to Handel's Messiah has become a Christmas staple for me. Especially in recent years, I repeatedly listen to this masterpiece of a work, my interest for it never wavering. Even after singing it several times and watching a number of performances, I have yet to tire of the soaring harmonies and elegant solos.
Grand River Philharmonic: This year, I'm looking forward to Messiah as performed, in an annual tradition going back decades, by the Grand Philharmonic Choir in Kitchener. With orchestral accompaniment by the Kitchener-Waterloo Symphony, the concert will be conducted by Mark Vuorinen and will feature soloists, soprano Mireille Asselin, mezzo-soprano Maude Brunet, tenor Asitha Tennekoon and baritone Samuel Chan. Choosing to see this particular version is part of my quest to broaden my knowledge of the choirs around me, and attend concerts outside of the Greater Toronto Area. Their Messiah will be held at the Centre in the Square in Kitchener, Ontario on December 7. Ever the one to want to introduce the Messiah to new ears, I have gifted a ticket to a friend of mine who (aside from knowing the "Hallelujah" chorus) has never listened to the work in its entirety.
Whether like me you make Messiah attendance a Christmas staple, or feel that listening to it once was fantastic but also enough, you may be tempted to rethink things, based on the range of Messiah performances among the Christmas concert listings provided by The WholeNote this season. Especially if you are willing to open yourself up to different interpretations of this beloved work, Messiah is kept alive, and constantly renewed, by composers and directors making it their own.
Wayne Gilpin Singers: Snap along if you will, as the Wayne Gilpin Singers hold an annual Christmas concert where they deliver a jazzy rendition of the work at the Evangelist Anglican Church in Kitchener on December 7 at 8pm. As the choir describes it, they will deliver "beautiful melodies, rocking sax solos, [and] edgy new jazz arrangements of Handel's Messiah, courtesy of resident composer and accompanist Andrew Gilpin." Having never witnessed such a performance, I had trouble imagining it being done, so I used YouTube to hear a variety of jazz renditions, and I think the Gilpin Singers will deliver a treat of a concert. Using YouTube to look up different arrangements of the Messiah is a real eye-opener! Not just jazz, but also soulful renditions by gospel choirs and solo artists.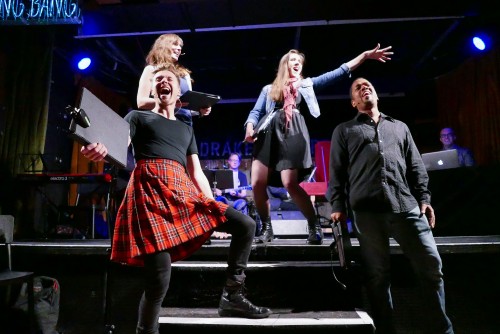 Soundstreams: Meanwhile, Soundstreams' annual Electric Messiah, billed as an "electro-improv reimagining of Handel's masterpiece," groups four soloists and band "combining jazz, gospel, blues, hip-hop, classical, world music and hypnotic dance." Directed by Rob Kempson, the evening will also feature DJ SlowPitchSound and a dancer by the name of Lybido. Tagged as "the familiar becomes fresh," these performances are at the Drake Underground in downtown Toronto, Dec 10, 11 and 12 at 8pm. On YouTube, there is a short video giving a taste of what to expect. It is a performance you will not want to miss.
Pax Christi: If you are looking to introduce children to the work, there is also Messiah for the little ones! "Children's Messiah" is an entertaining family-friendly night out with the members of Pax Christi Chorale, where children are called forward to engage with soloists and the orchestra, and "simple narration brings the story to life in young imaginations."
Singing along: Just because you are in the audience does not mean you cannot also experience singing it yourself. Both the Bach Elgar Choir and Tafelmusik Chamber Choir present a welcoming environment where lovers of Messiah can sing their hearts out. Under the direction of Alexander Cann, with soloists soprano Sara Schabas, counter-tenor Richard Cunningham, tenor Ernesto Ramirez and baritone Dion Mazerolle, the Bach Elgar Choir will sing at Melrose United Church on December 8 at 3pm. And along with Tafelmusik's more formal concert performances of Messiah (December 17 to 20 at Koerner Hall), on December 21 at 2pm, the organization continues an unbroken 34-year tradition of sing-along Messiahs, returning to Roy Thomson Hall for the second year in a row while their usual venue for this (Massey Hall) is under renovation. The Tafelmusik Chamber Choir is accompanied by the Tafelmusik Orchestra, with soloists Margot Rood (soprano), Lucile Richardot (mezzo-soprano), Thomas Hobbs (tenor), and Peter Harvey (baritone), all under the direction of "Mr. Handel himself."
The Glee Effect: Speaking about children and sing-along Messiahs reminds me, in a topsy-turvy roundabout way, of a column I recently wrote on the Guelph Chamber choir. I subsequently had the pleasure of seeing the choir perform a few weeks later. The beautifully arranged concert, titled "Five Days that Changed the World," featured the Guelph Collegiate Vocational Institute (GCVI) Chamber Choir, conducted by Lane Osborne, made up of high school students from GCVI. I left it filled with inspiration at the way choir members provided various background sounds, and the fact that the concert was primarily a cappella. One song in particular stayed with me, In Your Eyes by Peter Gabriel, arranged by Deke Sharon. What I enjoyed about it was Osborne's choice to use a student (a young man) to play percussion. Not in the way you'd expect, however, but rather using his mouth to provide a percussion line for the choir. I saw what he was doing and thought, "Oh, he is a beatboxer!" ("Vocal percussionist," I learned that day, is the more formal term in choral circles.) I found myself closing my eyes and focusing on him, such was his accuracy and skill.
I have noticed a rise in a cappella performances in choral circles in recent years, but Osborne's inclusion of a vocal percussionist gave me Sister Act vibes. As a kid, I would suggest songs from that movie soundtrack to choir directors, always itching to reproduce that upbeat, soulful presence in a room. I loved the film for demonstrating that choirs could be enjoyable and used as a release. And while I was in choirs, we would be asked to produce sounds mimicking things like winds and rain to set a tone for the audience, the percussion in "In Your Eyes" was something more fundamental than that. Today's generation would compare the work to songs featured on the TV show Glee or the film Pitch Perfect.
As someone who started singing in choirs relatively early, I have always been aware of the extent to which my peers thought of choirs being stuffy and rigid. Although I always had fun and knew that the reality of choir environments contradicted these assumptions, I also knew that it did not always seem this way to unfamiliar eyes. There was a dichotomy between performance-oriented professional choirs and singing groups such as glee clubs. One was seen to be very serious, the other, with its fun and relaxed environment, often struggling to be taken seriously, even though it took as much energy and enthusiasm to form a glee club. There was rarely an in-between. I appreciated Lane Osborne and the GCVI choir for pointing to a way to bring that "in-between" to fruition.
Handel's Messiah rap, anyone? Maybe next year.
CHORAL SCENE QUICK PICKS
SO MUCH MESSIAH, SO LITTLE TIME!
NOV 29 AND 30, 8PM: The Georgetown Bach Chorale present Choruses from Messiah and Bach's Christmas Oratorio Parts 1 and 6. Directed by Ron Greidanus with accompaniment by the Baroque Orchestra. At St. Elias The Prophet Ukrainian Church on November 29 and Christ Church Anglican on November 30.
DEC 1, 2PM: With the Welland-Port Colborne Concert Association, Choralis Camerata will present Handel's Messiah with soloists Melissa-Marie Shriner, soprano; Christina Stelmakovich, mezzo; Laurence Wiliford, tenor; and Michael York, bass. At the Dr. J.M. Ennis Auditorium at Welland Centennial Secondary School.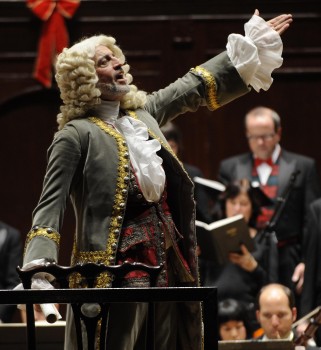 DEC 17, 18, 19 AND 20, 7:30PM: Tafelmusik partners with Evergreen Brick Works for this year's Messiah, with one dollar from each ticket sold going towards Evergreen's Don River Valley revitalization project. With soloists Margot Rood, soprano; Lucile Richardot, mezzo-soprano; Thomas Hobbs, tenor; and Peter Harvey, baritone; under the direction of Ivars Taurins. At Koerner Hall in Toronto.
For a full list of Messiah performances visit thewholenote.com/just-ask and type "Messiah" into the search.
DECEMBER DEFINITELY NOT THE MESSIAH!
DEC 6, 8PM: The Exultate Chamber Singers present "Holidays with a Twist: A Merry Romp Through Some Festive Favourites," at St. Thomas's Anglican Church in Toronto.
DEC 7, 7:30PM; DEC 8, 2:30PM: Tchaikovsky's The Nutcracker. Enjoy the music of the ballet, presented by the Niagara Symphony Orchestra in "A Symphonic Bon-Bon: The Nutcracker in Concert." Joined by Chorus Niagara Children's Chorus with chorus director Amanda Nelli and conductor Bradley Thachuk. At FirstOntario Performing Arts Centre in St. Catharines, Ontario.
DEC 8, 4PM: Joined by the Salvation Army North York Temple Band, the Toronto Youth Choir offers "On Winter's Night," showcasing works by Chilcott and Rutter. At St Andrew's Church in Toronto.
DEC 10, 11 AND 12, 8PM: Also with a matinee performance DEC 11, 2PM. Vocal powerhouse Measha Brueggergosman joins the TSO, with the Etobicoke Schools of the Arts Holiday Chorus, for TSO Holiday Pops at Roy Thomson Hall under the direction of conductors Steven Reinecke (Dec 10 and 11) and Lucas Waldin (Dec 12).
A CAPPELLA, ANYONE?
DEC 6, 7:30PM: Join local masters of the art form, the a cappella group, Cadence, in a holiday concert at St. Paul's United Church in Scarborough.
A FLYING START TO THE NEW YEAR
JAN 12, 3PM: Now in their 54th season, the Vesnivka Choir presents "A Ukrainian Christmas". Along with the Toronto Ukrainian Male Chamber Choir, a collection of traditional and contemporary Ukrainian Christmas carols and New Year's songs, with folk instrumental ensemble. At Islington United Church.
JAN 24, 7PM: The VIVA! Youth Singers of Toronto present "Beethoven's 250th Anniversary Concert" at the Regis College Chapel.
JAN 25, 7:30PM: "Last Night of the Proms." Evan Mitchell conducts the Kingston Choral Society and Kingston Symphony in lively British music. At the Grand Theatre in Kingston.
FEB 02, 2:30PM: University of Toronto Faculty of Music presents the Macmillan Singers and Men's Chorus, under the direction of conductors David Fallis and Mark Ramsay, in "Choirs in Concert: All Creatures Great and Small." At Church of the Redeemer in downtown Toronto.
Menaka Swaminathan is a writer and chorister, currently based in Toronto. She can be reached via choralscene@thewholenote.com.