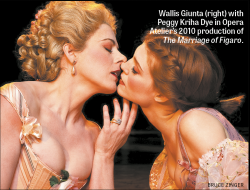 If you want to find out the first time Attila and Marion Glatz sold out their annual New Year's Day "Salute to Vienna" live concert gala all you have to do is go back to the first time they presented it — New Year's Day 1995 at the George Weston Recital Hall in North York. So what do you do when you hit a home run your first time up at the plate? Simple, you switch to a venue double the size, double the prices, and do it all over again ... and again ... and again. Charlie Cutts, CEO of Roy Thomson Hall was at that first ever event and had no hesitation offering the Glatzes the opportunity to move the event to Roy Thomson Hall, the big glass bonnet at Simcoe and King. "We like working with people who are good at what they do," he says, simply. And the Glatzes certainly are that.
Truth be told, this magazine did not have a listing for that first concert at the George Weston, for one simple reason: we didn't come into existence until September of the following year. But from then till now you can find them in every December/January double issue of The WholeNote, (most often as the "only show in town" in their mid-afternoon January 1 slot).
The formula has remained remarkably unchanged. Here for example is the listing for Thursday January 1 1998: 2.30: Roy Thomson Hall & Attila Glatz Concert Productions. Salute to Vienna. Strauss waltzes; excerpts from famous operettas; light arias and duets by Mozart; polkas and marches. Angela Kronberger, soprano; Andrea Martin, baritone; dancers from Desrosier Dance Theatre; Symphony Canada; Gregorz Nowak, conductor. $45 to $115.
And in that same issue an editorial writeup in The WholeNote proclaimed "Last year he produced the show in five North American cities, and this year it will take place in 15, including New York and Los Angeles. Asked why the show has been so successful, Glatz says simply that everyone wants to start the New Year on an optimistic note."
Marion Glatz put it pretty much the same way at a screening I attended recently. Asked about the enduring success of the Glatz "Salute to Vienna" phenomenon she replied: "It's music that makes people feel happy. And everybody wants to feel happy." The screening in question was for yet another extraordinary Glatz initiative — the filming by PBS of a Glatz-produced glittering "Salute to Vienna" concert in a packed Wiener Konzerthaus on April 25 2013 (with Maximilian Schell and Frederica von Stade as the hosts). With PBS San Diego doing the filming, and the full PBS network picking up the film (many of the the stations as a "feel good" show for their fundraising drives) prospects for the Glatzes to maintain New Year's Day concert hegemony North America-wide are brighter than ever. There are 12 U.S. and 9 Canadian cities on board for live concert versions of "Salute to Vienna" between December 29 2013 and January 5 2014, with seven on New Year's Day afternoon alone.
Glatz's connection to the Toronto concert scene goes back a long way. Classically trained as a pianist, he had arrived here from Hungary by the early 70s, supporting himself as a jazz pianist upstairs at the Hungarian Village restaurant, and later as the Hammond Organ Concert organist. He has had a home here pretty much ever since, barring three years between 1979 and 1982, when he returned to Europe and met and married Marion. Attila Glatz Productions started in the mid-80s as a booking agency for musicians, but the hankering for concert production was there from the get-go. In 1987 Glatz produced a sold-out two-pianist concert at the Jane Mallett Theatre; in 1989 he not only sold out Roy Thomson Hall for a concert by the North York Symphony Orchestra, but sold 500 post-concert reception tickets as well!
New Year's Day happiness notwithstanding, there's also no doubt that a bit of New Year's Eve sturm and drang also pushes a lot of people's holiday buttons. And for them Glatz has introduced "Bravissimo" at RTH on New Year's Eve, now as firmly ensconced on the RTH New Year's Eve calendar as its elder sibling is on New Year's Day. The formula is slightly different — with the evening's repertoire weighted much more to arias, duets and choruses from best-loved operatic repertoire, and bringing together top choirs, visiting European soloists and some of the best young homegrown talent on the operatic scene.
Wallis Giunta: One such rising star to grace the Bravissimo stage two Decembers ago, and coming back again this year, was Ottawa-born mezzo Wallis Giunta. I caught up with her over the phone at one of Toronto's two airports — I didn't ask which one — heading back to New York City where she is in the current Metropolitan Opera production of Rigoletto. She had just completed a day's photo shoot here (for Flare magazine, she said) along with director Atom Egoyan, in whose new COC production of Mozart's Cosi fan tutte she will appear starting in January. "It was just a photo shoot," she said, "but it was a chance to connect as well; to get a bit of a sense of where he's heading overall with the production and his sense of what he will want of my character and of me."
She plays Dorabella in the opera; New Brunswick-born Layla Claire is Fiordiligi, her sister. For two Canadian redheads constantly mistaken for each other while both were enrolled in the Met's Lindemann Ensemble program these past two years, it's a great opportunity to work together, especially in a show where their characters can't keep their own boyfriends straight. (In fact Giunta has worked or studied with with almost all her Cosi castmates — Thomas Allen, Tracy Dahl, Robert Gleadow — at one time or another, so it promises to be a crackling ensemble production. )
As for getting Giunta to divulge the particulars of Egoyan's take on the opera, she was somewhat circumspect, other than to say that it seems the subtitle of the opera, "The School for Lovers" is probably more central to Egoyan's thinking than the title itself. Sounds like Egoyan to me; we might well be in for a treat (with some controlling characters getting their comeuppance via a reversal or two along the way.)
As for Giunta, circle March 2 as a date to watch. That's when she'll be doing a recital for Visual and Performing Arts Newmarket on that date, with repertoire ranging from Vaughan Williams to Fauré to Joni Mitchell (the latter with her singer-songwriter sister Marley on guitar). For two Ottawa-born sisters with the Rideau Canal in their image repertoire "I Wish I had a River I Could Skate Away On" promises to be a rare treat.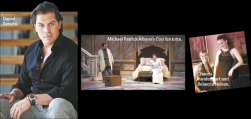 Michael Patrick Albano: Albano is stage director at the University of Toronto Opera School and as such his handiwork is not often in the public eye, but "handy work" it is. It was his pen that inked the libretto for last year's runaway success Rob Ford opera at U of T. It's his direction that will be on view, if you're quick, for the last performance, December 1, of the U of T Opera School production of Donizetti's Don Pasquale. And it will be his penmanship under scrutiny again January 30 (at 5pm) when, as part of the Faculty's "New Music Festival: Encounters," five miniature operas, written by student composers and all based upon librettos by Albano, will be presented. As resident stage director of the Opera School's training program at U of T, Albano has staged over 25 operas. Perhaps less well known, he was for several years Wayne Strongman's right-hand man in Tapestry New Opera's groundbreaking composer/librettist "lib/lab" incubator which led to the formation of some of the country's most interesting composer/librettist pairings. It will be interesting to see how many of these early inspired collaborations feature in "Tapestry Songbook" February 1, when Tapestry (sans Strongman and Albano) puts "the next generation of opera stars on display" at their Ernest Balmer Studio, in the Distillery Historic District.
Toronto Operetta Theatre: Before proceeding to the "Quick Picks" that are an inevitable part of at least giving some kind of a nod to the vast array of interresting subject matter in the opera/music theatre listings, I want to to give a bit more attention than that to Toronto Operetta Theatre. While I have indicated the extent to which other companies have tended to tiptoe around New Year's Day, the same cannot be said for the whole holiday season. In fact for as long as I can remember, Toronto Operetta Theatre, under the indefatigable direction of Guillermo Silva-Marin, has made the last week in December and first week in January their own, staging the best of the light opera repertoire at the Jane Mallet Theatre.
This year's offering is Lehár's Land of Smiles, commencing December 27 and running Dec 28, 29, 31(eve); and Jan 2, 3, 4, 5. In fact calling Silva-Martin "indefatigable" is to sell him short. He is a director with an extraordinary sense of the art of the possible, managing not only to elicit the most from the minimal set decoration possible at the Jane Mallett, but also bringing an ensemble unity to casts with actors ranging from the luminously professional to the company's most stalwart part-timers. Derek Bate conducts, drawing astonishing results from what is usuaslly a pit band (sans pit) with far more alacrity and heft than one would expect, based on numbers. I have yet to come away from one of their year-end shows without my expectations being exceeded.
Quick Picks
Dec 1, 2:30: Recitals at Rosedale. A New Vocal Series: Opera Nella Chiesa. Handel: Theodora; Massenet: Manon; Menotti: Amahl and the Night Visitors. Laura Albino, soprano; Laura Tucker, mezzo; Adam Luther, tenor; Timothy Wong, countertenor; Anthony Cleverton and Jason Howard, baritones; and others. Not opera per se, but with performers who know what opera is!
Dec 1, 5:00: Latvian National Opera Fund. Twentieth Anniversary Concert. Vilma Indra Vitols, mezzo-soprano; Armands Silins, baritone; Elizabeth Sirante, piano.
Dec 2, 7:30: VOICEBOX: Opera in Concert. Concert and Fundraiser for Ariaworks. First live performance of the new Canadian opera "Isis and Osiris." Toronto poet Sharon Singer is the original creator of this work which is imbued with her love for the majesty of ancient Egypt and inspired award-winning composer Peter-Anthony Togni to write the music.
Dec 7 and 10 at 8pm: Ontario Philharmonic presents Nessun Dorma, great songs of Italy with Richard Margison, tenor; Marco Parisotto, conductor. December 7, Regent Theatre (Oshawa); December 10, Koerner Hall.
Dec 14 and 15 at 8:00: A bit of a sleeper, perhaps; Against the Grain Theatre presents AtG's Messiah. It's Handel's Messiah, with impeccable musical credentials, but in a less-than-usual venue, and by a company with profoundly interesting operatic chops. One to watch.
Dec 20, 8:00: Sine Nomine Ensemble for Medieval Music. Nativitas: Liturgical Dramas for the Christmas Season. Medieval French and Italian musical dramas.
Jan 23, 12:10: University of Toronto Faculty of Music. Thursdays at Noon: Stephanie Blythe Master Class: Opera Arias.
Jan 24, 7:30: Opera by Request. Carmen. Bizet. Sarah Hicks, mezzo-soprano (Carmen); Stanislas Vitort, tenor (Don Jose); Andrew Tees, baritone (Escamillo); and others; William Shookhoff, music director and piano.
Jan 28, 12:00 noon: Canadian Opera Company. Vocal Series: The School for Lovers. Highlights from Così fan tutte. Artists of Ensemble Studio.
Jan 28, 7:30: York University Faculty of Fine Arts. Beggar's Opera. Students from music, theatre, dance and digital media collaborate on this immersive adaptation by Gwen Dobie. Wish I'd had time to say more about this; bil;led as a "modern adaptation" the production takes us to "a Toronto jail in 2014, inmates crack open this satirical tale of corruption, social inequality — and some very messy love triangles. Thieves, gangsters, politicians, lawyers ... who can tell them apart?!
Come visit us in jail, and see how much things have changed — or not — since the 18th century."
Jan 31, 7:30: Opera by Request. Le Nozze di Figaro. Mozart. Michael Robert-Broder, baritone (Figaro); Jocelyn Halleck, soprano (Susanna); David Diston, baritone (Count Almaviva); Deena Nicklefork, soprano (Countess); Jennifer Routhier, mezzo (Cherubino); and others; William Shookhoff, music director and piano.
Feb 2, 2:00: Canadian Opera Company. Un ballo in maschera. Verdi. Adrianne Pieczonka, soprano (Amelia); Dimitri Pittas, tenor (Riccardo); Elena Manistina, mezzo (Ulrica); Simone Osborne, soprano (Oscar); Jossi Wieler and Sergio Morabito, stage directors; Stephen Lord, conductor.
Feb 2, 2:30: VOICEBOX: Opera in Concert. Rameau: Hippolyte et Aricie. Allyson McHardy (Phèdre), Meredith Hall (Aricie), Colin Ainsworth (Hippolyte), Alain Coulombe (Thésée). JTracy Dahl sings in COC's Cosi fan tutte production as Despina.
Feb 6, 12:00 noon: Canadian Opera Company. Richard Bradshaw Amphitheatre Dance Series: A Soldier's Tale. Michael Greyeyes, choreographer/director; Tara Beagan, lyrics; John Gzowski, music.
Feb 7, 7:30: Canadian Opera Company. Così fan tutte: Ensemble Studio Performance. The fact that several of the stars gracing the mainstage production of Cosi were also not too long ago members of the opera studio ensemble, emphasises the extent to which this studio ensemble performance has become one of COC general director Neef's best innovations; putting ensemble members on stage with the full resources of the company, from chorus to orchestra, at their disposal. Expect to hear more about this particular performance in the next issue of HalfTones, The WholeNote's midmonth e-letter. It's quite simply not an opportunity to miss. 
David Perlman, publisher of The WholeNote, steps in this month for regular opera columnist Christopher Hoile.