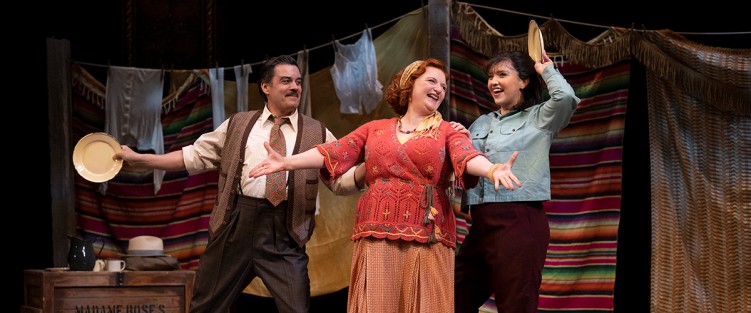 When you have an actor with the musical and acting chops to play Mama Rose, it is a good idea to program the musical Gypsy as part of your season.
This is exactly what happened at the Shaw Festival when the current season was being planned. When music director Paul Sportelli and then associate artistic director Kate Hennig found out that artistic director Tim Carroll had never seen or heard the famous Arthur Laurents, Jule Styne and Stephen Sondheim-authored musical they immediately arranged a listening party, reading the script while listening to a recording of the score. Once the party was done, as Kate Hennig told me, Carroll looked at her and said "Well, we have a Mama Rose, why don't we add this to the season?" And so, one of the hits of the summer came to be.
Gypsy is one of those shows that when you hear the score you realize, as I did when I attended the Shaw production earlier this summer, that you already know all the songs; they have been consistently performed, in and out of context, ever since the musical's debut back in 1959. With a score by Styne, lyrics by Sondheim and book by Laurents, Gypsy: A Musical Fable, is a captivating tale loosely based on the 1957 memoirs of striptease artist Gypsy Rose Lee focusing primarily on her mother, Rose, whose name has become synonymous with the ultimate show business mother. Notoriously brassy star Ethel Merman originated the role and ever since it has proven to be a glorious showcase for a wide range of stars including Angela Lansbury, Patti Lupone, Rosalind Russell (film), Tyne Daly and Bernadette Peters.
Along the way we follow Rose as she shepherds her two young daughters through years of headlining (and struggling on) vaudeville stages across the country; penny pinching, fighting, teaching, cajoling, always fighting to make her dream come true of turning her daughter Baby June into a big star. A late turn in the story comes with June's desertion and Rose's focus turning to the tomboy sister instead who – through some interesting twists and turns – finds herself becoming a burlesque star. As Hennig says, "It is very much a tale of the theatre and director Jay Turvey's production finds joy in sharing all the backstage details" of the rather more tawdry than glamorous life led by Rose, her daughters, her loyal henchman Herbie and the other young performers under her wing.
I have followed Kate Hennig's career as an actor, writer and director for a long time and suggested to her that this must be the culmination of a dream for her – reflecting other facets of her multifaceted career – as a teacher and director as well as acclaimed performer. Hennig's response surprised me: that she "doesn't really think in terms of dream roles," but adding that it is a role that has been a part of her life since she was starting off. As a friend delightedly reminded her this summer, Hennig had actually sung Rose's Turn (the dramatic climax of the show) for the Maud Whitmore Benefit Concert at the Charlottetown Festival back in 1987, when she was only 24.
Eighteen years later, in her early 40s (the perfect age for this role, she told me) she covered Nora McLellan as Mama Rose at the Shaw Festival, playing about 25 performances over the course of the season. This was also the first time that a musical had been programmed at the Festival Theatre, an innovation made by then artistic director Jackie Maxwell. While it is a huge role that sometimes leaves her feeling "as though I've played five tennis matches in a row," Hennig seems to thrive on playing Rose and being in a cast full of younger performers who look up to her.
When I asked if she might someday direct the show herself she said "Yes, quite possibly. My wheelhouse in terms of directing," she said "is the old school musicals which are definitely losing their political appeal in the current culture but there is still an audience for them, and some of them are brilliant pieces of work that I understand, and because of being in the business for 40 years and working with masters in their field I've inherited a lot of that knowledge which I would love to pass on to other people."
Hennig has already directed wonderfully received productions on the Festival stage of Irving Berlin's White Christmas and Holiday Inn. I would love to see what she would do with Gypsy, perhaps giving the show the benefit of an experienced female eye at the helm. In the meantime, Gypsy continues at the Shaw Festival, but only until October 7.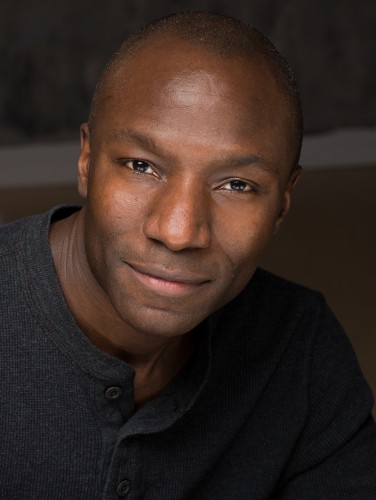 The Real McCoy, indeed: As well as all the established musicals on stage this season there are new shows in development to look forward to, including one I have been curious about since first hearing about it almost ten years ago. By the time this is printed, the event will have passed, but I think we will be hearing more about this show as it continues to develop. The Musical McCoy is a new musical adaptation of Toronto playwright Andrew Moodie's hugely successful 2006 play The Real McCoy. The brainchild of adaptor Vincent de Tourdonnet, the musical uses a beat-based electronic score to tell the true story of African-Canadian inventor Elijah McCoy who revolutionised the design of the steam engine and his African-American wife Mary Delaney, an activist who envisioned a day when all women could vote.
By the time you read this I will very likely have see the public showcase of the first act of McCoy taking place September 23 to 25 at the Papermill Theatre at Todmorden Mills Historic Site at 67 Pottery Road in Toronto. Moodie directs (interestingly after just directing a hit remount of his original play at the Blyth Festival this summer). The cast is made up of a thrilling group of musical theatre performers including Daren A. Herbert (Onegin, the musical, CBC's Pretty Hard Cases) and Arlene Duncan (Little Mosque on the Prairie, Diggstown). All tickets are free. For full production credits, and links to some songs from the show, visit their website.
Fall for Dance: Late September and early October is also the time to catch some of the spectacular offerings of what is probably our most inclusive and accessible dance festival: Fall For Dance North. FFDN not only showcases local and Canadian dancers and companies, but brings to the city artists from around the world to share their unique visions of storytelling through dance. Events take place at various locations around the city with the main-stage program occupying Meridian Hall (1 Front Street East). Tickets to main-stage events are only $15 and many events are free. September 26 to October 7.
October will also see the Akram Khan Company's acclaimed contemporary dance adaptation of Rudyard Kipling's The Jungle Book which has been travelling the world garnering rave reviews wherever it goes. Spectacular technology transforms the stage and the story into an urgent mythic tale for our own times as we are transported into the journey of Mowgli through the eyes of a refugee child caught in a world devastated by climate change. October 12 to 14 at the Bluma Appel Theatre.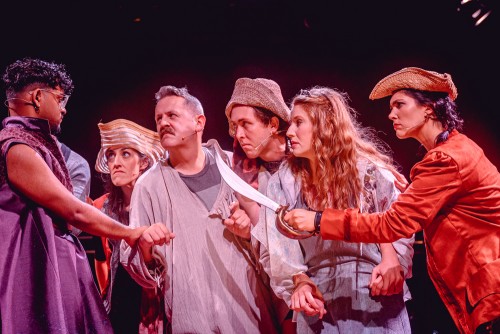 Also in October, the newly established Toronto- and St John's-based Terra Bruce Productions is bringing a new musical inspired by the music of The Irish Rovers to the beautiful WinterGarden Theatre. According to the press material "The Wild Rovers features a hysterical, magical fairytale script and (a score made from) a mashup of Irish Rovers greatest hits and original music." My curiosity is definitely piqued! October 14 to November 5.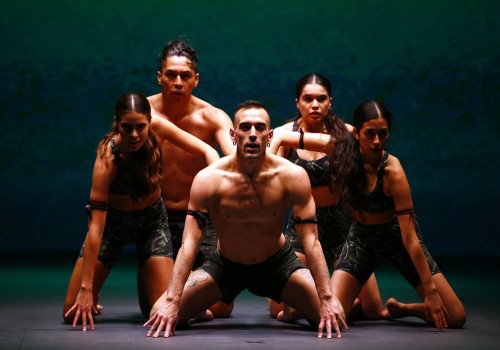 Also in early November, I am looking forward to Red Sky Performance's multi-genres celebration of their five-year residency at Canadian Stage Berkeley Street where they have delighted audiences with a unique vision of the world as seen through the lens of Indigenous mythology realized with glorious choreography and matching newly composed scores performed live. Red Sky at Night plays November 3 to 5.
Finally, another not to be missed musical on my list is another combination of old and new: In Dreams, inspired by and created around the songs of Roy Orbison, is the follow-up creation from Canadian writer David West Read (the Emmy-winning Schitt's Creek) and director Luke Sheppard – the team behind & Juliet, whose pre-Broadway North American premiere engagement was the toast of the 2022 Mirvish season. September 26 to November 12.
Jennifer Parr is a Toronto-based director, dramaturge, fight director and acting coach, brought up from a young age on a rich mix of musicals, Shakespeare and new Canadian plays.