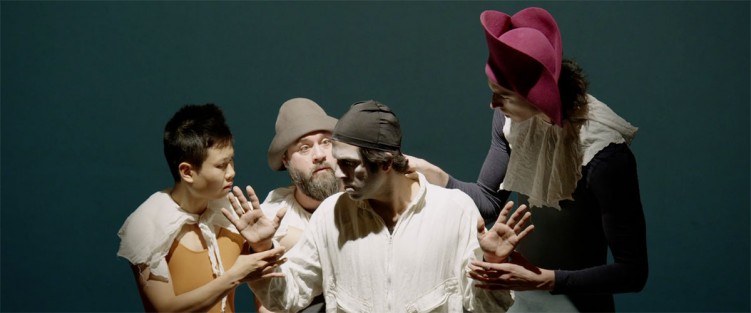 Live theatre is back and breaking down the walls of convention in every direction. George F. Walker's Orphans of the Czar at Crow's Theatre is an uncannily apt combination of an iconic Canadian voice and the state of Russia just before the revolution, bringing new insights from that time that apply to ours through strong performances, inspired in some cases with a physical theatre/clown style. Over at Tarragon Theatre, Sean Dixon's new prehistoric fable of family, adoption and the communication between species, Orphan Song, draws on the twin disciplines of magical puppetry and music as language to share important universal truths – and the season is just getting started.
One of the things I enjoy most about covering this Music Theatre beat is how much territory is encompassed in that title. From the most classic of classical ballet in the transcendent performances by Harrison James and Heather Ogden as Prince Florimund and Princess Aurora in Nureyev's version of The Sleeping Beauty for The National Ballet of Canada's recent revival in March, to traditional Broadway-style musicals such as those now in previews at the Shaw Festival (Damn Yankees) and the Stratford Festival (Chicago) – and from traditional opera to experimental amalgamations of unlikely elements that somehow cohere to make something that unmistakably fits the category. This spring experimental music theatre is popping up everywhere and in widely varying formats: interestingly, the three very different shows that I look at here, choose to explore very dark themes, using a tool kit in which music is an essential, integral, ingredient.
Room
At the Princess of Wales Theatre on April 7, Emma Donoghue's Room, based on her novel of the same name, made its Toronto debut after its Canadian premiere at London's Grand Theatre earlier this month. As those familiar with the novel and the film based upon it will know, the story of Room is a dark one, though leavened with hope. At first advertised as a musical, it is now being marketed as a "play with songs" which is much more accurate. The story is the same – the long captivity of a young woman – Ma – and her son Jack – in a single room by an abusive captor – and their subsequent escape. The story is hard to bear, but the stagecraft is wonderful, from the whimsical drawings that appear projected on the walls of the room to the use of songs – songs that occur only in those moments when Ma and Jack – through his alter ego Super Jack – are at the utmost limits of their endurance and find release singing directly to the audience about their inner trauma. Director and co-songwriter Cora Bissett writes in her program notes that from her very first reading of the novel she could "hear songs: aching songs of desperation and hope; songs of survival" and immediately "bashed out some sketches." The songs, even though the lyrics were not completely audible on opening night, add a rich emotional layer to the storytelling.
Room continues at the Princess of Wales Theatre until May 8. www.mirvish.com
Italian Mime Suicide
Music is even more essential to Italian Mime Suicide coming up at The Theatre Centre on April 21. Inspired by a 2003 newspaper headline, "Italian mime jumps off building claiming no one appreciates his art," theatre company Bad New Days has married the art of the mime to multimedia projections and an original score that incorporates a small amount of spoken word to explore the "possibility of levity within tragedy."
To anyone familiar with the aesthetic of mime, commedia dell'arte, or circus clowns, that combination of melancholy and humour is iconographic, as is the interweaving of music and movement. What promises to take this now full-length production into new territory is the the Persian-influenced score (originally created by three-piece live-band Zuze (led by Arif Mirabdolbaghi) which will now be re-played live by turntablist SlowPitchSound (Cheldon Paterson) interactively with the cast's performance.
April 21 - May 1 www.theatrecentre.org.
Crypto
Crypto, a new multimedia dance work by dancer and choreographer Guillaume Coté is, he says, "the culmination of the many threads (he) has been experimenting with in (his) work going back to Frame by Frame" with the National Ballet of Canada.
While he loves "pure dance and has worked in pure dance for 25 years" as a leading principal dancer with the NBC and with companies around the world, Coté has an increasing presence and reputation in the world of multimedia creation as a choreographer and leader of multi-disciplinary teams, who is constantly pushing the boundaries of what this form of dance can be.
Frame by Frame with the NBC (2018) was groundbreaking in its use of film projection and animation. Touch, which played at the TO Live space at One Yonge Street last fall, broke new ground with 360-projections cued by the dancers' movements in the space. This new work, Crypto, goes beyond those experiments by not only including spoken word, but in being based – for the first time for Coté – on a libretto, a new, darkly bizarre fable written by Pulitzer Prize-winning Canadian librettist Royce Vavrek.
The project began with Coté's desire to "tackle a fairy tale of some kind. I love the original darker tales that have deeper meanings about our lives and coming of age," he told me. While this is not going to be a story ballet with a clear straightforward narrative, the bare bones of the story will be clear. "There is a couple who are very clearly unhappy. The wife sends the husband out to find a mythical creature which will solve all their problems and make them happy again. He goes out and finds the creature, but they cannot tame it and so turn to a surgeon to morph it into a human being; and then everything goes wrong. The action," he says, "is very clear, but the intentions and meaning behind all of the intentions are very abstract." There are three actors voicing the recorded text but, as Coté explained, "I needed the text to be a way of enhancing the already abstract action, as opposed to giving it a direction, so often what the text will do is give you imagery in words that adds to the imagery you will see in the dancing, but it is not as if the characters are talking to each other or as if we are dancing on top of the text."
From the beginning of the creation process in Banff, every element played a part. A specific choreographic language for each character was developed to existing music by composer Mikael Karlsson, who then took those experiments away and wrote the score as the work developed, incorporating the spoken words. "We began," Coté says, "with the obvious ideas of music and movement but very quickly we decided why not start with poetry in some moments, multimedia in other moments? We were aiming to fuse all the elements, making the whole experience something greater than the parts, rather than trying to reduce it to one art form." A dark look at humanity's attempt to subvert nature, Crypto promises to be a shining evening of music theatre at its risk-taking best.
May 5-7, www.canadianstage.com/shows-events/season/crypto
QUICK PICK
APR 19, 8PM (To MAY 29): Boy Falls From The Sky This one-man autobiographical musical was a sellout hit at the Fringe in 2019, as well as a great deal of fun. Not only is it a story of "local boy makes good" but the show itself is switching venues from the originally scheduled intimate CAA Theatre to the larger and more elegant setting of the Royal Alexandra. Jake Epstein has the charisma to fill the new space, and I look forward to seeing the new incarnation. www.mirvish.com/shows/boy-falls-from-the-sky
Jennifer Parr is a Toronto-based director, dramaturge, fight director and acting coach, brought up from a young age on a rich mix of musicals, Shakespeare and new Canadian plays.