When the rapidly increasing spread of the Omicron variant and the new lockdown closed down our performance spaces once again in January, all kinds of theatre-going plans for the early new year had to be tossed out. Luckily, resilient companies and artists didn't stop creating; their new and growing ease with filming and streaming, is still providing us with many ways to enjoy good music theatre in spite of the pandemic, and to cheer our souls during the coldest time of the year.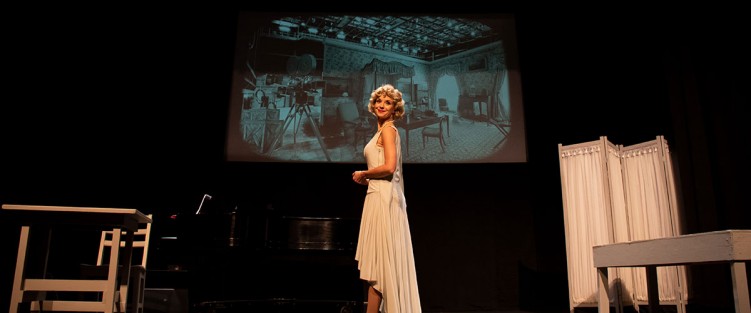 Silver linings
Among these bright spots is the opportunity to catch filmed versions of live shows we might otherwise not have seen. One of these is prolific Canadian composer Dean Burry's Sweetheart, a one-woman musical about Canadian-born Hollywood star and brilliant business woman, Mary Pickford. Burry is probably best known for his operas, whether written for children like The Brothers Grimm, or telling Canadian stories such as the recent Dora Award-winning Shanawdithit, but he has also been a creator of musicals from the beginning of his career.
I have known Burry since directing his opera for and about teenagers, Pandora's Locker, at the Glenn Gould School back in 2008, so I reached out to him to find out more about this show.
It turns out that Sweetheart is one of his earliest works. "It was first written in 1997," he told me, "just after I graduated with my master's degree in composition from the University of Toronto, and was working in the box office at the COC. I was reading all these biographies of musical theatre composers for inspiration and came across a mention of Irving Berlin at a dinner party with Mary Pickford. Remembering that she was from Toronto, I investigated a bit further and that led to the first version of the show." That early version only got as far as workshops with friends, but in 2011 a revised version was performed in the newly renovated 1920s setting of Toronto's Spadina House, with a remount in Haliburton the following summer. That was that for ten years, until the fall of 2021 when new workshops were undertaken with director Greg Wanless and actor Melissa Morris, resulting in a newly revised version that was performed in Kingston last December.
But why a one-woman version of this story? Well, for several reasons. "As a young Canadian composer," Burry told me, "'economy of means was always in my thoughts – i.e. how can we do the most with the very least? I imagined Sweetheart as a female version of John Gray's excellent one-man show, Billy Bishop Goes to War. I also just love the theatricality of this kind of show where one actor plays all the characters to the point that we believe we see them talking to each other. There is something magical about that." And to top it off, "usually, silent movies [like Pickford's] were accompanied in the movie theatre by a single piano and I wanted to create that kind of feeling."
There is also something meta-theatrical about this reconceptualized version of Sweetheart: we, the streaming audience, will be watching on our screens, captured on film, a live show that is itself being performed in front of a movie screen that can function as either a projected backdrop, or moving picture that the actor will sometimes interact with.
Burry praises both director Wanless and actor Morris for their contributions to this new version of Sweetheart which is much tighter and more streamlined, leaving behind the documentary detail that his younger self, as he describes it, "had become obsessed with including." Instead it focuses on the dramatic core: "[Pickford] always feeling held back by her famous bubbly young girl film persona as 'America's Sweetheart,' and then her fading celebrity with the advent of the talkies." Her famous creation of film company United Artists with husband Douglas Fairbanks and friend Charlie Chaplin also features significantly, and weaving everything together is Burry's original score inspired by the music of Irving Berlin and the Gershwins, evoking the early days of Tin Pan Alley and the first moving pictures.
Sweetheart was captured live over several performances in Kingston, Ontario and will be streamed online from January 27 to February 6.
Ursa: A Folk Musical
Equally theatrical but even more experimental is The Uncommon Folk Collective's theatre-concert hybrid Ursa: A Folk Musical which will premiere as part of The Next Stage Festival. Ursa, like most of the other shows in the festival was originally supposed to be performed to live audiences, but from necessity has pivoted and is in the final stages, as I write, of being filmed to stream online from January 30 to February 7, with a possible extension to be confirmed soon. I was lucky enough to catch a virtual (online) glimpse of Ursa in development as part of the inaugural Watershed Festival last spring, and was delighted with its freshness, youthful energy and experimental daring.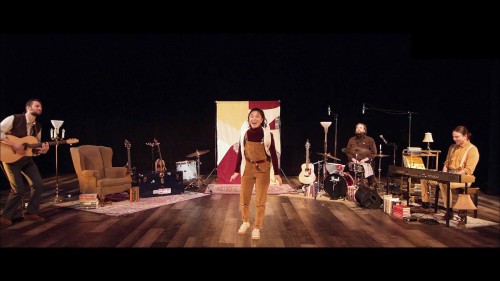 Ursa is truly a child of the pandemic. It was written collaboratively over weekly Zoom sessions over the past two years by Jake Schindler "a theatre lover with a passion for folk music" and Sam Boer "a touring folk musician with a passion for musical theatre" and is inspired by the two friends' mutual love of iconic Canadian folk music and the transformative experiences [they've] had at great concerts which, they believe, "have a distinct ability to bring people together and create a sense of belonging and inclusivity." In their own words they "want to create accessible versatile shows that feel like folk concerts, tell stories like musical theatre, and invite our audiences to experience something both familiar and brand new."

Ursa draws on the universal power of folklore by inventing its own fantastical tale of a small-town-Ontario teenager who runs off into the forest in search of adventure only to meet an anxious bear in the middle of an identity crisis. As the girl and bear become friends the audience is taken on a whimsical journey exploring what it is like to be young, want change and struggle to make it happen.
Margot Greve directs emerging talents Belinda Corpuz as Ursa and Stephen Ingram as the Bear, with a live band backing up the fresh and surprising folk tunes. As a fan of both folk music and musical theatre, perhaps I am too much the ideal audience member, but from what I have seen so far, I think this young ambitious team will meet their goals of bringing new audiences of all ages to their new hybrid folk concert-theatre creation.
INNERchamber Kindness
One of my favourite "silver linings" of the pandemic, as I have written before, was discovering INNERchamber's concert series at Stratford's Revival House. Before the pandemic I had never been in town to catch their live performances, but because they had to pivot to film and streaming in order to keep performing. I had the opportunity to enjoy their intimate concerts online and fell under the spell of the group led by artistic director Andrew Chung who, with their guest artists, are constantly finding new ways to weave together words and music in the concert setting. There was very little on their website about the upcoming concert Kindness other than it was being curated by well- known Stratford and Shaw Festival husband and wife musical theatre performers Glynis Ranney and Mike Nadajewski, so I reached out to them to find out more.
Ranney had appeared previously with IC in concerts as an actor and singer but last January she told me, "Andrew Chung approached us and asked if we had anything we might want to pitch as ideas for a concert." Ranney had already, over the years, been compiling a collection of stories about unexpected kindnesses, she explained, and had been thinking of putting some kind of package together, "so I suggested this to Andrew and he liked the idea." Over this past year she and Nadajewski have gathered together various songs and stories that pertain to the idea of kindness: "simple everyday acts or radical unexpected acts by a community, within a marriage, by health care workers, or even by an enemy."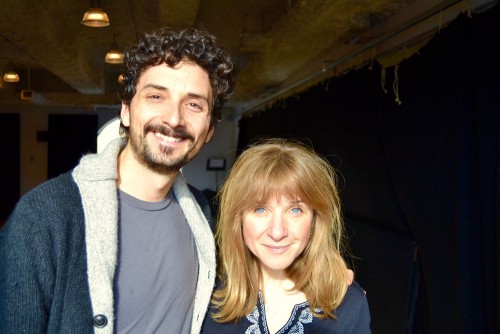 While Ranney and Nadajewski found and compiled most of the material, all the songs are arranged for the ensemble by core IC member, cellist Ben Bolt-Martin, whom Ranney describes as a wonderful composer and arranger. Bolt-Martin also arranged the text and created underscoring for the key anchor story for the show, one that had inspired Ranney to start collecting stories of kindness years before. It was a real-life story from World War Two, of German fighter pilot Franz Stigler who, instead of shooting down American bomber pilot Charlie Brown, guided him safely back to England. Neither man, of course, told anyone else what had happened until many years later. "What is even more remarkable," Ranney said, "is that Stigler later settled in Vancouver, was reunited with Charlie Brown, and they became the best of friends."
Leading up to this story and a final song by Jacques Brel, is a collection of six to eight songs interwoven with stories of kindness from real life, balancing lighter fare such as Neil Bartram and Brian HIll's comedic song Mrs. Remington about a teacher's kindness, with heavier fare such as the shooting of young Amish girls in the Nickel Mines community by a deranged gunman, and the remarkable unexpected kindness shown by that Amish community afterwards to the parents of the killer.
Ranney and Nadajewski complement each other well. "I am more earnest," Ranney said, "but my husband has good funny bones. There will even be a 'kindness lightning round' as he calls it, of quick quotes." There will also be songs by Shirley Eikhard, Leonard Cohen, Stephen Sondheim and others. Not what you would expect from a classical chamber ensemble? Exactly.
QUICK PICKS & SHOW INFO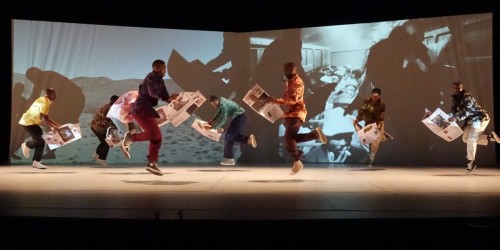 FROM JAN 16 ON: Sundays at 7pm, In-Home Concert Series curated by Donavon LeNabat of Donavon's Anti-Social Gathering, Porch Side Concerts and In-Home Open Mic. Livestreamed Sunday nights, and available on demand following the livestream. The first concert featured musical theatre star Charlotte Moore with LeNabat at the piano. Other guests booked include musical theatre artists, as well as jazz/pop singers and musicians. FREE (tips welcome).
JAN 27 to FEB 6, 7:30: Sweetheart: A One Woman Musical by Dean Burry. Sweetheart Productions. Recorded presentation of the December 2021 production of Sweetheart. Melissa Morris; Clare Marion (piano); Greg Wanless, director. www.events.eply.com/SweetheartAOneWomanMusical. $10. ONLINE
JAN 30 to FEB 7: (with possible extension TBC), Ursa: A Folk Musical. The Next Stage Festival. Tickets $15 plus fees. Festival passes also available.
Show will be available to view on demand once released.
fringetoronto.com/next-stage/tickets-passes
FEB 11 to 19: The Quest, a new Canadian musical by Murray Foster and Kieren MacMillan at the Canadian College for the Performing Arts in Victoria, Live and ONLINE across Canada. www.ccpacanada.com/the-quest
FEB 13, 7pm: Kindness, INNERchamber 7pm, Revival House, pre-show chat 6:30 pm (free), Concert tickets $10-40. innerchamber.ca
ONLINE (also live if allowed, please see website for updates)
FEB 16 to MAR 16:
Via Kanana, Harbourfront Centre in partnership with Digidance. As a highlight of Kuumba, Harbourfront Centre's longest running Black Futures Month Festival, Via Kanana is a non-stop torrent of energy. The hour-long work condemns the corrosive effects of corruption in South Africa and expresses frustration at how little has changed for the better for Black people since the end of Apartheid.
Video on Demand Streaming in Canada only. From $15 + applicable taxes. www.harbourfrontcentre.com
Jennifer Parr is a Toronto-based director, dramaturge, fight director and acting coach, brought up from a young age on a rich mix of musicals, Shakespeare and new Canadian plays.