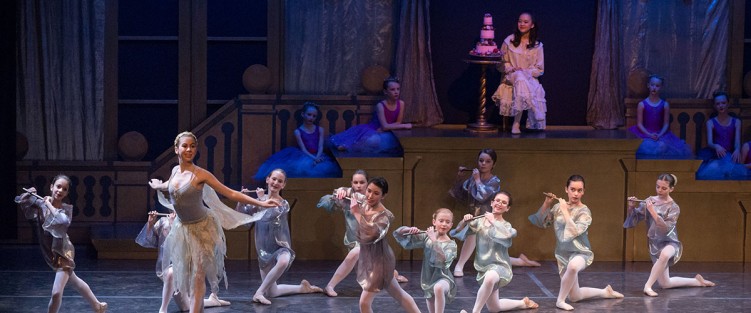 Last Sunday I made my way to Toronto's West End in search of the new location of the Pia Bouman School of Ballet and Creative Movement, in order to get an insider's glimpse of rehearsals for the school's return to live performance with The Nutcracker. In a long, low, industrial building near Lansdowne and Bloor, I opened a door into a world of ballet: girls (and some boys) of all ages in tights and leotards, sweatshirts and leg warmers, waiting to rehearse, groups of parents intent on creating scenery or sewing and fitting costumes and, in the main studio, students and adult guests rehearsing the early scenes of Act One. As a fight director, I often work with professional dancers, but there is something incredibly moving about being in the midst of young dancers at work—particularly when they are as quietly and happily intent as this group.
Not being a "West Ender," I knew of the Pia Bouman School but had never attended a performance or understood its importance to the community. Then, when I was looking to see which Nutcracker productions there might be in Toronto this year—other than the luscious James Kudelka version performed each Christmas by the National Ballet of Canada—a friend mentioned that she was involved with the Bouman School's production and, in fact, was going to be joining the cast this year as "the Grandmother." Tedde Moore, Dora Award-winning actor, teacher, and coach (who had grown up in the theatre as daughter of Mavor Moore, and granddaughter of Dora Mavor Moore), it turns out, had been involved with the school from the time her daughters were tiny, and her stories made me realize that the Pia Bouman School must be one of the best kept secrets in Toronto for those outside its immediate neighbourhood.
Tedde met Pia in the mid-1970s when Pia was hired to teach creative movement at one of Toronto's first Montessori nursery schools, which Tedde's children attended. In Tedde's words, they "met, clicked, and have been good friends ever since."
At that time, Pia and her young family had recently immigrated to Canada. "I was dying to get back into dance," Pia told me, "and started to take classes from [former Canadian ballet star and teacher] Lois Smith on Front Street, and then with Patricia Upcraft in Thornhill, who urged me to do my RAD [Royal Academy of Dancing] exams so that I could become a teacher. I was in my 30s when I did my first RAD exam, and in my 40s when I did my last one."
"I never thought I would dance professionally," she continued, "but I thought to teach would be wonderful."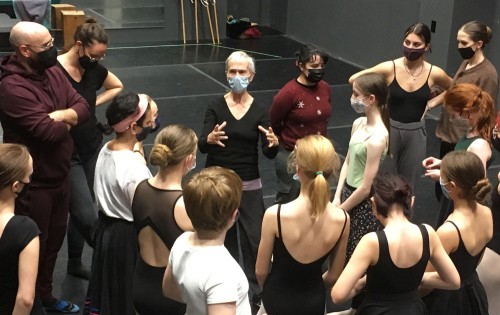 It didn't take her long to start her own school—then called Let's Dance—in its first location, a church basement at the corner of Queen Street and Beattie Avenue, in 1978. From the very beginning she accepted children whose parents (or parent) could not afford to pay for classes—"children who would be dying to do this," she says. "Every child that has a wish to dance should have the chance to pursue that dream." This belief was the guiding force for the school as it began, and was enshrined in the school's mandate when it received charitable status and gained its first board of directors in 1986.
At that point, the name changed to the Pia Bouman School of Ballet and Creative Dance. "From the very beginning," Tedde tells me, "there was an absolute magic about Pia in the way she related to the children, and the children to her. She is a wonderful teacher and an extraordinary visionary. In my long life in the theatre business, I have met a few people at the beginning of their lives in the arts, and I have known almost from the minute I met them that because of the purity and quality of their commitment to their goals they are going to succeed—and Pia is a case in point."
The school has faced many challenges over the years, including having their location sold out from under them twice, but has always found a new home and rebuilt, always with the support of the community. As both Pia and Tedde tell me, the support of the students' families has been both wonderful and essential over the years, and has added immeasurably to the experience for everyone involved.
The school's annual production of The Nutcracker, which first took place in a parish hall in 1985, has since grown to an immense production with a cast of over 100 student dancers, and 16+ adults playing the parents, the guests, the servants, and the all-important "Uncle Drosselmeyer." The adult performers at first were parents of the current students, but many enjoyed themselves so much that they returned year after year, even after their children had graduated. In its heyday the show grew so big that it migrated from the school to the auditorium at Humberside Collegiate, with an audience of 700 for each performance.
With the challenges of COVID-19, as well as a forced move to a new location, that had to change, at least temporarily. This year, navigating the ongoing uncertainties of the pandemic meant that even thinking of using a Toronto public school location was out of the question. The smaller number of students taking class in-person also indicated a need for a smaller production. Luckily, the school's new studio theatre would be finished in time to provide a performing space for the smaller cast of 38 dancers and 3 adults. It will also be a shorter show, only 72 minutes instead of 2 hours, though still performed to (a cut version) of the beloved Tchaikovsky score. Tedde, instead of playing her original role of "the (very mischievous) maid" who made sure the adults were in the right place and covered for any issues that might come up during the performance, will now play the "Grandmother," a new character who will introduce the story of the ballet and "fill in the gaps" between the scenes that will be performed. (She will share the role with another long time parent volunteer, Ellen Moorehouse).
The choreography, by Pia Bouman, will remain true to the original, giving the student dancers the unparalleled opportunity to perform in an iconic classical ballet. Any student (aged 7 or older) who auditions is given a part, no matter their body type or expertise. This is their chance to perform as ballet dancers in one of the most beloved ballets in the classical repertoire, and they love it.
"They are all so giving to each other, they have missed it so much and this is a lifeline," Pia tells me. "You hear them say time and time again, 'I can't think of anywhere I would rather be'."
The Pia Bouman School's presentation of The Nutcracker will take place on December 18 and 19 at 1:30pm and 7:30pm, at the Pia Bouman School's Studio Theatre (225 Sterling Rd., Unit 103). All shows will be livestreamed as well. Visit the website or http://www.piaboumanschool.org/nutcracker or phone (416)-533-3706 for details.
Jennifer Parr is a Toronto-based director, dramaturge, fight director and acting coach, brought up from a young age on a rich mix of musicals, Shakespeare and new Canadian plays.