For lovers of musical theatre, there is something uniquely magical about the holiday season this year as the world of live performance starts coming back into its own, including all the usual holiday entertainments we had to forgo last year, while we safely stayed home.
Nutcrackers and Scrooges
Live performances of The Nutcracker are returning, from the grand scale of the National Ballet of Canada's perennial favourite at the Four Seasons Centre to the smaller-scale beloved production of the Pia Bouman School for Ballet and Creative Movement, with a legacy almost as long as the National Ballet's. There is even a new entrant on the scene which straddles the line between live and digital: Lighthouse Immersive's Immersive Nutcracker is similar to their Van Gogh and Klimt programs, enveloping an audience within four bare walls on which is created a projected world – in this case, a shortened 40-minute version of The Nutcracker, part ballet, and part animation, fuelled by Tchaikovsky's iconic score. Audiences are free to roam and even dance along, which seemed to delight some of the children who were there when I was.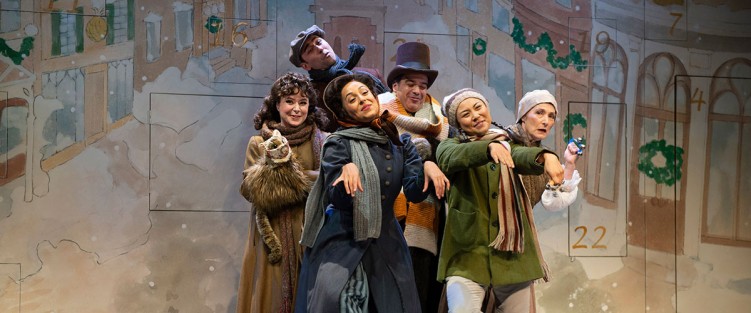 Another returning holiday tradition is the many and varied stage adaptations of Charles Dickens' A Christmas Carol. I had the great treat of attending for the first time the opening performance of The Shaw Festival's version, adapted, and originally directed, by artistic director Tim Carroll, and this year directed by (former assistant director) Molly Atkinson. What was revealed to us in the cozy intimate setting of the Royal George Theatre was an intrinsically theatrical but also surprisingly musical version of the beloved transformation story: confirmed miser and hater-of-all-things-Christmas, Ebeneezer Scrooge metamorphosing into a spirit of joyous generosity. The show opens with a group of very tuneful carollers who not only set the scene and get the story started but pop up throughout to punctuate the action and to round everything off with what would – in non-COVID-wary times – be a group singalong with the audience.
There is a magical spirit of theatrical inventiveness in this production from the use of a front screen that resembles an outsize Advent calendar – with windows to be cleverly opened and even used as props – to one of the cleverest and most whimsical depictions of the three Christmas ghosts that I have ever seen.
Holiday Inn
I left the Royal George Theatre filled with the joy of the story and the season, and ready to see Shaw's other holiday offering, the full-scale stage version of Irving Berlin's musical Holiday Inn. Over at the Shaw's main Festival Theatre, Holiday Inn lives up to its desire to be a postcard to the Golden Age of Hollywood musicals and the light-hearted optimism of post-war America, transporting the audience to a time that is (mostly) free from care. Director Kate Hennig and choreographer Allison Plamondon have created a lively sweet show that combines a full, spirited performance of an admittedly lightweight book with wonderful song and dance numbers that embrace the full range required, from quiet emotional moments to a full-scale extravaganza leading to a happy Hollywood ending and joyful applause in the audience.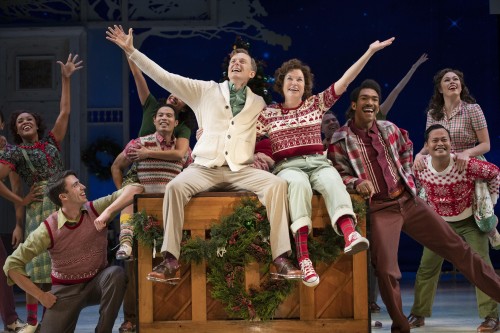 New year, real beginning
The fall saw companies very slowly getting their live-performance feet wet again in the world of relaxing pandemic protocols. Looking ahead, the new year, 2022, feels like a real beginning – not just of the calendar year but also of the performing arts season. The release from postponement limbo of shows we have all been waiting to see means that there will be a cornucopia of music theatre delights, many premieres among them, to choose from. Already my calendar is starting to fill up with shows that I know I don't want to miss.
One that I am particularly excited about is the world premiere of librettist Liza Balkan and composer Brian Current's Gould's Wall for Tapestry Opera exploring the theme of seeking perfection in the arts – and promising a literally wall-climbing physicality – in a production to be directed by Obsidian Theatre's Philip Akin in his opera debut.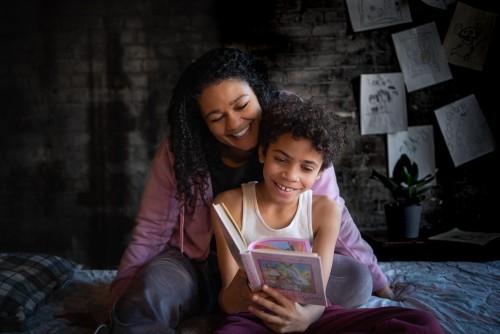 Another is the longed-for Canadian premiere of the musical stage version of Emma Donoghue's Room at the Grand Theatre in London. Cancelled in March 2020 the day before its official opening, it will take place at last in January at the Grand, followed by a longer run in Toronto, starting in February at the intimate CAA (formerly Panasonic) Theatre on Yonge Street. Room is a dark story with a redemptive theme that many will be familiar with from the best-selling novel and film starring Brie Larson. This (newly revised) stage version which had its world premiere in London, England, in 2017, is also a musical with songs co-written by director Cora Bissett and Scottish singer-songwriter Kathryn Joseph. Word of mouth reports from the previews in 2020 say that Alexis Gordon leads a wonderful cast in a brilliantly constructed show that explores the triumph of the human spirit over an unbearable situation.
The Mirvish slate is full of other shows I want to see, but the one that goes on my calendar first is the main stage debut in January of Canadian Jake Epstein's autobiographical Boy Falls from the Sky, a show I loved at the Toronto Fringe back in 2019. This show is a musical theatre lover's treat, as Epstein takes us on his unexpected journey: from singing along to Broadway show albums on family road trips to New York; to appearing in Canadan TV hit Degrassi; to finding himself starring in Broadway shows such as Spider-Man and Beautiful. The Mirvish season also includes the return in the spring of 2 Pianos 4 Hands starring its creators and original stars, Ted Dykstra and Richard Greenblatt.
One of my favourite recurring events at Soulpepper is the series of concerts masterminded by director of music Mike Ross. Year over year it inventively combines story with song, incorporating many different styles of music along the way and showcasing some of Toronto's most exciting talent. This coming February, for example, Soulpepper launches its season with a new concert, "The Golden Record", conceived by Ross and inspired by a recording NASA sent out into space to explain Earth to extraterrestrial life. "The Golden Record" will feature the talents of Divine Brown, Beau Dixon, Raha Javanfar, tap dancer Travis Knights, Andrew Penner, Mike Ross, Sarah Wilson and Strays star Frank Cox-O'Connell, who also directs.
And leaping ahead to June, I am looking forward – at last – to seeing how Karen Kain will reimagine Swan Lake for the National Ballet. As a longtime fan of the Erik Bruhn version that featured a female sorceress as opposed to the traditional male sorcerer (von Rothbart), who returned in the current James Kudelka version, I am particularly interested in what Kain will do with this role.
All this, and it's early days still! The Musical Stage Company, for example, has not yet announced anything official for the new year other than continuing development projects, but I am still hoping to hear that Sara Farb and Britta Johnson's musical Kelly v. Kelly (based on a real life story of the mother and daughter court battle over tango dancing) will get its world premiere soon, perhaps later this year? In the meantime, I am intrigued to excited to see what new musicals will be nurtured through First Drafts, the Musical Stage Company's new musical theatre development partnership with the Canadian Musical Theatre Project at Sheridan College in which final-year students at the college will have the opportunity to work with professional creative teams on early drafts of new shows, showcasing the results for audiences at the end of the school year.
Lots to enjoy to celebrate the upcoming holidays, and even more to look forward to..
QUICK PICKS
NOV 9 to DEC 23: A Christmas Carol. Royal George Theatre, Shaw Festival, Niagara-on-the-Lake. shawfest.com LIVE
NOV 14 to DEC 23: Holiday Inn. Festival Theatre, Shaw Festival, Niagara-on-the-Lake. shawfest.com LIVE
FROM NOV 20: Immersive Nutcracker: A Winter Miracle. Lighthouse Immersive, One Yonge Street. immersivenutcracker.com
DEC 10,11,17,18: It's A Wonderful Life: A Live Radio Play. GD Productions, the Villa Lucia Supper Club, Ottawa. A live radio play performance of the classic film script adapted by Joe Landry, with pianist Nicolas Code underscoring scenes and playing transition music, along with live foley and sound effects throughout. iawl.eventbrite.ca LIVE
NOW to JAN 2: Touch. Created by Guillaume Côté and Thomas Payette. Lighthouse Immersive, One Yonge Street. Due to technical difficulties on the night I was there, I only had the chance to see ten minutes, one pas de deux, of this fully immersive dance show, but it was so good, such an exciting mix of live dance and projected background that I can't wait to see the rest. lighthouseimmersive.com/touch LIVE
DEC 10 to 31: The Nutcracker. National Ballet of Canada, Four Seasons Centre for the Performing Arts, www.national.ballet.ca LIVE
DEC 10 to 12: Wintersong. Canadian Contemporary Dance Theatre, Fleck Theatre (Harbourfront). Celebrating 33 years of illuminating the solstice through dance with a world premiere by Rodney Diverlus and the stage premiere of Alyssa Martin's Star Seed. ccdt.org LIVE
DEC 18 & 19: 2021 Nutcracker. Pia Bouman School of Ballet and Creative Movement. piaboumanschool.org LIVE & Livestreamed.
JAN 8 to 30: Boy Falls From The Sky. Mirvish Productions. CAA (formerly the Panasonic) Theatre. mirvish.com LIVE
JAN 12 to 16: Gould's Wall. Tapestry Opera, part of the Royal Conservatory's 21C New Music Festival, performed in the RCM atrium. rcmusic.com/events LIVE
JAN 11 to 28: Room. Grand Theatre, London grandtheatre.com/event/room. North American premiere. LIVE
FEB 6 to APR 10: Room. CAA Theatre, Toronto. mirvish.com LIVE
Jennifer Parr is a Toronto-based director, dramaturge, fight director and acting coach, brought up from a young age on a rich mix of musicals, Shakespeare and new Canadian plays.