On November 20, the Shaw Festival's winter season hits its full stride, with the openings of both its holiday offerings: A Christmas Carol, and Irving Berlin's full-scale musical extravaganza Holiday Inn.
In 2019, Holiday Inn was notable as the first musical to be programmed as part of the Shaw's winter holiday season. It was also notable as the directing debut of one of Canada's most versatile theatre artists: actor, playwright, teacher, and now director, Kate Hennig.
The production was such a popular success that it was the natural choice to bring back this year with the same creative team, and many of the original cast, to celebrate the reopening of the theatres as well as the holiday season.
The production makes use of the 2014 stage version of the beloved 1942 film of the same name that starred Bing Crosby and Fred Astaire as a couple of song and dance men, Jim Harding (song) and Ted Hanover (dance), whose paths are diverging as Jim has decided to leave show business to live 'the simple life' on a farm in Connecticut. Things not working out on the farm, Jim then has the wonderful idea of turning it into an inn that produces shows—but only on holidays. The stage script, set in 1946 after the Second World War, keeps a lot of the original film plot but adds its own twists and turns, along with some new characters—including the farmhand Louise, who is reminiscent of the inn housekeeper in that other Irving Berlin holiday musical, White Christmas.
Coincidentally, director Kate Hennig had played this White Christmas character, Martha (Emma in the film), in the original production of the stage version of White Christmas for two years running in the 2000s (in Toronto and Saint Paul, Minnesota). She and Shaw artistic director Tim Carroll had first thought of White Christmas for her directing debut in 2019, as she told me, because of her deep knowledge of the show, its style and genre. As it turned out, the rights were not available, and Holiday Inn became the next obvious choice.
Talking with Hennig just before the first dress rehearsal this year, she told me how nervous she had been at first when given the opportunity to direct such a big show. She recalls saying to Carroll, "Okay, but I am going to need the most experienced people in that room to help me and serve the work." As a result, she has what she calls "the most awesome group of people working with me," including some of the most experienced Shaw designers and stage managers. Longtime Shaw Festival music director Paul Sportelli (who just did such a lovely job with Follies at Koerner Hall) heads up the music side, supervising the performance of all those wonderful Irving Berlin classics including "Easter Parade", "Easy to Dance With", "Blue Skies" and, of course, "White Christmas". The one member of the team brought in by Hennig, and making her Shaw Festival debut, was choreographer Allison Plamondon, who shares with Hennig a belief in that central tenet of the Hollywood musical that "when you can't speak about something, you sing about it, and when you can't sing about it you dance about it, and when you dance you are transported into another reality. That," Hennig says, "is what we are trying to create onstage—that escalation of emotion that takes you into a magical place."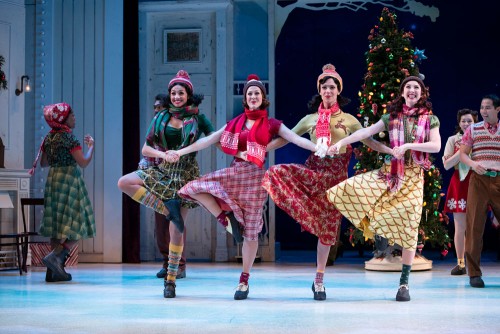 What she wanted, Hennig said to her team, was for the production to be "a postcard to 1946," capturing the innocence of the musicals of Hollywood's golden age. She generously attributes this idea to Walter Bobbie, who had directed her in White Christmas and "instilled that cast with the idea that this style of musical is 'pre-neurotic'—the worst thing that happens to the characters is that they misunderstand each other, but then they resolve that misunderstanding, and all ends happily."
Some of those misunderstandings, of course, are romantic, with Jim and Ted always seeming to fall in love with the same girl, and while the show is full of comedy and fun, Hennig worked with the actors to make sure that "we care deeply about the story and the people at the centre of the story." Making this easier to achieve, as she says, is the breadth of talent in the ensemble at the Shaw Festival. "Because it is a repertory company, everyone in a musical also has to be a great actor, giving us such a rich base to choose from," she says. "In fact, all our leads are from the Shaw ensemble." Returning from 2019 are Kyle Blair As Jim, Kyle Golemba as Ted, and Kristi Frank as Linda. New this year are Vanessa Sears as Lila, and Gabrielle Jones as Louise.
While the company is facing all the challenges of enforcing strict health and safety protocols including frequent COVID-19 testing, intensive cleaning, and the constant need to wear masks except for those onstage during performances, the joy of being back in the theatre and working on this show seems to bring new energy to everyone involved. "It's just so joyful," Hennig says, "I love working on this show right now because we need some joy, we need some hope, we need a bit of respite from the onslaught of this pandemic, just as in 1946 people needed some respite from the war."
The Shaw Festival production of Holiday Inn runs November 20 to December 23, 2021, at the Shaw Festival Theatre, in Niagara-on-the-Lake.
Jennifer Parr is a Toronto-based director, dramaturge, fight director and acting coach, brought up from a young age on a rich mix of musicals, Shakespeare and new Canadian plays.