The air was electric with anticipation as a top-notch staged-concert production of Stephen Sondheim's and James Goldman's iconic musical Follies at Koerner Hall on the weekend of October 16/17 signalled the return of indoor live musical theatre to town. For most of us this was the first indoor live performance we had seen since lockdown back in March of 2020.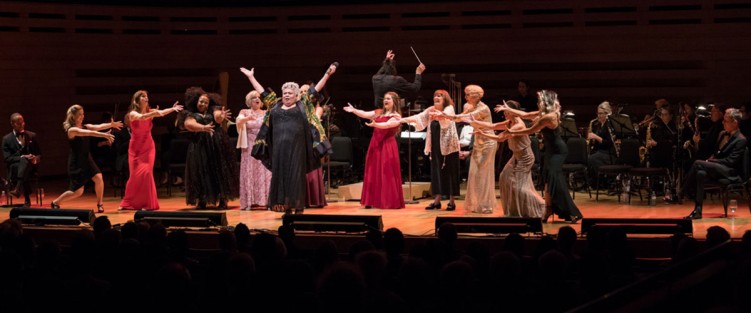 The performance went from strength to strength; the connection between stage and spectators grew stronger; and a joy-filled audience leaped to a standing ovation at the end. Not only had we witnessed a near-perfect rendering of one of Sondheim's most complex shows but, at the same time, been given the chance to celebrate the depth and breadth of musical theatre talent in our own country.
Back in 2019, director Richard Ouzounian had suggested to producer Mervon Mehta that they produce a Canadian "all-star" concert production of Follies in honour of Sondheim's 90th birthday in the fall of 2020. Its postponement until this fall made it an even more profound celebration. Its trademark Sondheim darkness and cynicism, notwithstanding, Follies is, perhaps more than any of his other musicals, perfectly suited for this occasion. Set in a Broadway theatre about to be demolished in spite of its long history as the home of the Weismann (think Ziegfeld) Follies, a one-time-only reunion is about to take place there, gathering together Follies performers from throughout the theatre's history. Most of the show's characters are these performers, along with a few of their partners.
At the heart of the story are two couples: Sally and Buddy, Phyllis and Ben, who had been friends 30 years before when Sally and Phyllis were in the company and Buddy and Ben were the boys who "waited for the girls upstairs" to take them out after the show. As the guests all reminisce about the past and relive some of their favourite moments onstage, the quartet of friends, shadowed by their younger selves, go on a painful journey through the "follies" of their youth, and their paths taken since the Follies closed. The device of the younger shadowing couples brilliantly allows the characters to interact not just with each other but with their younger selves, working through the impact of decisions taken or not taken in a way that – in this version of the book – allows them to find a measure of redemption and hope by the end.
One of the most extraordinary moments of this is the duet between Buddy and his younger self as he sings the agonizing "The Right Girl", his own body jabbing out sharply as the accents of the music depict the jabs of agony inside, while young Buddy dances – reacts with his full body – expressing even more of this shared anguish in wonderful choreography by Genny Sermonia, a talent to be watched. Playing Buddy is Toronto native and TV star Eric McCormack, truly staking a claim to this role. As Young Buddy, Gabriel Antonacci is uncanny in his mirroring of McCormack's physicality, making this number an early show highlight. McCormack's one-man – with puppets – version of "The God Why Don't You Love Me Blues" in the second half is another virtuoso – and fun – highlight.
Paired with McCormack is Ma-Anne Dionisio as Sally. Still known primarily for her breakout starring role in Miss Saigon, Dionisio has been quietly staking a claim to roles of emotional depth in musical productions around the country, including recent Toronto productions of Parade and Next to Normal. It is astutely unusual casting – she lacks what I think of as the usual Sondheim bitter edge, yet it works wonderfully, contrasting her soft, deeply felt performances of "In Buddy's Eyes" and the more devastating "Losing My Mind" with the bitterness displayed by the other characters. Interestingly, her younger counterpart, played by rising star Kimberly-Ann Truong, has more edge than she does, giving the portrayal of Sally an unusual and interesting arc.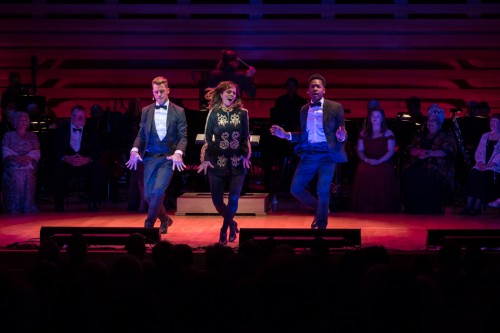 In total contrast to Sally, as the character demands, is TV and Stratford star Cynthia Dale as Phyllis, showing just as much emotional depth but with style and edge, particularly in the vicious parody of Lancelot's "If Ever I Could Leave You" from Camelot – "Could I Leave You" – which she performed with an elemental and yet sophisticated savagery that left us breathless. In "The Story of Lucy and Jesse" she got to unleash her sardonic humour, again, as well as superb dancing chops in sexy choreography wonderfully backed up by Young Buddy and Young Ben. Paired with Dale as Ben is Marcus Nance who has been increasingly visible as a leading man this summer in superb cabaret performances for the Stratford Festival's digital Up Close and Musical series, and in the live cabaret Why We Tell the Story. Nance's velvet baritone voice is just right for Ben and he is echoed nicely by Andrew Broderick as his younger self. Tess Benger, as Young Phyllis, establishes the bright promise of the young Phyllis and we get the chance to see all four young versions together in the period perfect "You're Gonna Love Tomorrow/Love Will See Us Through".
Around the central drama of the four friends, the other guests are reliving their own memories and along the way treat us to highlights from past Follies and wonderful pastiches of period songs. An early "Montage" of three numbers really sets the theatrical scene with the soft-shoe duet "Rain on the Roof" delightfully performed by veterans (and both artistic directors in their own right) Jenni Burke and Avery Saltzman, followed by the sexy "Ah, Paris!" performed by the 86-year-old star of earlier Stratford and Shaw seasons, Denise Fergusson, and the often-covered standard "Broadway Baby" performed by 92-year-old veteran of Show Boat and many other big musicals, Lorraine Foreman.
Part of the delight of this show is the meta-theatrical fun of watching our own stars play stars of Follies past, while showing that without a doubt, they still "have what it takes". Other highlights include beloved operatic comedienne Mary Lou Fallis singing "One Last Kiss" doubled by her younger self – the classically sweet-voiced Katelyn Bird (still a graduate student at the Glenn Gould School), and the always excellent actor/singer Charlotte Moore doing a wonderfully biting theatrical take on the show's anthem – never more resonant than now – "I'm Still Here".
Another memorable moment in the staging brought Fallis and Moore together, in the backup ensemble, in the number known as the "The Mirror Song" with Moore having to correct Fallis' arm choreography – a deliciously silly moment that surely must have been improvised in rehearsal. It was another early show highlight, bringing all the former Follies girls together to sing "Who's that Woman?" led by the irresistibly earthy and jazzy Jackie Richardson.
Not only the staging, but the music direction of this staged concert was of the highest quality, with music director Paul Sportelli and the onstage orchestra completely and clearly attuned to the performers and everything happening onstage.
Harbinger of things to come
This gala staged concert of Follies left me feeling as though the door is opening to an actual season of live music theatre, albeit with some companies taking tentative first steps before returning to full throttle, and others sticking to digital production for now, but offering an increasingly wide variety of filmed shows.
On the live side, over at Mirvish Productions, while we all wait for Come From Away to reopen the Royal Alex in December, the CAA Theatre is hosting the latest incarnation of "that other Newfoundland musical" No Change In the Weather, which has a semi-comic original book with a background of Newfoundland's political history, set to music of the area by various artists including Ryan's Fancy and Murray McLauchlan. Later in the fall, the larger Ed Mirvish Theatre will host the North American touring company of Jesus Christ Superstar, a remount of the Olivier Award-winning Regent Park Theatre production in celebration of the musical's 50th anniversary.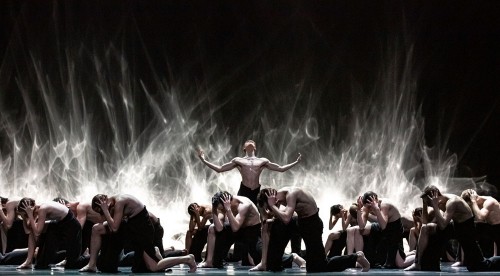 The National Ballet is also back at last with a live performance in November, a nice mix of the modern Balanchine classic Serenade with the exuberant ultra kinetic Angels' Atlas by superstar Canadian choreographer Crystal Pite. In Niagara-on-the-Lake, after a summer of innovative outdoor programming, the Shaw Festival is moving indoors with a full-scale stage version of the Irving Berlin classic film, Holiday Inn. This promises to be great fun with a cast of Shaw regulars, direction by Kate Hennig and choreography by Allison Plamondon.
On the digital side there is an interesting mix of offerings. The Musical Stage Company's annual must-see Uncovered concert, this year focusing on the songs of Dolly Parton, had two live shows in early October at Koerner Hall with strictly limited audiences but the event was also captured on film to be released online starting on November 24 and running into December. Opera Atelier, who are sticking to the digital format until later in the year, have taken this opportunity to finish their long-gestating original creation, Angel, as a film, adding newly commissioned music by Christopher Bagan to Edwin Huizinga's original score and Baroque selections, as well as new poetic selections from Rainer Maria Rilke and John Milton. On the sillier side, Tapestry Opera has just released the third instalment of S.O.S. Sketch Opera Singers, their ongoing digital opera/comedy hybrid that is sure to induce giggles from opera fans and new watchers alike.
News of more productions, both live and online, is being revealed almost daily for the holiday and winter seasons. The door to live music theatre has been well and truly opened; let the celebration begin.
QUICK PICKS

LIVE & DIGITAL:
NOV 12, 8PM: All Together Now! is a one-night-only live broadcast event and in-person performance of a new musical theatre revue from Music Theatre International. Live from 56 Queen Street East with a local cast of singers joined by a live orchestra, this show benefits Met's Community Services program. Metropolitan United Church. 416-363-0331 x228
LIVE:
NOV 11 to 27: Angels' Atlas & Serenade (ballets) by Crystal Pite & George Balanchine. National Ballet of Canada Four seasons Centre, national.ballet.ca.
NOV 14 to 28: Shaw Festival. Irving Berlin's Holiday Inn.
Shaw Festival Theatre, 10 Queen's Parade, Niagara-on-the-Lake. 1-800-511-SHAW (7429) or shawfest.com. $25-$94.
NOV 19 to 27: No Change in the Weather by Walter Schroeder and Bernardine Stapleton. CAA Theatre 651 Yonge St.
mirvish.com. 1.800.461.3333.
NOV 30 to JAN 2: Jesus Christ Superstar (musical) by
Andrew Lloyd Webber. North American touring company.
Ed Mirvish Theatre. 1-800-461-3333. mirvish.com.
DIGITAL: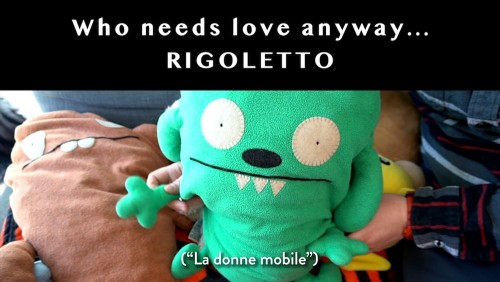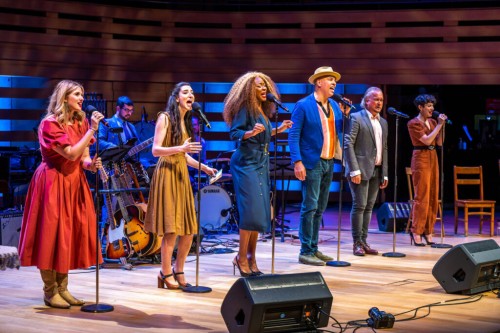 FROM OCT 21: S.O.S. Sketch Opera Singers on Tapestry Opera's YouTube channel. tapestryopera.com/performances/sketch-opera-singers/
OCT 28 to NOV 12: Opera Atelier. Angel. 70-minute film fully staged and filmed at St. Lawrence Hall. OperaAtelier.com.
NOV 24 to Dec 11, & DEC 30: Uncovered: The Music of Dolly Parton. The Musical Stage Company. Filmed at Koerner Hall. musicalstagecompany.com.
Jennifer Parr is a Toronto-based director, dramaturge, fight director and acting coach, brought up from a young age on a rich mix of musicals, Shakespeare and new Canadian plays.