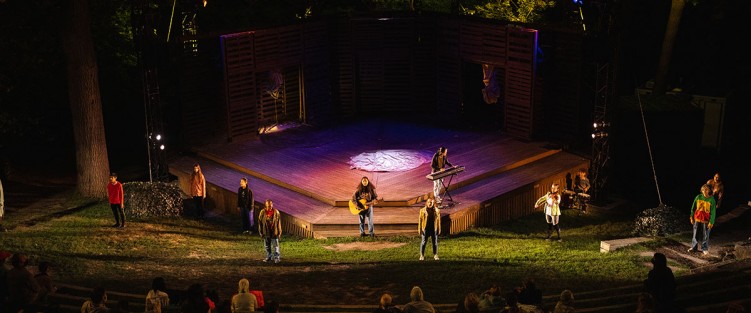 Back in my M.A. thesis-writing days in the late 1980s at the University of Warwick where I was studying English and European Renaissance Drama, I latched onto the phrase "necessary theatre" to describe a kind of theatre that is calling out to be created, that needs an audience, a shared community, in order to enable us to see the world around us in a new way – so that we are inspired to react, to do something to make the world a better place.
A decade or so later, in 1999, the phrase took on an entirely different resonance, as the title of a book, The Necessary Theatre, by Sir Peter Hall, which to this day stands as a powerful manifesto for state support, rather than private patronage, of theatre as an art form. Left to its own devices, he argued, if theatre has to support itself it will stagnate, falling back on the tried and true. (Not that state support is, in and of itself, necessarily a guarantee that stagnation will not ensue, particularly when that support is directed primarily toward large organizations competing for resources, who must meet budget targets for what they do.)
What is equally necessary for the very best theatre to happen, Hall argues, is for permanent companies of actors and technicians, secure in their premises, to feel they have permission to push the boundaries of their art.
So, to merge Hall's definition with my own, necessary theatre is always uncomfortable, irrespective of how technically polished it is, or how securely funded the companies of players are. What distinguishes it in its discomfort is its vitality – and the current and upcoming season is chock full of music theatre, plays, dance and interdisciplinary works that make us see and think, by giving us space to share the emotions brought to the surface by this time of upheaval.
Shakespeare has Hamlet say, to the players, that the purpose of their work is to hold the "mirror up to nature" (which, granted, lots of theatre often does). But then he goes on to describe an even more essential purpose: to show "the very age and body of the time, his form and pressure." In other words, to hold a mirror up for us so we can see ourselves within the current state of the world – to make us realize what is happening to us as well as around us.
Is My Microphone On?
The thing that got me thinking along these lines was being struck by the words being used to advertise a new play being presented as part of Canadian Stage's Dream in High Park season – "powerful, urgent and necessary." The new play by Jordan Tannahill (with music by Veda Hille) is inspired by, and peppered with, quotes from that unstoppable climate-change warrior, Greta Thunberg, and performed by a group of 17 young Torontonians aged 12 to 17. It aims to galvanize its audiences around the issue of climate change and the world's seeming inability to do anything about it. The theme is so huge that, for me, the production only scratches the surface of it, although the title Is My Microphone On? has continued to resonate. This question that Thunberg posed to the UN was not really asking if her microphone was turned on but if the people she was about to speak to were really going to listen to what she had to say.
The Dream in High Park season as a whole was inspired by necessity; the company, hit with too many unknown variables to plan for a regular Shakespeare play season, had to abandon the tried and true, opting instead for an extraordinary opening up and sharing of resources with many companies of various genres and cultural heritages from around the GTA. These groups have shared the space, bringing with them audiences that may never have been to this part of the city, thereby creating a wonderful gathering of multiple points of view and reactions to our current world in one extremely accessible place.
Surely this is something that can continue on into the future, as, across the country and around the world, artists and arts companies, large and small, grapple with the need to reinvent themselves in the wake of the Black Lives Matter and Me Too protests and the horrific events that triggered them; and with the equally horrifying revelation of Indigenous children's deaths at Canadian residential schools. A necessary reawakening of our individual and collective consciousness to the inequities existing in the arts as well as other sectors of society is under way.
Stratford
As exciting as the redistribution of artistic resources in the Dream in High Park season, is what can happen when an even larger flagship organization such as Stratford's classical Shakespearean Festival is called on to respond to the need for change, and responds to the call. With the Festival's usual, tried and true season of necessity pared down to bare essentials, they went one step further: reimagining the essentials themselves. New faces, new voices, new and lesser-known artists have all come to the forefront as audiences have flocked to the live performances under the canopies outside the Festival and Tom Patterson Theatres.
The two Shakespeare productions have been pared down to the core and given license to reinvent or subvert the usual audience expectations. The American classic, Edward Albee's Three Tall Women, is a showcase for a top-notch female creative team and cast led by Diana Leblanc and Martha Henry. Thomson Highway's The Rez Sisters is also a showcase for female artists, as well as Indigenous voices. I Am William is an anarchic take on our understanding of Shakespeare using adventure and music to subvert expectations and, along the way, empower young watchers to follow their dreams. And Marcia Johnson's Serving Elizabeth opens our eyes to the many layers of the story and points of view around Elizabeth II's visit to Kenya in 1952, and to the rewriting of that history now.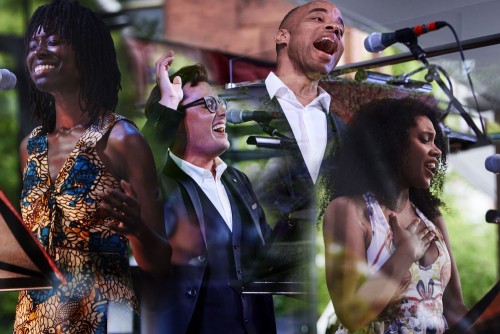 On the musical side, the commissioning of five new cabarets has opened the doors to more vital conversations, told through a mix of song and spoken text, each curated by a different artist or team. They have been performed live under the Festival Theatre canopy but, like the plays, also filmed for viewing online on the Festival's STRATFEST@HOME streaming service. The first cabaret, Why We Tell the Story, curated and directed by Marcus Nance who also performs, was first seen in an earlier version as part of the 2019 Meighen Forum. Experiencing this passionate journey through the African-American musical canon interspersed with the voices of legendary Black poets, it is obvious why this show was invited back. The second cabaret, You Can't Stop the Beat, was equally strong and passionate but focused on the genre of musical theatre itself, wonderfully curated and directed by Thom Allison to celebrate how musicals have always been "the ultimate tonic for the soul in good or troubled times." Three more cabarets follow on a variety of themes, as well as introducing lesser-known and new Stratford performers to audiences.
Joining the dance
Meanwhile, the dance world also seems to be exploding with new work as a way to explore our emotional experiences of the last year and a half and the urgent issues that are facing humanity. Taking this to a new immersive personal level is Touch, a world premiere by dancer and choreographer Guillaume Côté and multimedia artist Thomas Payette (who collaborated previously on Frame by Frame for the National Ballet of Canada). Produced by Lighthouse Immersive at 1 Yonge Street, where many have already experienced the immersive Van Gogh exhibit, Touch aims to go beyond that event, combining live dance, music and multimedia projections into an all-encompassing experience that brings us back to what we have been deprived of during the pandemic – the basic human need to touch and hug each other.
Back in High Park, the dance: made in canada/fait au canada Festival is presenting InTO Focus, a program of several works that range from a personal human response to the deprivations of the pandemic, to the more political, such as Lua Shayenne Dance Company's WAVES | VAGUES – a new work of dance, song, music and words (with live musicians on stage) that takes an honest look at the arduous road to justice and unity. Digidance is also back this fall, with a screening highlighting the state of the environment in Brazil with Deborah Colker's Dog Without Feathers, in which the mud- and dust-covered dancers explore the beauty and destructive impact of Brazil's Capibaribe River.
Audio immersion
Focusing on sound rather than sight, two more productions coming up this fall grabbed my interest as necessary theatre calling out to be created – focusing on important local historical events that yet relate very clearly to our lives today.
The Hogtown Collective take us on an audio journey back to The Christie Pits Riot in 1933 when "Toronto the Good became suddenly ground zero for a series of brazen anti-Semitic acts... with devastating consequences." Created by Sam Rosenthal and Drew Carnwath as an audio walking tour, the listener is immersed in the story of one Jewish boy's personal journey through the old neighbourhood to the scene of the crime: the notorious Christie Pits ballpark itself." Described by the creators as "an engaging and dynamic story of innocence and experience; of redemption and hope", the story will be enhanced by original music written by Measha Brueggergosman including the new song Champions by Brueggergosman and Lennie Gallant.
Coincidentally, using the same format of an audio-immersive historical walking tour, the Luminato Festival (transposed from June to October) is highlighting a more recent fraught political event, the riots around the G20 Summit in Toronto in June, 2010. Henry G20, conceived and directed by Christine Brubaker and co-written by Brubaker and Constantine X. Anastasakis, takes Shakespeare's famously either pro- or anti-war play, Henry V, as a starting point, freely adapting and adding to the original to explore the unanswered questions from that fateful weekend where hundreds of people, protesters and innocent bystanders were arrested and detained as part of the largest mass arrest in Canadian history. The PodPlay, with augmented reality experiences that are tied into the walking tour, can also be enhanced by Henry G20 Protest Radio, a curated combination of music and audio memories of the G20 demonstrations that can be played in between the theatrical chapters of Henry G20, as you travel between the locations in the city where the drama actually unfolded.
Vital signs
The strong pulse of this rich and varied season of necessary theatre in live and digital formats is a strong answer to tough questions: How can artists help to keep our world vital and safe for all? How can we keep our hearts up while facing the realities of the world around us?
How better to share these stories with each other, experiencing all points of view, all heritages, all cultures, all possibilities, than (in the most fundamental ways) to make a virtue of theatrical necessity?
QUICK PICKS
To DEC 5: All live and virtual shows at the Stratford Festival. www.stratfordfestival.ca
To SEP 29: Canadian Stage Dream In High Park Season continues. www.canadianstage.com/shows-events/dream-in-high-park
SEP 23 to 25: dance: made in canada/fait au canada Festival. InTO Focus. Dream in High Park (PWYC). Plus new podcast The D-Word (free) at dancemadeincanada.ca/festivals beginning SEP 20.
SEP 11 to OCT 29: Seventh edition of Fall for Dance North (FFDN). Live and digital array of original livestreams, global dance films, in-person outdoor performances, installations and more. ffdnorth.com.
SEP 18 to OCT 17: Looking for the Dance – The Photography Exhibit of Mikhail Baryshnikov at the Lighthouse Artspace at 1 Yonge St. artbylighthouse.com.
SEP 29 to OCT 17: Touch, presented by Lighthouse Immersive in association with Côté Danse at 1 Yonge St. Running time is 45 minutes. artbylighthouse.com.
SEP 29 to OCT 11: Dog Without Feathers. Choreography by Deborah Colker, presented by Digidance. Event link: harbourfrontcentre.com
SEP 23 to OCT 10: Garden of Vanishing Pleasures. Soundstreams and Crow's Theatre. Songs by Cecilia Livingston and Donna McKevitt with texts from filmmaker Derek Jarman's journals. Digital, tickets@crowstheatre.com
SEP 30, LAUNCH DATE: The Christie Pits Riot, radio drama podcast. Find the Audio Walking Tour app at: www.hogtownexperience.com
SEP 30 to OCT 2: Uncovered: The Music of Dolly Parton. Live at Koerner Hall and online; the show is being filmed for further online viewing later from NOV 24 to DEC 11. www.musicalstagecompany.com
OCT 14 to NOV 11: Luminato: Henry G20 and other events
www.luminatofestival.com
Jennifer Parr is a Toronto-based director, dramaturge, fight director and acting coach, brought up from a young age on a rich mix of musicals, Shakespeare and new Canadian plays.