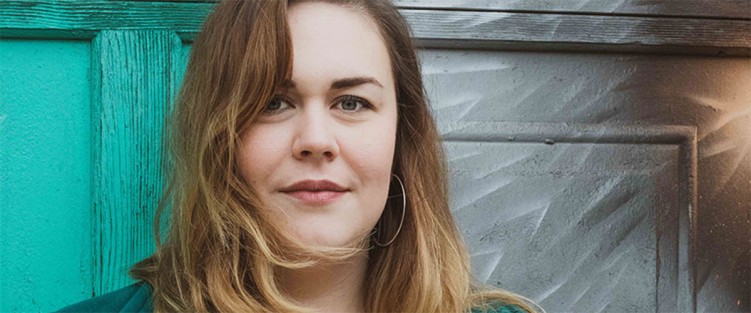 Before the pandemic, Canadian musical theatre composer, lyricist and writer Britta Johnson was on a roll. Hot on the heels of her musical Life After's US premiere at San Diego's Old Globe Theatre in 2019, she was off to Connecticut to workshop a new show with regular collaborator, actor, singer, and playwright Sara Farb.
Based on a true story from 1915 about a New York City mother suing her daughter—and heiress—for incorrigibility after the latter gets caught up with a seductive tango dancer, KELLY v. KELLY is the third in a series of three musicals that Johnson was commissioned to create for her three-year residency with The Musical Stage Company.
It was supposed to premiere at Toronto's Canadian Stage in May 2020, but the pandemic struck mere weeks before the production was slated to begin rehearsals.
At first, Johnson was hoping to continue writing throughout the pandemic, but she was exhausted. "I think that [the pandemic] came right on the tail of these three back-to-back shows and I was really burned out," she recalls. "I felt insecure and ashamed of the fact that I haven't been able to write more or make more use of this time."
So Johnson spent much of the break teaching, reflecting, and rekindling her love for the art form by making "silly" music with friends in her backyard. She found laughter and levity in these moments—creating pop songs for friends' birthdays or experimenting with new instruments and digital music software.
"I discovered that music, no matter what, is a really important part of my life and it doesn't always have to be making weepy musical theatre songs," she says.
Growing up in Stratford, ON, Johnson has been surrounded by music her entire life. Her parents were both musicians in the Stratford Festival pit orchestra. Johnson and her two older sisters, Anika and Eliza, often spent evenings backstage, listening to the shows on the loudspeakers.
When her father passed away from cancer, she found solace in the music of Stephen Sondheim. It was 2005, and Peter Hinton's beguiling production of Into the Woods was playing at the Avon Theatre. She saw that production over a dozen times.
"There was something about that show and the way it made me feel in the very loneliest moment I'd ever felt," she says. "The way it portrays grief and loss and community was a huge comfort for me. It felt sacred—like I was going to church. And I've never had an experience like that."
It was after that experience, at age 14, that Johnson decided to become a musical theatre composer.
She started writing her musical Life After when she was just 18 years old and a participant in the Paprika Festival, a youth-led festival and incubator program for young theatre artists.
In 2016, Life After played at the Toronto Fringe Festival, before being picked up by The Musical Stage Company for an extended run in 2017 (co-produced with Canadian Stage and Yonge Street Theatricals)—the first show in Johnson's three-year Crescendo Series residency with the company.
I saw that production at Canadian Stage in 2017 and was left speechless by Johnson's preternatural ability to deftly tread between moments of humour and darkness, hope and despair. And in this era of jukebox musicals and pop singers-turned composers, Johnson's compositions sounded refreshingly unique.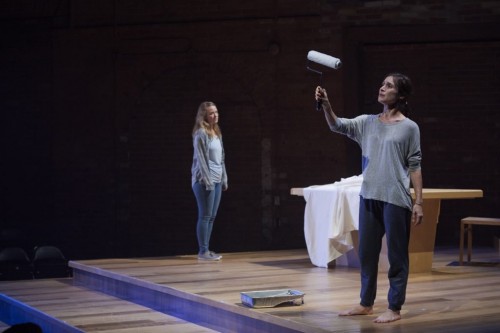 The chamber musical follows 16-year-old Alice, who has to come to terms with the sudden death of her famous—and often absent—father, while the rest of her family moves forward without her. It isn't autobiographical by any means, but Johnson acknowledges that she pulled from her own experiences with grief when crafting the musical's central character.
"I do have to kind of sit there for a bit and call upon it," she says, describing her creative process behind the work. "I don't know how you feel about your grief but I find mine lives in [my] body. It doesn't go away, so I can tap into it in a way that doesn't feel invisible."
Life After has lived with Johnson for over a decade now. When she revisits the piece for various new productions and workshops, it's sometimes difficult, but more often than not cathartic, to explore those emotions again.
"I think the things [Alice] walks through are things that you never stop walking through. Growing up is a huge experience of letting go of things or having your assumptions about things get challenged in a way that's painful."
The 2017 production of Life After was critically-acclaimed and affirmed Johnson's place as one Canada's rising stars in the musical theatre world. Many have compared her musical palette to that of Sondheim. Though flattered, she has humbly rejected that compliment: "I'm just not there. If they could see me sitting in my too-hot apartment just pitying myself for not being able to write a single thing in a year, then they would probably stop comparing [me to him]," she says with a chuckle.
But Sondheim still remains one of her greatest inspirations. "He can take the whole world and put it into one line," she says. "I've never witnessed anyone else who can do that."
Shortly after Life After's US premiere, Washington D.C.'s Arena Stage—a popular tryout spot for Broadway shows—added the musical to its 2020/21 season lineup. The production is backed by the Toronto-based production company Yonge Street Theatricals, who are also co-producers of the smash-hit Canadian musical Come From Away.
That Life After has a life after its Canadian Stage production is a testament to Johnson's talent and the robust state of Canada's musical theatre development programs, such as the Canadian Musical Theatre Workshop—where Johnson premiered several of her works—and other incubators at theatre companies like The Musical Stage Company.
Just ten years ago, the success story of Life After may not have been possible; Canada's theatre industry lacked the financial support and infrastructure needed to nurture and develop emerging writers like Johnson. While the scales still aren't exactly even—and the current pandemic has brought new challenges to local theatre creation—an increasing number of Canadian creators have seen their works garner international attention. It's thanks in part to the Come From Away effect: a renewed interest in Canadian musical theatre following the show's runaway success.
"When I was growing up, the thought that I could have a show of mine at Canadian Stage was amazing, and felt like that would surely be the end of the journey—like that is Mecca, that's it," Johnson says. "[But] I think that Come From Away changed that conversation, because it became, 'What's next?'"
So what's next for Britta Johnson?
This summer, she will be stepping onto the stage—or rather the porch—for two shows touring to Toronto-area homes.
Alongside Farb, Johnson will be performing a selection of songs from her musicals in Sad Lady Songs!, a concert that is part of The Musical Stage Company's Porchside Songs series. And on July 20, her and Katherine Cullen's musical Stupidhead!, about a kid growing up with dyslexia, will hit the road in a backyard and porch-friendly production by Outside the March Theatre Company.
And aside from KELLY v. KELLY's engagement at Canadian Stage, Johnson is working on a new project with Emma Donoghue (Irish-Canadian playwright and novelist best known for Room). She's also working on several new works for which, like Life After, she's wearing three hats, as composer, lyricist, and book writer.
All of these productions are now on hold, but Johnson is optimistic that they'll be back on companies' lineups once theatres begin reopening.
Most of all, however, Johnson is interested in the theatre industry returning post-pandemic as a more equitable and inclusive community. She's had several inspiring conversations over the past few years about the possibilities for the industry: fairer wages, and more manageable work weeks that enable a better work-life balance. As one of the few women composers in the business, Johnson wants the industry to better support and champion work by other women and individuals from minority backgrounds. It'll be exciting, she says, to see how greater representation at the creative table will lead to more diverse and varied stories.
She's hopeful.
"Everybody's having those conversations, but I think the theatre community is one that actually wants to be better and wants to do that work. And I'm curious, and I'm excited, to see where that might go."
Joshua Chong is a Toronto-based freelance performing arts critic and journalist whose work has been featured in The Globe and Mail, The Dance Current and Opera Canada.