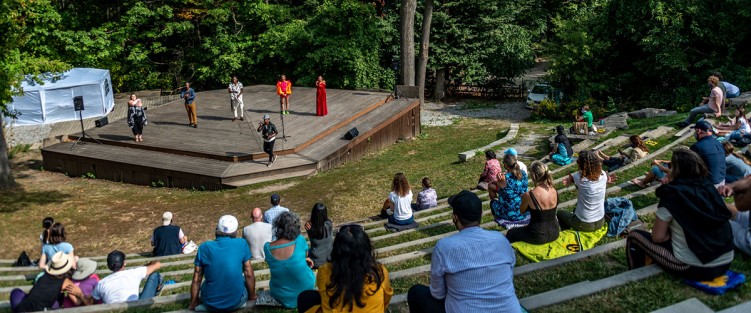 Just as the Stratford Festival's stunning new Tom Patterson Theatre has been completed and is ready to be filled with eager actors and audience members, the exigencies of the ongoing pandemic are keeping its doors closed and forcing performances outdoors in an uncanny – or canny? – echo of the Festival's roots.
Almost 70 years ago, in the summer of 1953, the dream of a young returning soldier who had fallen in love with the theatre he had experienced in Europe, came to exciting life in the very first Stratford Festival Theatre. That magical first stage, designed by Tanya Moiseiwitsch and envisioned by the first artistic director Tyrone Guthrie, sheltered under the canvas of the famous Stratford tent, kept whole though rain and shine by tent master Skip Manley for that groundbreaking first season.
Now, after an unprecedented year without any live performance at all by the renowned classical theatre company, an innovative new season will begin, not indoors, but in two tents, or more accurately, under two beautiful new canopies outside the Tom Patterson and Festival Theatres.

The primary reason for having performances outdoors is, of course, the need to make everything as safe as possible for both performers and audiences while the global pandemic continues. The exciting thing is that this has led to a reimagining by the company of what is possible and what is most essential.
Fuelling those lists is the very basic hunger for live performance that we all share whether onstage or in the audience, or both – that electric connection that sparks between those onstage and those in the seats, whether during a Shakespeare play, Broadway musical, new play, or cabaret. To make this possible, everything has been streamlined. The season has been cut down to include two Shakespeare plays, two modern classics from the first programmed season, two new plays, one of which is a musical, and very excitingly for musical theatre fans, five cabarets curated and performed by a wonderful mix of some of the Festival's – and Canada's – top musical theatre performers.
In contrast to the usual repertory system, each show will have a unique (small) cast who can be "bubbled" together in rehearsal and performance. Each show will also be no longer than 90 minutes and will play without an intermission. As anyone who has edited a play will know, this means focusing in on the essential story, and from what I have heard, this has led to exciting experimentation with each production, many led by younger directors who have taken part in the Michael Langham (directors') Workshop. Romeo and Juliet, renamed R + J, for example, inspired by the truism that love is blind, is being reimagined by director Ravi Jain as a love story that takes place in an "up-to-the-minute modern world of sound and music, a world that challenges the identities we construct when we use only our eyes." I am excited to see how this focus on sound and music will illuminate a story that we all know so well.
The one full musical in the season, I Am William, also plays with something we think we all know well – who actually wrote the plays we know as Shakespeare's. First developed at Théâtre Le Clou, the text by Rébecca Déraspe (in an English translation by Leanna Brodie) and music by Chloé Lacasse and Benoit Landry will transport us to an imaginary alternate history where brilliant young writer Margaret Shakespeare and her brother William (who wants to be an actor) take us on an exciting, fun and enlightening journey through the dangers of Elizabethan London.
The cabarets are an exciting innovation, too, exploring a wide variety of themes and styles of song and story: Why We Tell the Story: A Celebration of Black Musical Theatre, created and directed by Marcus Nance; You Can't Stop the Beat: The Enduring Power of Musical Theatre, curated and directed by Thom Allison; Play On! A Shakespeare-Inspired Mixtape, curated by Robert Markus, Julia Nish-Lapidus and James Wallis; Freedom: Spirit and Legacy of Black Music, curated and directed by Beau Dixon; and Finally There's Sun: A Cabaret of Resilience, curated and directed by Sara Farb and Steve Ross. Each cabaret will run for about two weeks.
Just seeing those names you can tell that – like the Festival's filmed solo cabaret series Up Close and Musical that debuted earlier this year – this cabaret series puts the artist front and centre, bringing new voices, new visions, and new stories onto the Festival's stages
Dream in High Park
Another dream from the past is also resurfacing this summer, thanks to the demands of pandemic safety protocols and the vision of its artistic programmers. In 1983, Dream in High Park began with a popular production of A Midsummer Night's Dream, what would become a longstanding tradition of Shakespeare plays being performed outdoors in the heart of High Park. After some years the name of the summer season was changed to Shakespeare in High Park, but this year the name is changing back to the original, just as the programming is changing to go far beyond Shakespeare to include everything from stand-up comedy to dance, to film to new theatre, to music, to children's theatre and new musical theatre.
Just as the Stratford Festival is responding to our hunger for live performance, the Canadian Stage Company is also addressing that hunger by transforming its summer season – inviting performing arts companies from around the GTA to share the outdoor stage, thereby matching the great accessibility of its pay-what-you-can performances with as wide-ranging as possible an offering of live performance.
As artistic director Brendan Healy expands: "the name (Dream in High Park) really encapsulates the fundamental spirit of the park. The amphitheatre is a space for our city's imagination and dreams (...) where stories come to life and (...) we get to dream up worlds together while surrounded by this stunning natural environment."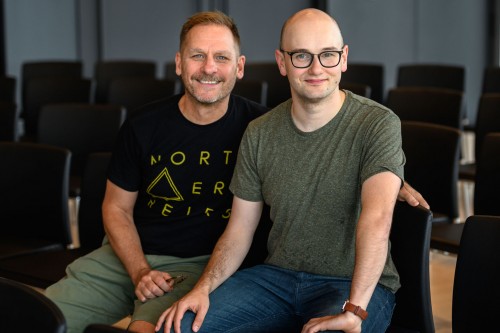 One of the Dream in High Park offerings that I have been looking forward to seeing since I saw an excerpt at an earlier workshop is the new musical Blackout, with a book by Steven Gallagher and music and lyrics by Anton Lipovetsky. In many ways this is a perfect choice for this summer park season in the way it eerily mirrors the isolation we have all been feeling over the past 15 months. Inspired by the real blackout in Toronto in August 2003, when millions of people were left stranded in the dark and unable to reach or connect with their loved ones, it interweaves three separate stories taking place on that August night. The excerpt I saw (Cygnus), was both incredibly moving and life-affirming.
Porchside
Blackout in High Park is being produced by The Musical Stage Company, adept at meeting the demands of producing during the pandemic with some wonderfully inventive initiatives. One of the most popular of these is the series of Porchside Songs. Four different concerts, small enough to fit on a regular porch, each created and performed by a team of two artists, are available to be booked to perform on your porch or in your backyard for the low cost of $395.50. (The entire fee goes to the artists involved.) Following all provincial safety protocols, the audience size is capped at the current provincial limit and the company works with the hosts to make sure that everyone involved is safe.
The series was wildly successful last year and has been expanded this year from three to four new choices: Sad Lady Songs!, conceived and performed by Sara Farb and Britta Johnson (some songs from Johnson's new musical Kelly v. Kelly, which has been postponed twice thanks to the pandemic, will be in the concert); A Crack in the Wall, conceived by Jewelle Blackman (Hadestown) and performed by Blackman with Evangelia Kambites, offering storytelling songs from Nat King Cole to Gnarls Barkley; Fam Jam, conceived and performed by brother and sister Jake and Gabi Epstein who take the audience on a rollicking journey from family road trips to the stages of Broadway and the Stratford Festival; and Just My Re-Imagination, conceived and performed by Saccha Dennis (Come from Away) and David Atkinson, offering classic songs sung with a jazz and bluesy twist.
I was hoping that there would be a showcase of some kind for those of us not fortunate enough to book a private concert, but unfortunately, that is not in the current plans. With luck these shows will come back, or be filmed, so that we can at least experience them in that pandemic way we have become used to. In the meantime, some neighbourhoods are enjoying a great live performance treat.
Outside the March. Alley Jams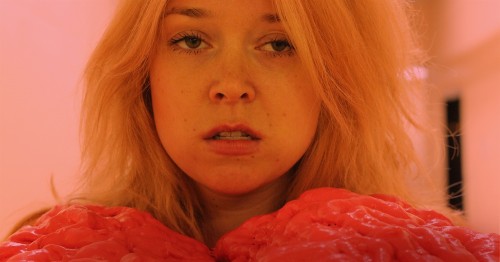 Taking a cue from Porchside Songs, acclaimed immersive theatre company Outside the March is offering porch performances of the one-woman musical comedy Stupidhead!, created by Katherine Cullen and the ubiquitous Britta Johnson. Based on Cullen's own experiences growing up with dyslexia, Stupidhead! is part stand-up comedy, part musical and all about "learning no matter who you are, you are not alone." A success at Theatre Passe Muraille in 2017, the show has been reimagined for touring to porches and also as a live radio broadcast as well as for upcoming onsite productions.
Last summer, neighbourhoods beyond porches in the East End were enlivened by Alley Jams – live, impromptu jam sessions (with safety protocols) performed at various outdoor sites, organized by actor and musician Donna Garner. This summer, Alley Jams will be joined by a new rehearsed musical theatre concert series, CanJams, a rehearsed show performed by six actor-musicians from Garner's company Garner Theatre Productions. The CanJams will be performed in public parks around the city as soon as the reopening protocols allow.
It is encouraging that even as protocols keep changing, our performing arts companies remain constant in their endeavours – dreaming up ways to get actors and audiences together for some reinvigorating outdoor live performances this summer.
Jennifer Parr is a Toronto-based director, dramaturge, fight director and acting coach, brought up from a young age on a rich mix of musicals, Shakespeare and new Canadian plays.
CONTACT INFORMATION
As we go to press (June 24), Ontario is still in Step 1 of the provincial reopening plan. Once the province moves into Step 2, outdoor performances can commence. As soon as the province makes clear what size audiences will be possible in Step 2, the companies mentioned here will be able to make tickets available for sale. For up-to-date information on each company or series of performances, please see the links below, and/or follow the companies on social media.
Stratford Festival
www.stratfordfestival.ca/landingpages/2021Season
1-800-567-1600.
Canadian Stage Dream in High Park
www.canadianstage.com/shows-events/dream-in-high-park
(416) 368-3110
Musical Stage Company
(416) 927-7880
Outside the March
Garner Theatre Productions
www.garnertheatreproductions.com/events
(416) 879-1303