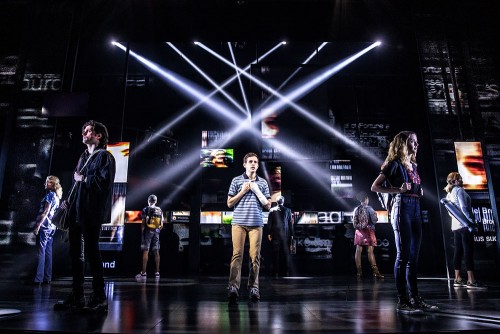 Toronto musical theatre fans have been eagerly waiting for the advent of Benj Pasek and Justin Paul's 2017 Tony Award-winning musical Dear Evan Hansen, and now the waiting is almost over. Previews begin at the Royal Alexandra Theatre on March 5, with the official opening later this month. Not only is this the very first international production of the massive hit, but following an eight-month casting tour across the country, the cast led by Robert Markus is almost entirely Canadian (with almost every province represented) making this a great showcase for Canadian musical theatre talent. On top of that, this is a "sit down" production that can run as long as there is a demand for tickets; and there is a great demand, the run having already been extended to June 30.
There is something about this show that connects with audiences as well as critics in such a strong way that Dear Evan Hansen won the top musical theatre Tony Awards in 2017 (Best Book, Best Score, and Best Musical), over the gloriously life-affirming Come From Away. Why has there been such a strong reaction?
Perhaps it is because it is so unexpected that a musical could be written about bullying, loneliness, and suicide and yet, with its unique groundbreaking recipe of authentic characters, popular score and uncannily modern use of social media, also manage to be upbeat and positive, taking the audience through a sometimes painful, cathartic journey to a place of hope and human connection.
Pasek and Paul are now famous for their award-winning lyrics for the movie La La Land and songs for The Greatest Showman, but when they were still young students in college (University of Michigan) they started talking about something that had happened at Pasek's high school that, as they discussed it, would turn into the unlikely inspiration for musical creation. Over one summer a student had passed away, and although he had been almost anonymous at the school, because of his death, became a celebrated figure with everyone looking for a way to be connected to him. Talking about how this need to be part of a collective mourning process seemed to be something that wasn't exclusive to that event but also belonged to other tragic events as well, such as school shootings, or 9/11, they decided to create a musical around a similar event, not ever expecting it to be a hit.
Even without the infectious pop-musical score at hand, the book and lyrics are interwoven seamlessly and pull the reader into the world of Evan Hansen, a lonely, high school senior, bullied for his shyness and extreme anxiety, who, through the mistaken attribution of a letter, finds himself a hero on social media, thereby changing not only his own life but those of many others. In song after song, even the lyrics alone go beyond the spoken thought, reaching for the feelings hidden behind, without sentimentality, and with an almost uncannily recognizable rightness.
The musical's creators have talked in interviews about how audience members approach the actors saying that they "are, or know Evan Hansen" or the other characters, and are grateful for this chance to be able to talk about difficult social and personal issues with their friends and families. While there are cynical and mocking elements to the story, for example, looking at how quickly people can jump onto the bandwagon of popularity, the composer/lyricists credit working with book-writer Steven Levenson with the emerging discovery of how to make the show both funny and uplifting as well.
Dear Evan Hansen doesn't stand alone in its ambitious contemporary storytelling. Looking at the current music theatre landscape there seems to be an increasing appetite for musicals with stories about today, about complex, dark issues that are difficult to talk about otherwise. Pasek and Paul credit this at least in part to their generation growing up during the renaissance of the movie musical (Beauty and the Beast, The Little Mermaid, etc.) and the resulting expectation that characters in movies or onstage will express themselves and their emotions through music. The expected music then becomes a way to go beyond the spoken word to what lies beneath, and so to create a deeper more profound experience for the audience.
In Toronto last month, Tapestry New Opera premiered Hook Up, a new musical/opera hybrid about campus rape by Julie Tepperman and Chris Thornborrow. It struck a profound chord with audiences, combining the authenticity of a very real contemporary setting and characters with humour and compassion to bring a discussion of a very sensitive topic into the shared space of the theatre. Sting's The Last Ship, which is making its North American debut of a revised script, at the Princess of Wales Theatre until March 24, does something similar, though on a different scale, using wonderful pop- and folk-inspired music to explore the darker side of government interference and industrial privatization, giving life to a community's desperation at the threatened closure of its shipyard, and also to the resurgent strength of that community as hope is found in banding together against the threat.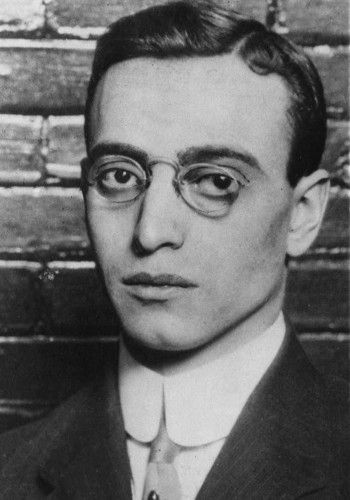 Parade
Both recent and older musicals that deal with difficult issues are also being revived more and more frequently, in full productions and in concert format. One of the darker shows inspired by real-life events, Jason Robert Brown and Alfred Uhry's 1998 Tony Award-winning musical, Parade, is one of these, although the true story can be difficult to handle, even filtered through the medium of the stage. Based on the real false arrest, 1913 trial and eventual lynching of Jewish factory manager Leo Frank in Atlanta, Georgia. Parade was revived here in 2011 by The Musical Stage Company and is being performed again this month as a professional staged concert reading by Toronto Musical Concerts on March 21 and 22.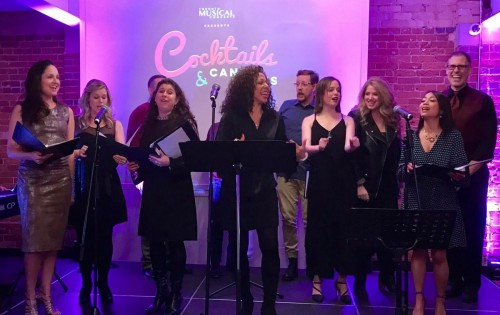 Speaking to TMC's artistic producer, Christopher Wilson, about why he feels this is an important show to revive, I couldn't help but see another reason why there is a resurgent hunger for musicals that deal with difficult topics; the world we are living in now is fraught with political and social extremes, and we need a way to comprehend and find a way to deal with those issues. As Wilson says about this show: "Though Parade is set in 1913, a (post-Civil War) era fraught with immense racial tension and religious intolerance, it is both shocking and disconcerting how prevalent that same systemic antisemitism, divisiveness and violence exists in our world's current political and social climate. As artists, I feel it is our responsibility to share powerful and moving stories that both examine and reflect the darkest corners of humanity."
Talking about the prolific movements of hatred and racism currently being spread not only south of the border, but also here and around the world, Wilson passionately believes that shows such as Parade "serve as cautionary tales, inviting those both brave and conscious enough to challenge systemic intolerance, and to promote both discourse and change." As well, he says, "the poignancy of presenting this disturbingly topical musical at the Miles Nadal JCC further punctuates the importance of the work."
As Wilson said to me about Parade, it is important to keep works like this alive in the repertoire to "continue to promote discourse and awareness of difficult and important issues." Toronto's Musical Stage Company is a great champion of works of this type, with last season's Toronto premiere of Fun Home based on Alison Bechdel's autobiographical graphic novel dealing with issues of gender identity and family dysfunction; and coming up in April, Brian Yorkey and Tom Kitt's Next to Normal, which explores issues of mental health and the impact of a bipolar parent on her family.
The Lightning Thief
Even on the lighter side of music theatre these days, serious issues of identity and social belonging find their place. In Soulpepper's world premiere in February of Sarah Wilson and Mike Ross' new musical Rose (based on Gertrude Stein's children's book The World Is Round), a brightly coloured symbolic and lighthearted world is anchored on a nine-year-old girl's desperate need to understand "who, what, where and why" she is; and the power of those questions makes her journey a profound one for the audience. In the upcoming visit to the Ed Mirvish Theatre (March 19 to 24) of the Off Broadway musical The Lightning Thief: The Percy Jackson Musical based on Rick Riordan's hugely successful series of books for the 10- to 12-year-old set, our hero, Percy, suffers from ADHD (as Riordan's son did) and an awful home situation at the beginning of the story, but then discovers his true heritage as a son of the Greek god Poseidon (and his own innate strength of character) through his escape to Camp Half-Blood and the meeting of other sons and daughters of the gods as he helps to retrieve Zeus' lightning bolt.
Even Alice in Wonderland, the National Ballet of Canada's returning hit ballet (March 7 to 17), based on Lewis Carroll's classic story, can be looked at through a serious lens, though this production is famed more for its wonderfully colourful set, costume and projection designs, and the exuberant physical choreography by Christopher Wheeldon, all of which have been acclaimed both here and abroad as creating an "exhilarating spectacle."
In short, there is no shortage of rich music theatre this season, whether your taste leans more to the socially serious or fantastically escapist, or to all of the combinations in between.
MUSIC THEATRE QUICK PICKS
MAR 3, 3PM: Perchance to Dream. Toronto Operetta Theatre. TOT's first production of a musical by famous English composer Ivor Novello (Keep the Home Fires Burning). and one of his greatest hits. The original ran in London from 1945 to 1948.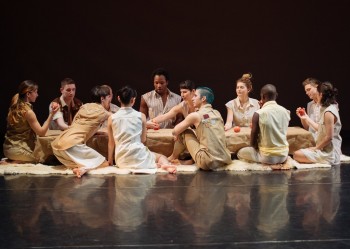 MAR 5 TO 9: Persefony Songs. Toronto Dance Theatre. Fleck Dance Theatre at Harbourfront Centre. Christopher House's reimagining of his early piece based on The Odyssey.
MAR 6 TO 10: Kiss of the Spider Woman. Toronto's (former) Don Jail. Eclipse Theatre's debut site-responsive production starring Tracey Michailidis and Kawa Ada.
MAR 17, 3PM: Bijan and Manijeh: A Love Story. Aga Khan Museum. Experience the art of Naqqali (ancient Persian dramatic storytelling involving music, dance, painted scrolls, role playing, gesture, verse, prose and improvisation).
MAR 20 TO 25: If/Then. George Ignatieff Theatre. Trinity College Dramatic Society production of this moving story (by the Tony Award and Pulitzer Prize-winning creators Brian Yorkey and Tom Kitt of Next to Normal) explores what might have been as the story follows one woman, but two possible paths which her life might have taken. Brian Yorkey is also co-writer of the book of Sting's The Last Ship.
MAR 23, 7:30PM: The Erik Bruhn Prize Competition. Four Seasons Centre. Balletomanes' chance to spot future stars of the ballet stage as they perform pieces of both classical and new choreography. Hosted by principal dancer Harrison James with National Ballet of Canada Corps de ballet members Jeannine Haller and Siphesihle November representing the company. Dancers from American Ballet Theatre, The Hamburg Ballet and The Royal Danish Ballet will also compete.
Jennifer Parr is a Toronto-based director, dramaturge, fight director, and acting coach, brought up from a young age on a rich mix of musicals, Shakespeare, and new Canadian plays.