The Toronto spring season continues to be a hotbed of music theatre creation and revival, from traditional works to many variations on cross-genre experimentation.
The National Ballet of Canada brought back one of the jewels in its crown with Nureyev's The Sleeping Beauty. Over many years of watching ballet I had become disenchanted with the great Russian classics but when given the chance to see first, the dress rehearsal, and then the opening night of Sleeping Beauty in March, I found myself swept away by the company's delighted ownership of Nureyev's version of Petipa's masterpiece and newly enchanted by the theatrical and dramatic variety in Tchaikovsky's famous score. The dress rehearsal also featured a captivating last-minute pairing at the dress rehearsal of Jurgita Dronina and Harrison James as Princess Aurora and Prince Florimund for Act Three. On opening night Heather Ogden was an incandescent Princess Aurora, dancing as if without any thought of the technical demands of the rose adagio or grand pas de deux, for example (which she danced brilliantly). Ogden brought to life in every moment, with every gesture, the 16-year-old princess of Act One, the yearning dream princess of Act Two, and the newly mature, newly awakened princess of Act Three. Also outstanding was Tanya Howard as the Lilac Fairy, slim authority personified in her flowing lilac fairy dress, with echoes of her equally authoritative performance of Paulina in The Winter's Tale last fall.
The Ballet's spring season also brought to the Four Seasons Centre the mixed program Made in Canada featuring a fascinating piece by Canadian choreographer Crystal Pite: Emergence, to an original score by Owen Belton. While the first two pieces of the program were lyrical and beautiful, Emergence startled with its stark, spiky, modern, almost science fiction-style choreography and music. Exciting in its energy and unexpected dangerous quality of movement, this piece was atavistically disturbing and sometimes terrifying to watch; the dancers all in black seeming to be a cross between black swans and insects, an impression enhanced by a score made up of unusual sounds, most disturbingly what sounded like a horde of beetles' mandibles clicking.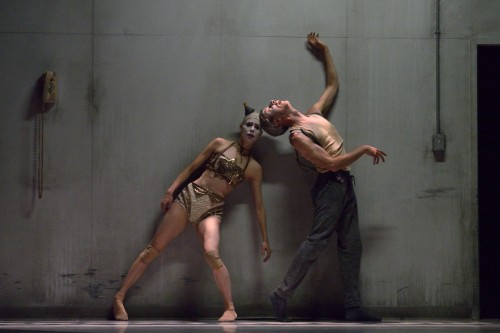 Pite, recognized internationally as an innovative choreographer with commissions around the world as well as for her own company Kidd Pivot, also returns to Toronto April 19 to 22 with Betroffenheit at Canadian Stage, her co-creation with playwright-performer Jonathan Young (of Vancouver's Electric Theatre Company) originally co-commissioned by Canadian Stage and presented as part of the 2015 Panamania Festival. Inspired by the real tragic event of Young's young teenage daughter and two cousins dying in a cabin fire and his own spiral into despair that followed, the show was first conceived as a one-man play but with the collaboration of Pite as director and then choreographer it developed into something much more. The show interweaves play text (mostly through voiceover) with dance in a way that allows the creators and performers to go beyond the literal into the metaphysical and imaginary to explore the ideas and emotions in great depth. It has been described as a "harrowing representation of trauma and suffering" but is also heralded by almost everyone who has seen it as phenomenally powerful and inventive, particularly in its combination of dance and theatre. Almost a signature piece for Canadian Stage as an example of this type of cross-genre collaborative creation, it is also a cousin to another show in the Canadian Stage season: The Overcoat: A Musical Tailoring, which opens with previews on March 27. The world premiere of the new opera/musical version of Gogol's short story by director and librettist Morris Panych with a score by James Rolfe and movement choreography by Wendy Gorling promises to be an exciting event, and particularly fascinating for anyone who saw Panych and Gorling's original famously physical theatre "silent movie" style production of The Overcoat which wowed audiences here and around the world.
Also opening March 27 is the Toronto run of the touring production of An American in Paris, presented by Mirvish Productions at the Princess of Wales Theatre. A more traditional musical offering, the draw for me is to see how the newly expanded and darker book by Craig Lucas will work with Christopher Wheeldon's Tony Award-winning choreography, and how both will compare to the beloved Gene Kelly film.
Mirvish Productions is also presenting another Tony Award-winning musical, the Musical Stage Company's new production of Fun Home, coming to the intimate CAA (formerly Panasonic) Theatre April 13 to May 6; the first time that a local musical production has been part of the Off-Mirvish Program.
On a much smaller scale than the shows I have been talking about above, Fun Home tackles issues much bigger than the size of its cast in a show described as both heartbreaking and fiercely funny. Adapted from Alison Bechdel's best-selling semi-autobiographical 2006 graphic novel, it tells the story of Alison, a 43 year-old lesbian cartoonist, struggling to untangle her complex relationship with her deceased father. Moving between past and present, and connecting directly with the audience, Alison relives an unusual childhood growing up in a funeral home, her sexual awakening, unanswerable questions about her father's secret life and eventual suicide and the effect that has on both herself and her family.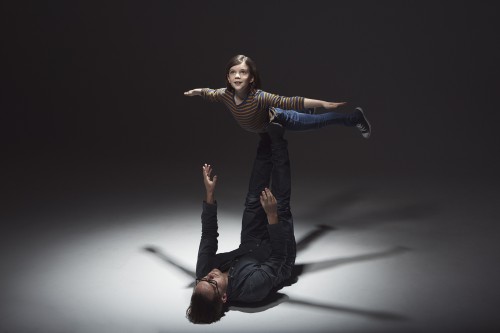 Adapted by Lisa Kron, and with a 70s-inflected score by Jeanine Tesori (Thoroughly Modern Millie), this production of Fun Home will be brought to life by the Musical Stage Company's usual brilliant creative home team of director Robert McQueen, music director Reza Jacobs and choreographer Stephanie Graham. The dynamite cast includes Stratford stars Cynthia Dale and Evan Buliung as Alison's parents Helen and Bruce Bechdel, with Laura Condlln as Alison at 43, the narrator who holds the show together; Hannah Levinson as Small Alison (age 10), and as Medium Alison (age 19, university student), Toronto native Sara Farb.
As Toronto audiences may remember, Farb was one of two young Janes in the musical Jane Eyre that had its world premiere at the Royal Alex back in 1996. In a 2015 interview for In the Greenroom, she talked about her thoughts a few years earlier of getting out of the theatre business because "what [she] offered was too astray from the norm [of] musical theatre" and yet over the last five years at Stratford and in Toronto, she has developed into a powerful presence, most notably recently as the powerful goth-like Mary Tudor in The Last Wife (Stratford and Toronto) and The Virgin Trials, and her enigmatically sardonic Bob Dylan in the Musical Stage Company's most recent Uncovered concert: Dylan and Springsteen – a fascinating segué to exploring the role of Medium Alison, a character discovering and coming to celebrate that she is a lesbian, and the effect that has on her family. You can hear Farb singing one of the signature songs of Fun Home, "Changing My Major" on Youtube in a promotional video shot at Toronto's Metro Reference Library.
As you will hear in this song, Jeanine Tesori's score has that almost indescribable quality of sounding like real people singing – just that one step beyond talking – before soaring into melody, that can pull the audience immediately into the story. Interestingly, the story itself, centering on a daughter trying to come to terms with the death of her father and their earlier troubled relationship, irresistibly brings to mind Britta Johnson's Life After which opened the Musical Stage Company's season in September. Did they plan it that way?
Other echoes of the Musical Stage Company appear in the first previews of the Stratford Festival's musicals this month. Dan Chameroy, who was so good as the motivational speaker father in Life After, shakes things up in the Tim Curry-associated starring role of Frank N. Furter in The Rocky Horror Show at the Avon Theatre, and Daren A. Herbert, who was so charismatic and effective as Onegin in the new Canadian musical of the same name last spring, takes on the iconic Robert Preston role of Harold Hill in The Music Man at the Festival Theatre.
Breaking news this week as we prepare to go to print has it that the new musical Jukebox Hero, being created around songs from classic rock band Foreigner's hit list, will follow up its debut performances this summer in Calgary and Edmonton with a Toronto engagement (of only five performances so far) in February 2019 at the Ed Mirvish Theatre under the Mirvish umbrella. Excitingly, the cast is all Canadian, featuring musical veterans Richard Clarkin and Jonathan Whittaker as the two fathers, and the creative team is top shelf, led by director Randy Johnson (A Night with Janis Joplin), choreographer Tracey Flye (Mirvish Productions, Ross Petty Productions), music director Mark Camilleri (Mirvish, Dancap) and writers Dick Clement and Ian La Frenais (best known for their films The Commitments and Across the Universe, as well as their one previous stage musical Billy which starred Michael Crawford). Tickets go on sale on Ticketmaster on March 26.
QUICK PICKS
Ongoing: The wonderfully life-affirming Canadian musical Come From Away continues its run at the Royal Alexandra Theatre, now extended to October 2018.
Apr 10 to 12: "On Broadway": A rare chance to see Canadian (born in Iran but brought up in Brampton) Ramin Karimloo, star of Broadway and London's West End and a brilliant Jean Valjean in the recent remount of Les Miserables in Toronto and New York, in a concert of Broadway favourites with Stephanie J. Block (Wicked) and the Toronto Symphony Orchestra conducted by Steven Reineke at Roy Thomson Hall.
Apr 21 and 22: "Broadway Reimagined." Sarah Slean brings her unique Canadian pop sensibility to a program of Broadway classics with the Mike Janzen (jazz) Trio and the Niagara Symphony Orchestra.
Apr 26 to May 6: Picnic in the Cemetery, is a multimedia performance/concert presented by Canadian Stage and created by Toronto composer Njo Kong Kie with the Macau-based Folga Gaang Project. Described as a combination of the whimsical and the macabre, Picnic (which previously played at the Edinburgh Festival) was originally inspired in part by the composer having lived near the Mount Pleasant Cemetery.
Toronto-based "lifelong theatre person" Jennifer (Jenny) Parr works as a director, fight director, stage manager and coach, and is equally crazy about movies and musicals.