Shortly after I wrote my February 2018 column I had the unexpected opportunity to see a show that at first I wouldn't have categorized as belonging to music theatre but which, after seeing, I think fits this category as much as it fits any category at all. Brodsky/Baryshnikov offered the extraordinary experience of listening to the great dance artist Mikhail Baryshnikov speak the poetry of his friend and fellow Russian exile, Joseph Brodsky, intermittently breaking into poetic and achingly evocative moments of choreographed movement in reaction to and interpretation of a soundtrack consisting of profound and mostly darkly sorrowful poetry spoken in the recorded voice of his friend. Not a play, not a musical, there was no music at all except for the sonorous quality of the two male voices, mellow and alternately melancholic and passionate, speaking in the traditional Russian poetic cadence. A fascinating evening.
February continued with exciting variations on the music theatre theme with the latest edition of Tapestry Opera's Tap:Ex (a series created to explore the future of opera, particularly through cross-disciplinary hybrids). Tap:Ex Forbidden, based on an idea of Iranian-born composer Afarin Mansouri, combined her mix of classical Persian music and opera with a libretto by Afro-Caribbean hip-hop artist Donna-Michelle St. Bernard, in the service of a story that featured a very strong and talented small cast and an unexpected use of Lucifer as an instigator of rightful rebellion. The show equates the biblical eating of the apple to not only the acquiring of knowledge but, through that knowledge, the freedom and strength to rebel against a wrongfully authoritarian regime and to rise up for what is right. This heady mix of genres (including rapping in Farsi) gave power to the expression of a Persia aching to find a new modern identity. Seeing many members of the Persian/Iranian community in the audience clearly moved by the experience only added to the power of the evening.
February also saw the homecoming to the Royal Alexandra Theatre of Irene Sankoff and David Hein's heartwarming, hilarious, foot-stomping and inspiring Canadian musical Come From Away, with an almost entirely Canadian cast who astound with their talent and versatility. This innovative, deceptively simple yet complex musical – based on the true events of 9/11 when 38 planes carrying 7000 passengers were stranded for five days in Gander, Newfoundland – grabs at the heart while also making you laugh. So explosively positive was the opening week that the run was immediately extended another six weeks to October 21. (I reviewed the opening performance on our website and can't wait to see the show again.)
March on, March on!
March looks to be equally full of musical highlights, the biggest of which is the world premiere at Canadian Stage's Bluma Appel Theatre of The Overcoat: A Musical Tailoring, with music by Canadian composer James Rolfe and libretto and direction by prolific theatre creator and director Morris Panych. (Please see the feature article elsewhere in this issue.) In terms of categories, this new Overcoat could be seen as part opera (it is sung through) but also as part musical, in terms of pace and drive, in both the words and the music, in the service both of the narrative and of breaking open the ideas at the heart of Gogol's original short story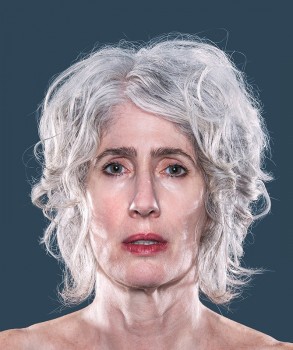 Also at Canadian Stage is another experimental work on a smaller scale: in this body (March 14 to 18), a new creation by acclaimed Canadian vocalist Fides Kruker and her ensemble, along with some of Canada's top contemporary dancers, Laurence Lemieux, Heidi Strauss, and the luminous Peggy Baker who also choreographs. (Peggy Baker is very much on the Toronto scene these days having also just presented Map By Years with her own company at the Theatre Centre last month, a retrospective of her solo creations with a new solo created for her by Sarah Chase.) Using choreography and voice, in this body will explore "the wilderness of a woman's heart" through a score made up of Canadian popular song by Joni Mitchell, Alanis Morissette, k.d. lang, Feist and more.
Meanwhile, over at Soulpepper, their extremely popular concert series turns to Paris in the 20s for A Moveable Feast, interweaving song and story to bring alive the world of post-WWI expats and European artists in the City of Light.
An American at the Princess
Paris is also at the heart of another big musical coming to Toronto's Princess of Wales Theatre towards the end of the month: An American in Paris. The 2015 Tony Award winner and Broadway and London hit is finally coming to Toronto, starring McGee Maddox, a favourite of ballet fans as a beloved former principal dancer with the National Ballet of Canada.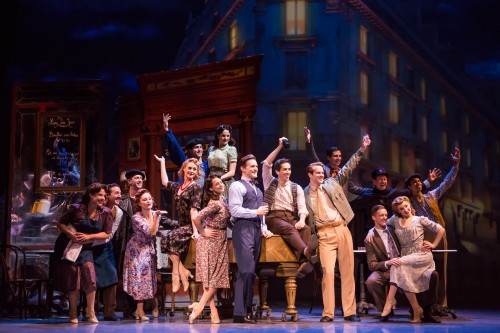 The 1951 film starring Gene Kelly and Leslie Caron has always been one of my favourites (as it is of many people) so I am curious to see how I will feel about this new stage version. Although inspired by the film and its beloved Gershwin score, it has also gone beyond those templates to try and create a darker or more realistic version of a Paris recovering from the ravages of occupation and privation during WWII.
So why try to recreate this beloved movie onstage when you can watch it any time? The answer, it seems, was that the success of the 1990s Gershwin musical Crazy for You (developed by Mike Okrent from the original Girl Crazy) prompted the Gershwin estate to inquire into making a stage musical out of An American in Paris as well. According to broadway.com, they approached producers Stuart Oken and Van Kaplan with this idea but it took years to find the right path and the right creative team. Eventually Craig Lucas (Prelude to a Kiss, Light in the Piazza) came on board to write the book, and ballet dancer and choreographer Christopher Wheeldon (who had choreographed An American in Paris as a ballet for the New York City Ballet in 2005) came on board as director and choreographer.
What Lucas and Wheeldon have brought to the original story of Jerry, an American G.I. painter staying on in Paris after the war and falling in love with Lise, a sweet but spunky Parisian girl, is the added dimension of a Paris more affected by the war, and characters also with a darker or sadder side. There are hints of this in the original movie (Lise's parents worked for the resistance, Jerry fought through and survived the war and doesn't want to return to the States), but here they are given more emphasis. Oscar Levant's role of Adam (Jerry's concert pianist friend in the film) has also been given more depth, and Lise has been made an aspiring ballet dancer, so that, as Christopher Wheeldon has said, the new version plays on two fronts: "the friendship and the bonding and the love story," but also the "creation of art and the struggle to create art."
Adaptation is a difficult and fascinating art whatever the original material; while this adaptation of a beloved classic film musical has been lauded and given many awards, it will be interesting to see for ourselves how well it works for Toronto audiences. I am curious about the added darkness (Leslie Caron herself suffered through the occupation of Paris so it must have informed her original performance despite how Hollywood-happy the movie is). I'm curious as well about the choreography and how well it will stand up to Gene Kelly's original dances for the film (for which he received an honorary Academy Award). When something is that iconic and entrenched in people's memories, how do you match it?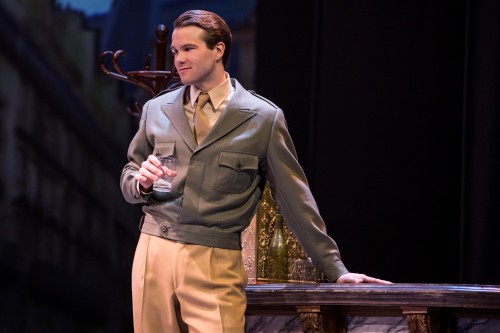 Finding the right triple threat performers for the two main leads has reportedly been a difficult and time-consuming process, but if the choice of McGee Maddox as Jerry is any indication, we're in luck. Already very familiar with Wheeldon's choreography, Maddox made a considerable impact as Leontes, the role of the jealous king in Wheeldon's ballet version of Shakespeare's The Winter's Tale (a ballet created after An American in Paris, but seen in Toronto both in 2016 and this past fall).
Altogether, March is shaping up to be an exciting month for music theatre in the city.
News has just broken as I write this that a year from now Dear Evan Hansen, the musical by Benj Pasek and Justin Paul (music and lyrics) and Steven Levenson (book) which won the Tony award for best musical in 2017, will have its first international production beginning in Toronto in March 2019, in partnership with David Mirvish. Another good opportunity for Canadian music theatre performers, and exciting for music theatre fans.
QUICK PICKS
Mar 8 to 18: Rudolph Nureyev's version of the classic Petipa ballet Sleeping Beauty, to Tchaikovsky's beloved score, features his famous introspective solos for the prince, as well as the classic rose adagio for Princess Aurora and the fabulous fun of the wicked fairy Carabosse. National Ballet of Canada at the Four Seasons Centre for the Performing Arts.
Mar 14 to 25: Gobsmacked at the newly renamed CAA Theatre (formerly the Panasonic) sounds intriguing as it promises an evening of interwoven stories told solely through a cappella singing from "traditional street corner harmonies to cutting-edge, multi-track live looping."
Mar 16 to 17: newly rebranded Toronto Musical Concerts (TMC), a professional not-for-profit company with a mandate to provide educational and community outreach through the performing arts, presents a staged reading of Sondheim's classic Company at Eastminster United Church (310 Danforth Ave.) to benefit The Canadian Safe School Network (647-298-9338).
Mar 16 to 25: On the community music theatre front, the North Toronto Players present Lear Incorporated, their own new "operetta meets musical comedy" version of Shakespeare's tragedy King Lear, featuring music by Arthur Sullivan, Bizet and others.
Toronto-based "lifelong theatre person" Jennifer (Jenny) Parr works as a director, fight director, stage manager and coach, and is equally crazy about movies and musicals.