The winter music theatre season is off to a great start with Tarragon Theatre's exhilarating experimental rock-'n'-roll-scored Hamlet showcasing some of the city's most versatile theatre and music performers led by a sympathetic and passionate Noah Reid as Hamlet. The score itself, under the guiding hand of music director Thomas Ryder Payne – is this a first? – is composed and arranged by the ensemble, and played by them, in varying combinations, in between acting their Shakespeare roles.
On the more traditional musical theatre side, Podium Concert Productions gave us a chance to see a concert staging of Maury Yeston's Nine (the Tony Award-winning musical based on Fellini's famous autobiographical film 8 1/2) starring Stratford veteran, triple threat Juan Chioran, at Trinity St Paul's Centre. I have to say, this is not one of my favourite musicals as I find the book and some of the songs weak, but it can be a great showcase for a talented cast and that was the case here. Surrounding Chioran in the central role of Guido Contini, world-famous film director, were some of the country's best female musical theatre performers in the other leading roles. Tracy Michailidis, who was so strong in Britta Johnson's Life After last fall, again brought her exquisite subtlety of emotion to the important underpinning role of Contini's wife Luisa. Against this strong centre those in the more eccentric or extravagant roles could let rip, notably Kira Guloien as Guido's mistress Carla, stunning in a slinky green dress, singing and acting seductively just over-the-top enough to satisfy; Rebecca Poff as Liliane La Feur, very demanding, deliciously dramatic and very French as Guido's film producer; and Alexis Gordon, in contrast to the last two, projecting a yearning sweetness and reluctant strength as Guido's muse Claudia Nardi. The only real drawback to the evening was the very uneven sound, with quieter lyrics sometimes hard to hear from the balcony over the volume of the orchestra onstage. Perhaps another venue with a different or more elaborate sound system would be better for projects like this as opposed to TSP's, which is designed for its usual – less wired – tenants Tafelmusik and the Toronto Consort.
At the Mirvish theatres, alongside large-scale traditional and rock musicals, a growing importance and presence of musical scoring for otherwise straight theatre productions could be seen. This year already, two in particular stood out for me.
North by Northwest (adapted by Carolyn Burns and directed by Simon Phillips) used much of Bernard Herrmann's original film score in the soundscape created by composer Ian MacDonald as an essential tool to pull the audience into the – admittedly rather odd and rather tongue-in-cheek – experience of seeing this famous Hitchock thriller recreated live onstage before our eyes.
In Marianne Elliott's deservedly award-winning production of The Curious Incident of the Dog in the Night-Time (adapted by Simon Stephens from Mark Haddon's acclaimed novel) the potentially overwhelming technological ingenuity of the set and effects was balanced by a constantly present sympathetic musical score by Adrian Sutton to project the very simple heartfelt and very human story at the centre.
Looking ahead, coming up in the current Mirvish season is a musical I am dying to see as, like many others in the city, I couldn't get a ticket during its first run back in the fall of 2016 since it sold out much too quickly, though I have since listened to the songs and loved them.
Come From Away, famously based on the true story of the tiny community of Gander, Newfoundland, that took in the stranded passengers of 38 planes forced to land there on the day of 9/11, was a runaway hit in 2016 at the Royal Alex and has since triumphed on Broadway to the tune of seven Tony nominations (winning Best Direction of a Musical for director Christopher Ashley) and many other Best Musical awards. This month it returns to the Royal Alex with a new all-Canadian cast while the original production continues in an open-ended run on Broadway.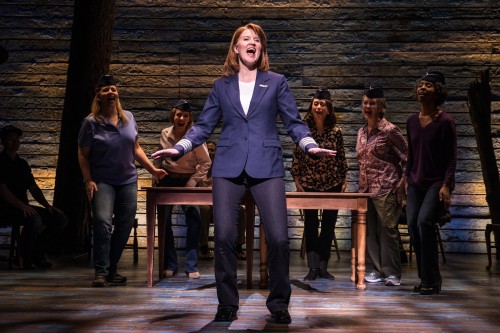 Unlike The Drowsy Chaperone, another Canadian hit that triumphed on Broadway in 2006, Come From Away did not start at the Fringe but from a suggestion by Michael Rubinoff of Sheridan College's Music Theatre Program to husband and wife co-creators Irene Sankoff and David Hein in 2010. That suggestion did follow, however, the great success at the Toronto Fringe in 2009 of their first musical My Mother's Lesbian Jewish Wiccan Wedding and likely was inspired by that musical's folk-music inspired score and staging style that included talking directly to the audience; two characteristics also of Come From Away.
With lucky timing and a Canada Council grant, Hein and Sankoff were able to go to Gander in September 2011 when not only the residents would be there to be interviewed, but also many, if not all, the "come from aways" – the passengers who had been unexpected guests on that day in 2001 – were visiting to commemorate the tenth anniversary of their meeting.
The show grew from the stories Sankoff and Hein heard and the people they met. It then began a five-year development process with workshops and performances at Sheridan College's Canadian Music Theatre Project followed by further development south of the border that led to its 2015 debut as a full-fledged production directed by Christopher Ashley at La Jolla Playhouse in California and the Seattle Repertory Theatre. Pre-Broadway runs followed in Washington and here in Toronto before the Broadway opening on March 12, 2017. All along the journey Come From Away garnered praise and followers and awards including many Best Musical nods, and even a Twitter shout-out from Hamilton's Lin-Manuel Miranda. Now a North American touring company is being put together, the original cast album (recorded in Toronto) has been nominated for a Grammy and a feature film is being made, written by the show's creators.
As I write this column the new Canadian company of Come From Away is in Winnipeg performing a sold-out run at the Manitoba Theatre Centre until February 3 before returning to Toronto to prepare for the run here.
Leading up to the second first-night at the Royal Alex on February 13, I wanted to touch base with Irene Sankoff and David Hein to ask a few questions about this new stage of their incredible journey.
WN: How does it feel to be coming home after the huge success you have had with the show on Broadway, particularly when the show had it's first beginnings here at Sheridan College and then the sold-out run at the Royal Alex last year?
IS: It's practically unbelievable. When we started at Sheridan – and even at the Royal Alex – there's no way we could have had any idea how far this would go. We originally hoped it might play in Canadian high schools because it had historical content and many characters, and now to have it playing in two countries every night, it's beyond our wildest dreams – but it is such a testament to the power of the story that we're telling. That's what we fell in love with in the first place and it's thrilling to see so many others feel the same way.
DH: As a kid who grew up on Canadian folk music, there's something really exciting about seeing this story and these traditional instruments brought back and celebrated by a Canadian cast – especially in the town where we were first started. It means the world to share it with the community that supported us while we were obsessed with telling this story and following every opportunity that came our way.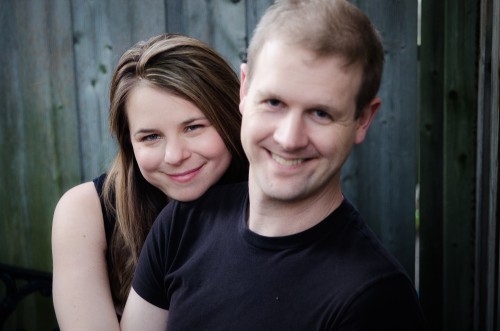 WN: I understand you have an all-Canadian cast for this remount, which is exciting. Did you find that you looked for different qualities – or did you discover different casting possibilities in the process this time around?
DH: Many of these performers we've either worked with before or have admired their work – some were new to us. It's such a joy watching them create and invent it again. Chris Ashley, our director, really let the cast work through it organically.
IS: When we first cast the show, we all agreed that we weren't looking for dopplegangers of the real people – and when we cast it in Canada again, we weren't looking for copies of the Broadway cast. What's so exciting, within this intricately detailed and blocked-out show, is how much interpretation each actor can bring. That, and apparently their Newfoundland accents are a little better.
WN: Is there anything else new or different in the show compared to the original production that we can expect? I understand that there is at least one new song.
IS: There is! As we were leaving the Royal Alex, we recorded the cast album in the last week. (I think it's the only Grammy-nominated Original Broadway Cast Album recorded in Canada.) Chris had been asking us for another song for one of the characters since La Jolla Playhouse two years earlier, but we didn't feel like we had a real way in to that character until a couple weeks prior to recording when we spent an afternoon with her and her family. Suddenly this new song appeared, about a mother being far away from her son. It was recorded for the album before it was ever put in front of an audience, which was risky.
DH: And yet now – we can't imagine the show without it! It feels like we've made a million tiny changes, right up to opening night – but in so many ways it's the same true stories which made us laugh and cry and cheer out, in Newfoundland – and it's so wonderful to return to celebrate everything that's happened on this crazy journey.
Performances of Come From Away begin at the Royal Alexandra Theatre on February 13.
QUICK PICKS
Feb 1 to 11: Richard Rose's exhilarating rock-'n'-roll-scored Hamlet continues at Tarragon Theatre.
Feb 1 to 4: St Anne's Music and Dramatic Society presents the wonderful and too rarely seen Gilbert & Sulivan Ruddigore.
Feb 4 to 25: Coal Mine Theatre presents Rumours, by Fleetwood Mac, not a musical but a recreation in concert of the well-known and beloved Fleetwood Mac album by a chosen group of Toronto musicians.
Feb 9 to 22: Soulpepper continues its hybrid concert/storytelling series with a spotlight on the Roaring 20s with Prohibition, the Concert, created by Richard Ouzounian, Gregory Prest and Mike Ross.
Feb 15: Opera Atelier recreates the concert they performed in the Royal Chapel of the Palace of Versailles last May. Transforming the concert into a moving dance/music theatre hybrid event is the inclusion and integration of the lyrical and moving new contemporary dance piece choreographed and danced by Tyler Gledhill to an evocative solo violin score composed and played by Edwin Huizinga. One Night Only.
Feb 22-24: Canadian Stage continues its showcase of original and groundbreaking music makers with Musica Nuda featuring vocalist Petra Magoni and double-bassist Ferruccio Spinetti. Not a musical but apparently dramatic and deconstructing performance.
Feb 26: "How to Succeed in Musical Theatre Business Without Really Trying," hosted by the The Musical Stage Company. This one-day event will be held at the Al Green Theatre in Toronto and is free of charge for Canadian musical theatre writers.
Toronto-based "lifelong theatre person" Jennifer (Jenny) Parr works as a director, fight director, stage manager and coach, and is equally crazy about movies and musicals.