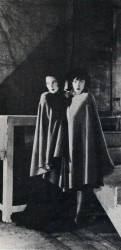 As I start to write this column I am in Versailles with Opera Atelier, and after each rehearsal I tune into the news programs - on what seems like every TV channel - all discussing the recent election of Emmanuel Macron as President of France, his choice of Prime Minister, the ensuing choosing of government ministers, and his positive and hopeful approach to the renewal of Europe. Politics is the hot topic of the moment, particularly with the general relief at Macron's win over Marine Le Pen of the Front National.
Then there is also the current pre-election state of the UK, made even more complex with the attack on Manchester as well as the ongoing passionate debate about Brexit. And there is the undefinable situation in the good old USA, south of our own border; the international rise of populism and its frightening similarity to Fascism; the continuing war and refugee crisis in Syria, and more.
How interesting then, that in Toronto, in June, there will be two productions in the same week that can be construed as reactions, quite different reactions, to the historical antecedents of these current political situations - specifically to the rise of Facism/Nazism?
June 14 and 15, at Roy Thomson Hall, the Toronto Symphony is presenting Kurt Weill and Berthold Brecht's 1933 classic "sung ballet" The Seven Deadly Sins in a semi-staged version by director Joel Ivany and choreographer Jennifer Nichols. Then, starting just two days later, June 16 to 18 at the Theatre Centre, Luminato presents Theaturtle's work-in-progress production of CHARLOTTE, a genre-bending new chamber musical based on Charlotte Salomon's life story, coming of age in Berlin during the rise of Nazism.
So, on the one hand we have a classic of the Brecht/Weill oeuvre, originally created for look-alikes Lotte Lenya and Tilly Losch, usually seen as a drivingly sarcastic condemnation of capitalism, as well as a wonderful vehicle for the leading singer and dancer who play two sisters - or are they the two sides of the leading character's personality? And on the other, we are offered a new work based on the life of a young girl who personally witnessed the rise of Nazism and recorded her experiences, her terrors, hopes and dreams in a series of over 700 gouaches - creating what has been described as possibly the first graphic novel or the story board for a musical of her life.
Curious about this juxtaposition and the approaches of the two creative teams to their respective projects, I reached out to both to talk about their own shows and this odd synchronicity. As it turns out the connections are, in the eyes of their respective producers, more apparent than real: the Brecht/Weill was written in the 1930s and is being presented as a "modern classic" by its producers. CHARLOTTE is an entirely new work based on historic/autobiographical material; the coincidence in timing is just that – a coincidence, and not particularly instructive.
So, are they connected? Yes, I think so, but perhaps more for the active observer reacting in one's own time to the state of the world.
Brecht and Weill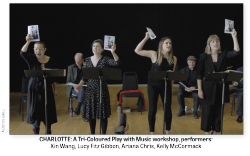 Let's start with The Seven Deadly Sins. Part of the TSO's ongoing "Decades Project," it is being presented as emblematic of the 1930s and is accompanied on the program by Barber's Adagio for Strings and Bartok's Music for Strings, Percussion and Celestina (as well as a newly commissioned short work for Canada's 150th birthday).
Styled as a satirical sung ballet The Seven Deadly Sins follows the adventures of two sisters sent to seek their fortune in the big cities in order to earn enough money to buy their family a little house on the banks of the Mississippi. In each city they encounter one of the sins of the title: Sloth, Pride, Wrath, Gluttony, Lust, Avarice and Envy. The sisters are both called Anna. Anna 1 (the singer) whose "head is on straight" is the entrepreneur type, and Anna 2 (the dancer) is the more compassionate one and also, as Brecht calls her, "the article sold." The family acts like a Greek chorus, commenting on the events as they fall out in each city.
Creating semi-staged versions of things is at this point right up a familiar alley for Joel Ivany (artistic director of acclaimed Toronto opera company Against the Grain) and choreographer Jennifer Nichols who have collaborated previously on AtG's groundbreaking staged Messiah in 2013, remounted in 2016, and on La Belle Hélène at the RCM. (Joel also created a semi-staged version of Mozart's Requiem for the TSO last year.)
I was secretly hoping to hear from Ivany that he was seeing the piece from a political angle, given the current state of the world, but he said that they had decided to stay with a very straightforward approach, treating the piece as a modern classic, and coming at it from a place of "what is the music and text saying and then how are we going to show that?" They used an exploratory week at the Banff Centre at the end of the summer as a starting point and to set the company language for the exploration.
Nothing daunted I asked choreographer, Jennifer Nichols, (who, conveniently, was with me in Versailles, dancing in Médée, if there was more she could tell me about her approach to the creation of the dance elements:
"What I am hoping to achieve choreographically is that the family is simply an extension of Anna," she said. "That their hopes and fears and judgment are her own [judgment] of herself…. At times Anna 1 and 2 blend, as if one is the puppet and the other the puppeteer, and then this dynamic switches." Supporting the staging will also be video elements created by Nichols with Christopher Monetti, inspired by the layering of facial symmetry and asymmetry in Ingmar Bergman's Persona, and "posing the question: Is Anna 1 the sister of Anna 2, or are they two parts of the same person?"
Playing the singing Anna 1 opposite Nichols' dancing Anna 2 is Canadian star mezzo-soprano Wallis Giunta, headlining a strong cast of singer/actors: Isaiah Bell, Owen McCausland, Geoffrey Sirett, Stephen Hegedus (who just played King Creon in Médée to acclaim in Toronto and Versailles), with TSO Maestro Peter Oundjian conducting the TSO.
So, look forward to a potentially interesting and well-sung version of Brecht and Weill's 1933 classic, the last piece they would create together.
CHARLOTTE
A much more complex and ambitious project and one very much intent on portraying the state of the world as it is now as well as how it was in the 1930s is CHARLOTTE: a Tri-Coloured Play with Music.
2017 is the centenary of Charlotte Salomon's birth, a significant milestone, and one of the sparks that led to the creation of this new multidisciplinary chamber musical.
What were the other sparks? Where did it all begin? "Seventeen years ago," says librettist Alon Nashman, "I encountered the artistic genius of Charlotte Salomon at the Art Gallery of Ontario. There I saw over 700 paintings, stunning in their complexity and beauty. I read every word of the text she offered for what was in essence a huge graphic novel and a thinly veiled autobiography. I listened to the music Charlotte proposed as accompaniment to her images and storytelling. I fell in love with this highly intelligent and talented young artist, whose ironic take on events I thought I already knew well is completely disarming. I mourned for the loss that her immediate death at the doors to Auschwitz represented. Here was a profoundly and articulate witness, not only to the atrocity that was Nazism, but to a complex stew of artistic, familial and societal transformation."
Unable to shake the notion that Charlotte wanted her work to be performed publicly, Alon dreamed of adapting this painted/indicated singspiel "Life? Or Theatre?" for the stage. The next step was to find the right director who would understand from the inside Charlotte's world and artistry. Through the help of Canadian-bred producer Liz Bradley, Nashman found her in British director and sceneographer Pamela Howard, who had already been thinking independently about creating a piece based on Charlotte's work. Pamela in turn introduced Nashman to composer Aleš Březina, one of the leading lights of European composition for theatre, and director of the Martinu Institute in Thessaloniki and the Czech Republic, and the creative team was complete.
The development process began with meetings in 2013 and 2014, leading to a first three-week workshop at Canadian Stage in 2014. On their promotional video the team state that their goals were to create a fully 3D realization of Charlotte's visions and images, in an equal partnership of text, movement/image and music. By the end of the first workshop they had an initial footprint for the production to grow from. In 2016 there was a further music workshop, and this year a double workshop residency at Kingston's Isabel Bader Centre and at Toronto's Theatre Centre leading up to a return visit to the Bader June 1 for a concert premiere, and then the upcoming work-in-progress performances for Luminato which will have full sets, props, and costumes, although production details will continue to evolve.
All three CHARLOTTE collaborators declined any specific political alignment or direct artistic parallel to The Seven Deadly Sins other than that of recognizing the general use of art to ridicule and expose the moral bankruptcy of the Nazi regime, particularly through the way of theatre that Brecht and Weill established. Pamela Howard suggests that a more appropriate parallel would be Brecht's Theatre poems or his dictat "Show what has to be shown." Much more clearly they all three talk about bringing this specific story to life: "This beautiful portrait of a decline of a flourishing multicultural life in Berlin (or Germany or Europe) in the late 1930s…the link not only to today but to all times to come" as Březina puts it. Or in Howard's words "The inspiration or rather determination…to create something that reinforces the power of art to survive beyond human life…not simply a reaction to Nazism, tragic as that is, but (to) the current political repetition once again that is daily witnessed (that) is motivating artists all over the world to make work together that speaks louder than words."
Nashman says: "Charlotte did not know how the war would unfold but she had a sense that everything she associated with civilization was being destroyed. She sets the date of her creativity as 'Year One of the New Salvation.' Her remarkable premonition was that out of the ashes of Europe would arise a new and better civilization. And that she would likely not survive to see it."
Charlotte in exile had only three colours of paint to create her series of 700 + gouaches images. From three colours she made a myriad colours. This "tricolour" is the tricolour of the subtitle of the show, but it also refers to the three collaborators, to the equal importance of words, images, and music coming together to communicate a world and story. All three collaborators champion this idea and process. In Březina's words: "We were like three sides of the same person, discussing every small detail together to find out a solution, which (would) always display all three aspects inevitably intertwined."
Finally, I asked the three what they wanted to create for their audiences, how they wanted their audiences to emerge from the experience of the project. Howard summed up their goals: "To experience a remarkable - yet horrific - story and to come out changed" she said. "I think of Beethoven's Ode to Joy as a guiding principle. We have to be optimistic for the future otherwise…how can we go on? The Soviet Union fell, Hitler died, Idi Amin ceased to exist and Rome fell. People suffer, but the human spirit will rise, as Brecht said 'In the dark times - will there also be singing?'"
And a last word from Nashman: "Charlotte's artistic response to her tribulations make me wonder if there is a young woman in Aleppo today painting her life, or writing poetry or songs, in order to survive."
Works like CHARLOTTE: a Tri-Coloured Play with Music, giving us new windows on times we don't want to return to, are essential to the survival of the human spirit.
Is CHARLOTTE an example of how the art of music theatre is becoming more widely and wildly experimental, pushing the envelope, breaking the box, becoming more strongly political? Or is it just that there happens to be a whole bunch of this happening clearly and visibly right now?
The rest of the line up at Luminato is an interesting case in point. More than half the productions could be described as falling under the music theatre umbrella, but from under the shelter of that umbrella are breaking and making new rules, becoming radically diverse, more connected to the world around us, engaging with hot button topics through art, wanting to shock, perhaps, but even more wanting to engage and connect with audiences and the world around us. Active political theatre-making in the best sense.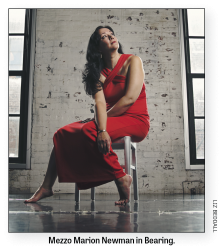 Staying with the offerings at Luminato for a moment, King Arthur's Night, (whose composer Veda Hille also co-created Onegin which continues until June 4 at the Berkeley Street Theatre), is a new take on the classic legend, commissioned by Luminato from British Columbia's Neworld Theatre. This world premiere is co-created by Hille, Marchus Youseff, James Long and writer/co-creator Niall McNeil - an artist living with Down syndrome who grew up in the midst of BC's Caravan Theatre. The production features a fully integrated professional cast, which includes actors from Burnaby, BC's Down Syndrome Research Foundation, a live band and a 16-person choir: "An upside down world. A Betrayed Love. An unwanted child. Animals learning to walk and talk. A revolt by the subjugated masses. A kingdoms come undone. This isn't the King Arthur you know."
Nearby on Front Street, the Joey and Toby Tanenbaum Opera Centre will house a custom-built performance space for two very different cross-genre productions to tell epic stories from two different cultures.
Bearing is a world premiere dance-opera by internationally acclaimed theatre-maker Michael Greyeyes (Plains Cree), playwright/director Yvette Nolan (Algonquin) and librettist Spy Denomme-Welch (Anishnaabe). It explores the legacy of Canada's residential school system through music, dance, and spoken word, presented in three sections on a nearly bare stage with - in the words of the creators - "live music being integral to the audience's understanding of the work," and with music ranging from Bach to Vivier to new pieces composed for this Signal Theatre production. Actor and singer Marion Newman (Kwagiulth and Sto:lo) leads a company of actors, singers, and dancers, a custom built choir, and members of the National Youth Orchestra in what promises to be an unflinching yet poetic look at this difficult and enduring scar on Canada's history.
Until the Lions is a tantalizingly feminist dance/music theatre project drawn from Karthika Nair's "Until the Lions: Echoes from the Mahabharata," a collection of poems about the overlooked female characters in the Sanskrit epic. Director and (award-winning) choreographer Akram Khan, who spent two years as a performer in Peter Brook's renowned international nine-hour version of the full Mahabharata, declares that "as in many myths, the female characters are often the unsung heroes, the figures of strength and imagination and endurance. It is their unsung stories in particular that still haunt me today." His "Until the Lions" fuses traditional kathak with contemporary dance and live music (an original score) to explore the tale of one of the these women, the Princess Amba, who invokes the gods to seek revenge when her chances of love and marriage are stolen from her.
The juxtaposition of these two new works in a custom built in-the-round space should prove to be fascinating for the avid music theatre goer to see. How will the space affect the different productions and how will each make use of it, and to what effect?
Worth a look as well for their promised pushing of genre boundaries are Vertical Influences, an ice-skating double bill by Montreal's Le Patin Libra aiming to move skating into the theatrical arena (one piece being about bullying); Breakin' Convention, an international festival of Hip Hop Dance Theatre from Sadler's Wells, London, and UK hip hop pioneer Jonzi D; and an award-winning production of Anton Chekhov's Uncle Vanya by the Vakhtangov State Academic Theatre of Russia which promises, in the style of theatre pioneer V. Meyerhold, a blend of words, music, mime and symbolism.
Elsewhere in the City
Soulpepper brings us Porgy and Bess in Concert (June 1-3 ) as well as the closing performances of their very successful run of "for colored girls who have considered suicide / when the rainbow is enuf." The National Ballet of Canada unveils their new production (and Canadian premiere, of John Neumeier's A Streetcar Named Desire (June 3-10 using music and dance to reimagine Tennessee Williams' famous play, focusing on exploring themes of memory and loss. The ballet has a new first act, set to romantic music by Sergei Prokofiev and picks up the familiar story in the second act to more jarring, fragmentary music by Alfred Schnittke.
On a lighter note, the Gerald Isaac studio presents a short run (June 29-July 2) of Sweet Will.
This time-bending musical transforms the Bard's most iconic works into a new story "rife with song and sass that strikes a powerful synthesis between old and new." The exhilarating musical hodgepodge originally from 1985 is dressed up this time in spectacular Steampunk style, with Tony Award-winning Lance Mulcahy's original book enhanced by a new script, and is under the direction and choreography of Stratford alum and Canadian theatre great Gerald Isaac and musical direction of Dora Award-winning Bob Ashley. See their Sweet Will Facebook page for more information or universe.com for tickets.
A bit further afield
The Stratford Festival, underway from mid-April, is getting into full swing with two musicals onstage: the wonderful Broadway classic Guys and Dolls directed by Donna Feore, with Ben Carlson as Sky and Alexis Gordon as Sarah Brown; and the perennial G & S favourite H.M.S. Pinafore directed by Lezlie Wade. For one day only, on June 24, at 2:00 pm., you can also catch Stratford Company member and Tony-Award winning singer and actor Brent Carver in concert with The Art of Time Ensemble at the Avon Theatre in a program of songs by Charles Aznavour, Leonard Cohen, Kander and Ebb, Elton John, Jacques Brel, Noël Coward and others, arranged especially for this concert by a selection of the best composers and arrangers in Canada.
At the Shaw Festival, Me and My Girl continues its run until October 15. The sparkling and fun British musical about whether a Cockney man can give up his old life – and love - to join the upper class, was famously a hit in London's West End starring Emma Thomson in full tap dancing mode in the 1980s; in the 1930s, when it premiered, it was so successful that its hit song and dance "The Lambeth Walk" was so popular across Europe during the Munich Crisis that an article in The Times of October 18, 1938, quoted a contemporary poet: "While dictators rage and statesmen talk, all Europe dances – to The Lambeth Walk."
Summer Stock
Ontario's long Summer Stock Season has also begun with many performances around the province featuring both new Canadian and traditional Broadway musicals.
The WWII theme continues at the 4th Line Theatre in Millbrook with David S. Craig's musical Bombers: Reaping the Whirlwind, a new play with music danger and romance about Canadian bomber crews "as they struggle to win the war." The new Canadian musical about Terry Fox, Marathon of Hope by John Connolly and Peter Colley, plays at the Dunfield Theatre in Cambridge, as well as the King's Wharf Theatre in Penetanguishene. Broadway musical favourites Joseph and the Amazing Technicolor Dreamcoat are coming to the Drayton Festival Theatre, and Huron Country Playhouse, and Thoroughly Modern Millie comes along at the beginning of July to the St Jacob's Country Playhouse.
For more details on Summer Stock shows see our own listings and helpful websites summertheatre.ca, or summerfunguide.ca.
Toronto-based "lifelong theatre person" Jennifer (Jenny) Parr works as a director, fight director, stage manager and coach, and is equally crazy about movies and musicals.