"Everything old is new again," wrote Peter Allen, the Australian songwriter and performer, in one of his memorable hits of the 1980s. As if to prove the point still holds, a spate of high-profile musicals sweeps the GTA and beyond this summer, all but one more than 30 years old. Already attracting crowds at the Shaw Festival Theatre in Niagara-on-the-Lake, Guys and Dolls, "a musical fable of Broadway" based on stories and characters created by Damon Runyon during the 30s, originated as a 1950 adaptation by Jo Swerling and Abe Burrows, with music and lyrics by Frank Loesser. The most-produced American musical in history, the show has won nearly every possible award and still scores accolades. Given its strong production at the Shaw, "odds are that [it] will become the biggest box-office hit in the Festival's history," writes J. Kelly Nestruck in The Globe and Mail. It's a safe bet that the Festival indubitably is banking upon.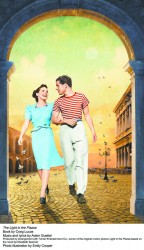 By now, the plot of Guys and Dolls is well known — at least, to the demographic that appreciates the stylized depiction of Depression-era Broadway that Runyon creates for his motley collection of gangsters, gamblers, chorines and molls. Sky Masterson, a high-roller (played by Kyle Blair in the current production) makes a bet with Nathan Detroit (Shawn Wright), a shady entrepreneur who's organizing a craps game for his cronies, that he can woo a pious missionary from the Salvation Army — Sarah Brown (played by Elodie Gillett) — and fly her off to Havana. While the sinner and saintly flirt, fight and fall in love, Nathan and his frustrated fiancée of 14 years, Adelaide (Jenny L Wright), a performer at the Hot Box burlesque, conduct a parallel romance that leads to the same destination — the altar, a common site for happy endings in frivolities like this. To chronicle their progress from craps to the church, Loesser provides one of the greatest scores ever written for a popular entertainment — a roster of songs that defines the term "classic" and sets the standard for American musical comedy.
A riskier gamble is the Shaw Festival's other musical offering this season — The Light in the Piazza, book by Craig Lucas, score and lyrics by Adam Guettel, which opens in late July. One of the few musicals written in the 21st century to receive a major Canadian production this summer, Piazza also evolves from a literary source—a short story set in the 1950s when anxieties about romance and repression ran rampant, a circumstance not incidental to the show's subject.
Originally a short story written by Elizabeth Spencer in 1960, The Light in the Piazza follows Margaret Johnson, a wealthy matron from the southern U.S. (played by Patti Jamison) as she chaperones her daughter Clara (Jacqueline Thair) on a summer trip to Florence. There, a love affair between Clara and Fabrizio, a young Italian man (Jeff Irving), forces Margaret to face the fact that her future is overshadowed by the past. While still a small girl, Clara suffered a concussion that stunted her mental and emotional growth. Now a beautiful young woman, she retains the innocence of a child, which becomes more than usually troubling after she announces her intention to marry her Italian paramour. Watching Clara's love blossom, Margaret grapples with her responsibility to her daughter and the girl's fiancé. Should she acquiesce to love and celebrate the young couple's marriage, or should she intervene to stop it?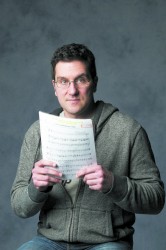 Writing about The Light in the Piazza, Jackie Maxwell, artistic director of the Shaw Festival, suggests that "actors and singers adore being in an Adam Guettel musical as they have to push themselves to the limit musically and emotionally." I asked Paul Sportelli, musical director of the show, if he agreed. "Actors do love singing Guettel," he replied. "He knows how to write for the voice and his compositions are tremendously powerful, so singing actors like to be a part of bringing that kind of composition to life." Sportelli also suggests that "as much as one can analyze and admire [Guettel's] composition, there is something in it that is powerful and emotional and transcendent ... that can't be fully explained ... " One reviewer of the original Broadway production (2005) made a similar point, observing that "the songs complicate rather than simplify the characters," which led him to reflect that "the musical is conventionally thought of as the lightest and most disposable of theatrical genres, but The Light in the Piazza is on every level more profound than [many dramas]."
Piazza is one of the few bilingual Broadway musicals to succeed with an audience, many of its characters being fluent only in Italian. The bilingual book and lyrics make the piece more difficult to rehearse than other musicals, Sportelli notes, adding that "the dialect requirements (English with an Italian accent, English with a North Carolina accent), along with the complexity of the score" require extra rehearsal time. Mounting the production in the close confines of the Festival's Court House Theatre also presents challenges. Using an orchestration that Guettel wrote for piano, harp, double bass, cello and violin rather than a full orchestra, Sportelli and the play's director, Jay Turvey, hope to turn the liabilities of the space to their advantage. "It's the orchestration I used when I did Piazza at the Arena Stage in Washington DC in 2010," Sportelli explains, "and it is very effective: lush while achieving a more intimate 'chamber' feel. The five players will be on stage at the back and will be visible."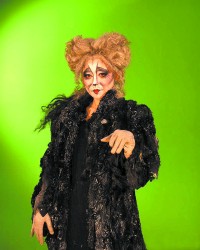 Another show that uses reduced orchestration to meet the demands of a smaller house opens in early June for a two-month run at Toronto's Panasonic Theatre. Like Guys and Dolls and The Light in the Piazza, it also stems from a literary source, but one less time-specific. Written in the late 1970s, Cats qualifies as both a cultural phenomenon and a large-scale musical, a fact that often overshadows its considerable artistic achievements. Based on T.S. Eliot's Old Possum's Book of Practical Cats (1939), the show premiered in London in 1981 as a high-concept suite for dancers, with music composed by Andrew Lloyd Weber and Trevor Nunn (its director) and choreography by Gillian Lynne. The following year, the same creative team opened Cats on Broadway under the guidance of Cameron MacIntosh, its producer, where, as in the West End, the show garnered instant acclaim and set attendance records. Besides running for 21 years in London and 18 years on Broadway, Cats has since been translated into 22 languages and played around the world. The seven Tony Awards it won in 1983 represent only a few of the many honours it has accumulated during its travels.
The first of the so-called mega-musicals, Cats cost five million dollars to produce on Broadway in 1983, a figure that established a new benchmark for large-scale musical theatre. Given its unusual subject and eclectic score, this cost is remarkable. Much has been written about the initial production, primarily because the cast rehearsed without a book, plot or structure — a situation that regularly led to confusion. Inasmuch as the performers all play cats, they were required to learn a complex physical vocabulary to execute Lynne's stylized choreography which, while much copied, has never been surpassed. Although the show is sung-through, the music intermittently accompanies spoken text, though never dialogue. Musical forms include an overture that incorporates a fugue for three voices, power ballads, rock solos and chorale recitative as well as novelty numbers that highlight the attributes of the various cats that gather for the Jellicle Ball — an annual event in this feline fantasy that provides the show's inciting premise. Meeting in a junkyard (the musical's only set), the phalanx of 22 cats waits for the moment when Old Deuteronomy, a revered elder, will choose the most deserving celebrant to ascend with him to heaven. Defying expectations, he eventually names Grizabella, a shabby old cat shunned by the others, whose signature song "Memory," introduced at the end of Act One, provides the musical motif that repeats throughout the show to lend it a melancholic tone as indelible as the song's soaring melody.
The small stage of the Panasonic Theatre is a far cry from the wide proscenium and lofty fly gallery of the Elgin Theatre where Cats received its all-Canadian premiere in 1985. The brain-child of Marlene Smith who, along with Tina Vanderheyden, raised over three million dollars to finance the show (unheard of at that time), Cats gave Toronto's commercial theatre a long overdue kick-start. The production ran for two years before touring the country and returning for a second sold-out run at Massey Hall in 1987. Responsible, in large measure, for the restoration and refurbishment of the Elgin Theatre, its success had even more important consequences. As Mel Atkey writes in his book Broadway North, the production proved "that there was an audience for musicals in Toronto, the talent to perform (if not yet to write and direct) them and money to be made. When the suggestion of bringing in Les Misérables and Phantom of the Opera cropped up, it was feeding time at the zoo."
Marlene Smith acknowledges that she enlisted a number of investors from her initial team for the new production of Cats that she undertook at the suggestion of her son Geoffrey, with whom she has formed a new company, Nu Musical Theatricals. To direct, she turned to Dave Campbell, who has mounted the show elsewhere in Canada. Interestingly, she sourced her choreographer and musical director from the original Canadian production: Gino Berti, a member of the initial Canadian cast, is charged with recreating Lynne's West End choreography, and Lona Davis, another member of the original cast, serves as musical director. It was Davis who explained the show's orchestration to me, noting that "due to space limitations we have a reduced eight-piece orchestra. The arrangements are based on an existing ten-piece version [for which] Mark Camilleri has created new programming for the three keyboards that updates some of the original sounds." She adds that "the orchestra performs on a scaffold upstage behind the set" and that "all the performers are miked."
A new Cats for a new generation? Perhaps, given that the set employs the designs of Rose and Thistle, a Toronto-based company whose digital technology attempts to add depth to the Panasonic's shallow stage by projecting layers of holographic imagery. While such effects are welcome, even without them the old becomes new again as fresh faces enliven a show that has passed the test of time. The same can be said of a number of other productions that grace our stages this summer — too many, in fact, to allow more than a mention here. Tommy, the acclaimed "rock opera" that began as a record album by The Who in 1969, receives a new production at the Stratford Festival under the direction of Des MacAnuff, one of its originators and continues until mid-October. Another all-Canadian production of an oldie but goodie that promises high-tech staging, the show is sure to attract a new generation of theatregoers interested in experiencing a milestone in the history of musical theatre.
Reaching back even further, Anything Goes, in a touring production by New York's Roundabout Theatre that won the Tony Award for Best Revival in 2011, also arrives in July for a one-month run at the Princess of Wales Theatre. Written in 1934 by the inimitable Cole Porter, this frothy confection is perfect summer fare — and the second most-produced musical in the American theatre canon, right behind Guys and Dolls. If you haven't seen it before, you're in for a treat. And if you have, well, as with all the other musicals available to you this summer, it's worth seeing again — especially in this rousing production that revels in the joy of staging the past. Who knows, you might even want to sing along. I'm sure you'll know the songs. 
Based in Toronto, Robert Wallace writes about theatre and performance. He can be contacted at musictheatre@thewholenote.com.