It's not often that we hear welcome news of a new company on the local community musical theatre scene: most rumours in recent years have had more to do with the financial problems facing some of the groups, and their possible demise. Steppin' Out Theatrical Productions, however, is doing just what their name boldly declares, stepping into their second season and their first full season at the new Richmond Hill Centre for the Performing Arts.
Based in York Region, the group was formed last year by the 16-year-old Brian Lee. A musical theatre devotee and performer, Lee started acting at 7, has been in community theatre since he was 12, and has also produced and directed his own shows with Markham Youth Theatre. Part of the new Richmond Hill theatre's mandate is to provide space for community theatre groups, and when Lee saw an ad saying that the theatre was accepting bookings he jumped at the chance of putting a new group on the RHCPA stage. Their 2009-2010 season opens with the 1954 Adler and Ross classic The Pajama Game, which runs for four performances from November 19 to 21. Steppin' Out will be presenting three shows per season, and we hope they'll be around for a long time to come.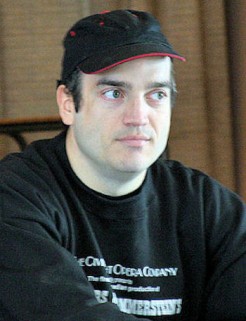 And if you think that 16 is too young an age to run a successful stage company then you'd better think again: Joe Cascone was a mere 14 years of age when he founded what is now the Civic Light Opera Company 30 years ago, and just look where they are now. CLOC will be providing one of several local productions aimed at festive season audiences when they stage It's A Wonderful Life, a musical setting of the classic 1948 James Stewart movie, with lyrics by Sheldon Harnick (of Fiddler On The Roof fame), and music by Joe Raposo, best-known for his musical contributions to the TV programme Sesame Street. The show runs at Fairview Library Theatre from December 10 to 27, with matinees around the Christmas dates.
Last year's CLOC Christmas offering was Scrooge, based on A Christmas Carol, and the perennial Dickens favourite is also the basis for Etobicoke Musical Productions' upcoming offering, A Christmas Carol – The Musical, with music by Alan Menken, the award-winning composer of the scores for so many of the recent Disney animated movies. EMP's home is the Burnhamthorpe Auditorium in Etobicoke, and the show runs from November 27 to December 12.
Scarborough Choral Society provide the third seasonal production with their annual Sounds of Christmas presentation at Markham Theatre on Saturday and Sunday December 12 and 13. Their next stage musical will be Guys and Dolls in April 2010.
If you don't know the music of Maury Yeston (Titanic, Grand Hotel) then you've really been missing something. Scarborough Music Theatre gives you the opportunity to put that right with their production of Yeston's Nine at the Scarborough Village Theatre from November 5 to 21. Despite being an unknown quantity for many people the show is something of a cult favourite, and won five Tony Awards in 1982, including Best Original Score. SMT's recent productions – especially Urinetown – have been quite exceptional, and this one promises to keep the standard flying.
Incidentally, you'll have a chance to hear Yeston's stunning – and also Tony Award winning – Titanic score when Curtain Call Players stage it next April at Fairview Library Theatre. CLOC's highly-acclaimed production of the show at the same theatre in 2006 proved that a relatively small performing space doesn't have to be an issue for a show with this large a cast and orchestration, so it should be interesting. CCP's current show is the Marvin Hamlisch/Ed Kleban classic A Chorus Line, which ran for over 6,000 performances on Broadway and was, at the time, the longest-running Broadway show in history. CCP's production runs from November 5 to 14.
Also running in mid-November, from 11 to 14, is Brampton Music Theatre's staging of the 1998 'juke-box' show Footloose - The Musical at the beautiful Rose Theatre in Brampton. Based on the 1984 movie of the same name, Footloose is another show that opened to mixed critical reaction but has since developed a devoted fan following; it's a popular choice for high-schools in the US.
Another huge favourite with high school producers is Thoroughly Modern Millie, which Clarkson Music Theatre will be presenting at the Meadowvale Theatre in Mississauga from November 20 to 28. Julie Andrews starred in the original 1967 movie, which mixed early 20th-century songs with originals by Jimmy Van Heusen and Sammy Cahn and somehow won an Oscar for Elmer Bernstein for Best Original Score – but the 2002 Broadway version featured 11 new songs by Jeanine Tesori and Dick Scanlan. Clarkson's handbill flyer for their production shows "Music by Elmer Bernstein and André Previn," the latter having orchestrated Bernstein's score for the movie, so I'm not quite sure which version they will be presenting.
With three shows running in the middle of the month, and with three more in rehearsal at the same time, it's a tough time if you're trying to book musicians. (I'll be playing for one production but had to turn down two others.)  However, it's a great time to experience the local community musical theatre scene. The nights may be getting darker, but musical theatre is a perfect way to keep them bright – and with adult ticket prices usually around $24 or $25, you won't be breaking the bank just before the holiday gift-buying season.
Full performance dates and ticket information for all of these community shows can be found in the listings section of this edition of The WholeNote.
Terry Robbins is a musician and musical theatre enthusiast. He can be contacted at: musicaltheatre@thewholenote.com.