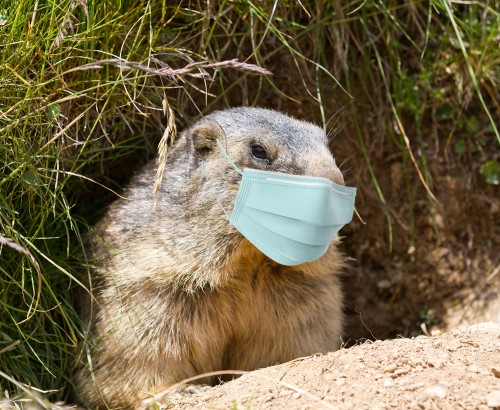 It's almost impossible to believe that this most Twilight Zone of summers is rapidly drawing to a close. How did September come so fast despite many of us enduring so many long, empty and isolated days? Days upon days of not working, of not going out much save when necessary, of not seeing people, except on a computer screen or in brief "Dare we?" encounters. Indeed, with everything still pretty much upside down and our sense of normalcy and time in tatters, it's hard to even say what the passing of summer means anymore. More on this later, but it reminds me of one of the many wonderfully droll lines from the great relief pitcher Dan Quisenberry: "I've seen the future; it's a lot like the present, only longer."
A Blizzard of Cancellations
In the old days, during inevitable patches when work was slow (we didn't know what slow was), musicians would jokingly say "I looked in my gig book the other day and got snow blind" – as in too many blank, white squares, a blizzard of empty dates. It's like that now, only the vast white spaces are interspersed with dates that have been scratched out, looking like little scruffs of dirt poking through the snow. And COVID-19 has brought a new gig convention: the courtesy cancellation, when a bandleader calls or emails the other musicians they'd booked on a job to tell them it's been cancelled.
This has happened so often between March and well into the fall that we all just (rightly) assume that every gig is off, but it's still the considerate thing to do, plus it gives everyone a chance to commiserate and indulge in some gallows humour. As in, "You thought you were busy? I've cancelled way more gigs than you!" And even rare new bookings have to be taken with a large grain of salt. Recently my old friend Georgia Ambros called to hire me along with guitarist Reg Schwager to play at her 85th birthday party on August 29. She explained that it would be held outside in the back courtyard of her building and that it would be small, with people spread out. I was delighted to hear from her and accepted. But a couple of weeks later she called saying she'd have to cancel because the other tenants were nervous about a gathering, and I wasn't all that surprised. She offered to pay me anyway, bless her, but I flatly refused, saying we'd just have to do it later when things are safe.
Time On My Hands
For me personally, the unending Groundhog Day of life-with-COVID increased with my decision to retire on July 17 from the Law Society of Ontario, where I had worked in the Great Library (actually its real name) for nearly 29 years. (Yes, I finally stopped listening to the advice many have given me over the years after hearing my bass playing – "Don't give up your day job.") I'd been seriously mulling over retirement from the library for about a year, and as my long-suffering wife put it: "It only took a pandemic crisis for him to make up his mind." I really enjoyed working in the august old place and somehow found a way to fit the jazz life into the straight workaday world. No wonder I'm a bit schizoid.
Now that my jazz life has been severely curtailed – along with everyone else's – it may seem odd to decide to have even more time on my hands, but in the end I obeyed the almost palpable message that seemed to come from deep inside me: when push came to shove and the Great Librarians moved toward reopening, I just didn't feel like doing it anymore. The four months off during lockdown were like a rehearsal for retirement and, while I generally hate to rehearse – it's cheating, after all – I took to the free time like a duck to water.
Of course, as it has with so many aspects of life, the pandemic made the decision seem surreal – I was retiring from a place I hadn't set foot in for four months. Normally there would have been a party, a chance to say goodbye to my colleagues, the ritual of cleaning out my desk of personal belongings and walking out the door for the last time. But there was none of that; it was as if I was retiring from….. thin air. And while it's generally a good thing, retirement has made it even harder to tell what day it is: in a good week, every day is Saturday and in a bad one, every day is Monday.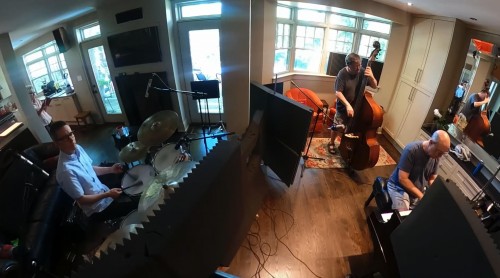 Getting Back On the Horse
With even more free time I grew determined to be more active and was itching to play. As if reading my mind, drummer Mark Micklethwaite, who has taken John Sumner's place in Mark Eisenman's trio, emailed Merv (Eisenman) and me with a loose plan for doing some recording and maybe trying to drum up some work and touring in the future once it was safe. He had some good ideas and we all agreed that in the meantime we should get together to play and shake the cobwebs off at Merv's house the following week. I looked forward to it, but with no small trepidation: I'd done some practising but hadn't played with anybody for real since early March. Would I be up to it? Would my softer hands do what I wanted them to? Would my back hold up? The morning of, putting the cover on the bass, carrying it out of the house and loading it in the car – which I've done countless times – seemed weirdly foreign, like I was sleepwalking.
After exchanging greetings and some jazz banter, the music began without any planning or so much as a word. Mark Micklethwaite simply started playing time with brushes at a medium tempo and I fell in, walking a blues in – what else? – B-flat. Eisenman was nowhere near the piano so the two of us just continued swinging until Mark joined us at the top of a chorus; then off we sailed. We must have played that blues for 10 or 11 minutes, but nobody was counting. In fact, as is always the case when jazz players are really locked in and concentrating, really listening to one another and building, the notion of a clock simply disappeared. It felt just great to be playing with these two again; there's an unspoken musical consensus amongst us, a trust which I had deeply missed. And even without any people listening, there was sweat and intensity, everyone was playing their best because we hadn't done it for so long, we were almost afraid of failing. It was as if someone had flipped a switch or plugged the jazz intravenous into our veins after months off; it was the most satisfying musical experience I'd had in a long time.
Mind you, a medium blues in B-flat is relatively simple, but on the other hand its starkness means there's nowhere to hide, especially in a trio, and I felt like we passed the test. Perhaps more importantly, it was fun, a lot more fun than practising. It wasn't all smooth sailing for me, though, I noticed definite signs of rust and fatigue as we played faster tempos and tunes with more complex harmonies. I'd lost some speed and dexterity and sometimes I stumbled on solos when my fingers couldn't quite catch up to my ideas, or vice versa. I realized I needed to practise more and with greater intensity, but now I had the motivation to do so.
We've played once a week ever since but switched locales when John and Patti Loach generously offered their house as a venue. It's a great place to play with a terrific piano and good acoustics, plus John wanted to experiment with recording the drums, as most of the recording he's done hasn't involved drummers. It helps a lot that Micklethwaite is such a sensitive player with good dynamic control. John also had some video cameras set up and has posted some of the videos on YouTube. Here's one of our earlier efforts, Cherokee, which has the advantage of no camera coverage of the bassist, who has a face made for radio and a rear end made for a wide-angle lens: www.youtube.com/watch?v=0R10kJACL_I
Returning to the coming end of summer … it used to mean going back to school and still does, sort of. And there's the rub. With everything still up in the air and the real possibility of a surge in the virus coming with flu season; and with cooler weather on top of a bunch of people suddenly in close proximity again, the return to school is fraught with anxiety and uncertainty, to say the least. I'll be teaching an ensemble and some private lessons again at U of T, which, at least in the jazz department has left the choice of in-person or virtual teaching up to individuals. Most of the classes will be taught online, but it's trickier with private lessons and especially ensembles. I'm grappling with the decision and for now have opted for teaching my ensemble and the two private students who aren't bassists in person, and the two bass students online. This could all change suddenly if things get worse so I'm negotiating the never-ending technological learning curve as a back-up plan. Old dog, new tricks.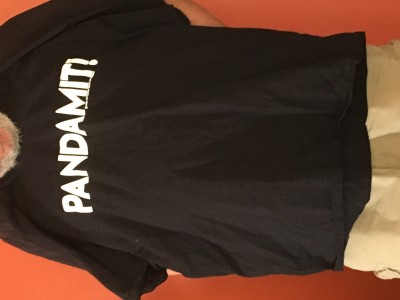 Pandamit
The title for this article came about as follows: Back in late May there was a knock on my door and when I opened it I was very pleasantly surprised to see Pat Williams, a staunch jazz fan and friend for many years. It was great to see her and I asked her in but she demurred, saying "I'm parked illegally across the street and I have a lot more of these to deliver," handing me a black T-shirt with PANDAMIT written in big block letters. It broke me up and she said "Georgia Ambros had them made up and we're giving them to our musician friends." And I thought, with humour and people like this, maybe, just maybe, we'll be okay after all.
Toronto bassist Steve Wallace writes a blog called "Steve Wallace jazz, baseball, life and other ephemera" which can be accessed at Wallace-bass.com. Aside from the topics mentioned, he sometimes writes about movies and food.