It seems the longer I'm involved with jazz, the less I understand it. I've been immersed in it now for nearly 50 years in many ways – studying it, playing it, reading about it, collecting records, listening to it, and more recently writing about it and teaching it – and yet at times I feel I know less and less about it and would be hard-pressed to offer a succinct definition of its essence. If it even has an essence anymore.
Part of it is the truth of that old saw: the more you learn about a subject, the less you know about it, or so it seems. As knowledge of jazz expands, so do the boundaries; the forest keeps getting bigger to the point where you can't see it for the trees.
Perhaps this is as it should be, because jazz is not a simple music, though often at its best it seems so. But it's quite complex, and part of the problem in trying to get a fix on what jazz actually is, is that it never stands still. It's constantly shifting and expanding, taking on new influences while also exerting an effect on other types of music. Like many things in the digital age, this cross-pollination process has sped up in recent years, leading to a bewildering array of hybrids, which I call "hyphen-jazz": Acid-jazz, smooth-jazz, jazz-rock, vocal-jazz, Latin-jazz and so on, seemingly ad infinitum. Well, okay, these are contrived terms to describe narrow sub-genres of varying validity, but increasingly I hear people asking – and often ask myself – "Well, yeah, but what about 'jazz-jazz'"? Does that exist anymore, and if so, then what the heck is it?
A further complication, as always, is the timeline, on various levels. Firstly, jazz, being a largely improvised and spontaneous music, has always had an ephemeral, in-the-moment present. Unless it's recorded, a jazz performance takes place in real time and then evaporates into thin air like vapour. This is one of the charms of the music, but also a source of frustration because this evanescence makes analysis, and thus understanding, difficult. But jazz is over 100 years old now and thanks to various forms of documentation – thousands of recordings, many films, books, publications and the like – it has a palpable history, an appreciable backlog of tradition and evolution, a past. Thanks to the internet, all kinds of information about jazz history is more readily available than ever before. Simply by sitting at a computer, one now has access to thousands of recordings and videos of live performances; to articles and reviews about the music; to solo transcriptions and sheet music; and to biographical information about key contributors and how they changed the music. There's no longer any excuse for what music educators call "jazz ignorance."
But at the same time, the very nature of the internet, and the sheer vastness of the information it contains, has created a generation of (mostly) younger people with shorter attention spans than ever before, and with less curiosity about (and perhaps less appreciation for the importance of) history and the past. This will be a familiar refrain to others more or less my age, but I'm often stunned by what young jazz students – a largely hard-working, bright, talented and sincere group – don't know about its history, and how few records some of them have listened to. There are exceptions, but some of them are completely unaware of Zoot Sims or Roy Eldridge or Ben Webster, never mind more distant figures like Sidney Bechet or Rex Stewart. On the other hand, they are much more up on contemporary figures and goings-on in the music than I am; I'm forever learning about new players and records from them, for which I'm grateful. This brings us to another wrinkle in the jazz timeline: an individual's age and the effects the aging process can have on the perception of what jazz is.
For example, I'm 63 and it's a fact that more of my life is behind me than ahead; I have much more past than future. Throw in that I happen to have an extremely historical bent of mind and it's small wonder that a lot of my ideas about what jazz is are rooted in its past, its history and traditions, and that I struggle to keep up with the present. Whereas many of my students and other younger players have their finger on the pulse of now, with little sense of the past or concern for history.
This generational disconnect is what makes teaching challenging, but also rewarding. I get to inform young players about elements of the music's history and then hear how they use these in their own, contemporary-minded ways. While being around young players sometimes makes me feel out of touch, it also makes me realize the value of my past experience and knowledge. These people want to learn from what older experienced players know and, if anything, being around them makes me feel less out of touch and more convinced than ever of the continuum of jazz, the connection between its past and its present. So in trying to come up with a definition, I want it to reflect not just the past or what I think jazz ought to continue to be, or what "good jazz" is, but also to be inclusive of how it's changed and what it is now.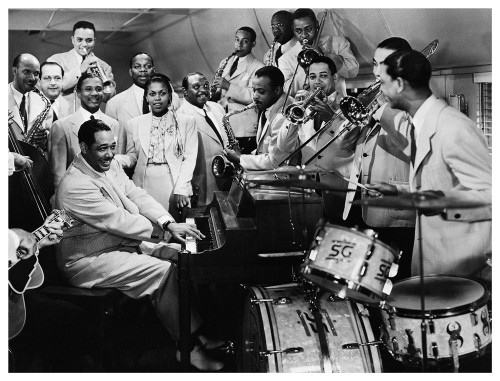 All of these factors and others make defining jazz a daunting task, perhaps even a useless and unnecessary one. After all, Duke Ellington hated the word jazz, found it too limiting. He said there were only two kinds of music, good and bad, and it was up to each individual to decide for themselves which is which. Certainly there's a lot of good music that isn't jazz, but at the same time jazz has certain special qualities that are unique to it and separate it from other types of music. It's not a "style," it contains many styles. And it's not a what, so much as a how. ("T'aint What You Do, It's the Way That You Do It", as Trummy Young once put it.) So without further "pre-ramble" here's what I would offer as a working definition of jazz: jazz is a music of collective improvisation which swings, and which places a premium on individual sonic expressivity.
Notice that I used the term "collective improvisation," an important distinction. Improvisation is obviously essential to all jazz, it is the music's life blood. But that being said, there's much more to jazz than improvising, and improvisation is not at all exclusive to it. What distinguishes the improvisation in jazz is that often everyone involved is doing it simultaneously – both the soloists and those "accompanying" them, i.e. the rhythm section – and this is not generally true in other types of music. Take country music for example – please (just kidding, I happen to like country music.) If you listen to, say, a Hank Williams record, the fiddler or pedal-steel player will often step out and take a solo turn, albeit usually a short one which stays in line with the song's melody and the general style of the music. But these guys can really play and they're most definitely improvising. However, the accompaniment remains essentially the same – rather four-square, not building or developing or interacting. The string bass continues to play two-beat, the drummer continues to play a simple country swing pattern with brushes, while the guitars strum away much like before.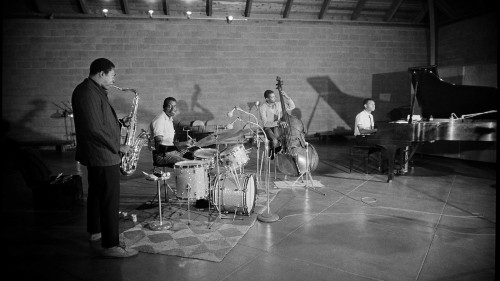 Contrast this with what happens during a jazz solo, in any style, from any period. Not only is the soloist improvising an often intricate melodic line, but those accompanying this offer all kinds of interactive interplay; they shape the music with dynamics, push and goad and interject with a great deal of freedom and intensity. And as jazz has evolved, this has only increased. Consider the rhythm section in John Coltrane's classic quartet of the 1960s or in the Miles Davis Quintet of the same period, both of which form a blueprint for how modern rhythm sections play. There isn't another type of music which allows – or demands – so much freedom in accompaniment. But even in simpler, more straight-ahead styles, there's a lot more going on behind the improvising soloist than meets the listener's ear. The drummer, bassist and pianist are making hundreds of small decisions which directly impact and shape the music. This is what I mean by collective improvisation. It's not just the multi-horn polyphony of New Orleans music or free jazz, it's that everyone has a stake in the music as an improviser, not just the soloist.
This collectivity is what makes improvisation in jazz so complex and compelling, so subtle and multi-layered. And it's what I love about being a jazz bassist. I can play an entire evening with a band and maybe not take one solo, yet I feel fulfilled because I've improvised and shaped the music as much as anybody on stage.
As for the "individual sonic expressivity" part of my definition, it's also a key. Having a personal, identifiable sound and manner of phrasing is sometimes important in other music but not always, and never so much as in jazz, where's it's not only desirable, but essential. In classical music, soloists are expected to have their own sound – Jacqueline du Pré does not sound like Pablo Casals, who does not sound like Yo-Yo Ma. But this does not extend to ensemble playing or orchestras, where there are rigid standards about getting a "proper" sound and blending within sections. This is simply not true in jazz, whether in a small band, as a soloist, or in a larger group. Louis Armstrong, Pee Wee Russell and Vic Dickenson – to name but three of countless jazz players with highly individual sounds – would never have made the grade in an orchestra, and thank God they didn't. Regarding this in larger jazz groups, there are many examples but we have only to consider The Duke Ellington Orchestra, the individual sections of which abounded with individual and distinctive sounds, not to mention personalities. Gary Giddins wrote a marvellous piece about hearing the band in a casual concert in Central Park, which afforded him the chance to lean his head over the front of the stage and hear the saxophone section up close. He heard their sumptuous collective tone but also the separate voices of Harry Carney, Jimmy Hamilton, Paul Gonsalves, Russell Procope and Johnny Hodges. They blended and yet they didn't blend. The freedom to make one's own sound in jazz has produced many of its greatest glories.
I've left out the "which swings" part of my definition, which may be contentious to those who think swing has outlived its relevance or importance. Well, I beg to differ, but am running out of space here, so I will hope to return next month with Part Two of this, titled, naturally, Swinging Among the Branches.
Footnote:
This article was submitted well before deadline as I headed off on a Western tour in the middle of February, so I wasn't able to complete my usual Quick Picks for March. (See my colleague Colin Story's column Mainly Clubs, Mostly Jazz on page 65, for some of that.) However, there is one upcoming concert I wanted to mention, not entirely for reasons of self-promotion, but more as a shout-out to my sister, Tracey May, who has been staging jazz concerts the last few years at her church in Claremont. I've played about a half dozen of these, and they have all been a success, owing much to Tracey's tireless organizing and promotion, for which I've nicknamed her "Norma Granz." Another big plus is the venue itself, a comfy old church with good acoustics and an intimate atmosphere which inspires a listening audience. It's become one of my favourite places to play. And, if I do say so myself, the Mike Murley Trio ain't a bad band.
The Mike Murley Trio
Claremont United Church, 5052 Old Brock Road, Claremont
Saturday, April 4 at 8pm. (doors open at 7:30pm)
Tickets $25 in advance, $30 at the door
For tickets or information call Tracey May at 647-982-4649 or email
jazzinclaremont@gmail.com
Toronto bassist Steve Wallace writes a blog called "Steve Wallace jazz, baseball, life and other ephemera" which can be accessed at Wallace-bass.com. Aside from the topics mentioned, he sometimes writes about movies and food.