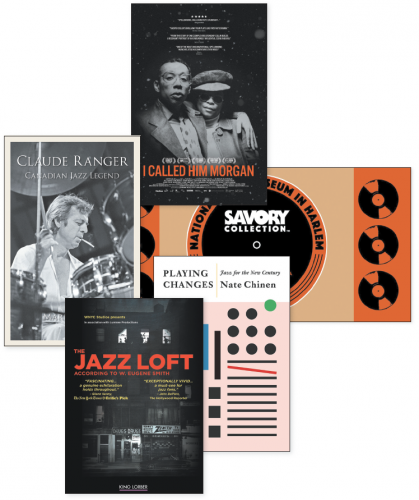 With Christmas fast approaching – where did the year go? – an overview of gifts any jazz lover would love to receive. And remember, sometimes to get what you really want, you have to buy it yourself.
Books – First, two with a Canadian perspective:
Claude Ranger: Canadian Jazz Legend – Mark Miller, 2017. Available from indigo.ca in e-book, paperback, and hardcover formats. Not exactly hot off the press, Miller's latest release was reviewed by Stuart Broomer in the September 2017 issue of The WholeNote. But like all good jazz books it has a lasting relevancy. It tells the story of one of Canada's greatest and most enigmatic jazz artists while attempting to explore the mystery of his eventual unravelling – Ranger, presumed dead, has been officially listed as a missing person for 14 years. Mark Miller is a first-rate writer, but an even better researcher, and the tale he weaves here makes for a compelling read. Readers should look forward to Miller's forthcoming work in progress, a book on another of our great originals, guitarist Sonny Greenwich.
Live at the Cellar – Marian Jago, UBC Press. A very recent and welcome addition to books on Canadian jazz, this was released in October. Jago, a Halifax-born saxophonist who now teaches at the University of Edinburgh, examines the development of Canadian jazz through the lens of an iconic club on Canada's opposite coast: The Cellar in Vancouver, during the hot-house period of the late 1950s and early 1960s. It abounds with rare photographs, musical analysis and anecdotes about, and from, many notables who were there, including Jerry Fuller, Fraser MacPherson, Terry Clarke, P.J. Perry and Don Thompson, who wrote the foreword. It's a handsome and interesting book; I'm about halfway through and thoroughly enjoying it.
Playing Changes: Jazz for the New Century – Nate Chinen, Paragon. Hardcover, 288 pages, August 14, 2018. Chinen has covered jazz for 20 years in The New York Times, Jazz Times and elsewhere. His wittily titled, double-entendre-titled book – warm, richly detailed and incisive – offers a look at the state of jazz right now and highlights the important changes – technological, practical, ideological – that contemporary musicians have negotiated in the new century. It's a kind of jazz version of Alvin Toffler's Future Shock and is informative reading for those who are attempting to understand the torturous and ever-shifting changes of the current jazz landscape. I'm not sure yet that I agree with everything Chinen has to say, but he offers a convincing and refreshing rebuttal to any notions that jazz is irrelevant, or even close to being dead.
50 Years at the Village Vanguard: Thad Jones, Mel Lewis and the Vanguard Jazz Orchestra – Dave Lisk and Eric Allen. Hardcover, 328 pages. A sumptuous, coffee table-style book which celebrates and documents the history of one of the greatest large ensembles in jazz history, covering the noted founders but also the band's survival and development well past their deaths. It contains scores of rare photographs, musical commentary, interviews with key members past and present, and a complete discography of the band's massive output. People wax about the "jazz tradition" all the time, but the story of this great band in its natural habitat is the jazz tradition, continuing before our very eyes.
Sophisticated Giant: The Life and Legacy of Dexter Gordon – Maxine Gordon. October 30, 2018. University of California Press. Hardcover, 296 pages. Available in stores and online. I haven't read this book yet but judging from reviews, it looks promising. A close-up look at the life and music of one of the great individualists and innovators in jazz history, written by the woman who is not only his widow, but an accomplished jazz writer in her own right.
CDs – Too many to list, but here are a few I've enjoyed of late:
An Evening of Indigos – Bill Kirchner. Jazzheads, 2015. This beautiful 2-CD set is the entirety of a 2014 concert soprano saxophonist Kirchner gave in the Jazz Performance Space of The New School in New York City, where he has taught for over 25 years. He is joined by Carlton Holmes on piano, Holli Ross on vocals and bassist/singer Jim Ferguson in varying combinations. As the title suggests, the program is reflective in nature, though not monochromatically so – a mixture of some fine originals and choice standards, all performed with a startling, almost vulnerable intimacy. This is something of a musical banquet which repays repeated listening. Those who wish to know more about Bill Kirchner may read a piece I wrote about him at wallacebass.com.
Both Directions at Once: The Lost Album – John Coltrane. Recorded March 6, 1963. Released June 29, 2018 by Impulse! Records. Not much needs to be said here, this is a fascinating discovery of an entire session by Coltrane's classic quartet at their peak and as such belongs in any jazz fan's collection.
Three from Mosaic Records – The superb mail-order CD-reissue company has three recent, essential historic releases, available at mosaicrecords.com. They may seem pricey at first glance, but given the rarity of the music and the as-always-superb production values, these are actually a bargain:
The Savory Collection: 1935-40 - 6 CDs, $99 US. Bill Savory was a recording engineer in NYC whose day job was editing transcription recordings for overseas consumption. By night he took to recording the blazing jazz being played in various clubs such as The Famous Door, the Onyx and others. His collection of tapes languished unknown for years until recently when they were discovered, curated and partially issued as downloadable files by jazz scholar and saxophonist Loren Schoenberg. Mosaic has gathered more of them and issued them on CD for the first time. The quality of both the music and sound is staggering; featuring the Count Basie Orchestra, Fats Waller, Coleman Hawkins, the John Kirby Sextet and many others.
Classic Brunswick & Columbia Teddy Wilson Sessions: 1934-42 – 7 CDs, $119 US. A cornucopia of great music from the most artistic swing pianist of them all, leading a stunning array of star-studded groups. Much of it is seeing the light of day for the first time in decades. So this is not to be missed.
Classic 1936-47 Count Basie & Lester Young Studio Sessions – 8 CDs, $136 US. This set features Basie and Young, both together and separately, during their respective primes. Many fans will already have some of this music in their collections, but probably not all of it; and thanks to Mosaic's superb mastering, it's never sounded this good. Desert island music.
DVDs – Neither of these are particularly new, but are of such high quality that even fans who have already seen them would like to have them to watch over and over again.
I Called Him Morgan – Directed, produced and written by Kasper Collins. Released 2016, available at amazon.ca and other sites. This documentary tells the complex and cautionary tale of the relationship between star trumpeter Lee Morgan and his common-law wife Helen, who rescued him from severe heroin addiction, nurtured him back to health and oversaw the most successful years of his career, only to shoot him dead on the bandstand at Slug's in February, 1972. The story is told so well that even those who could never otherwise forgive Helen Morgan for the murder are forced to view her with compassion and to admit that she paid sorely for the crime; and that if left to his own devices, Lee Morgan would have died long before he did at her hand.
The Jazz Loft According to Eugene W. Smith – Directed by Sara Fishko. Released September, 2016; available at amazon.com. For my money, this is the best jazz documentary ever made. Fishko and her team did a phenomenal job of editing a mountain of raw material into a linear and cohesive story, which tells two tales. Firstly, that of Eugene W. Smith, the Pulitzer Prize-winning photographer who virtually created the photo-essay genre while at Life magazine, and who took some of the most famous black-and white photographs of the 20th century. In the mid-50s he began to unravel under the pressure of his own obsessiveness with his work, leaving his wife and children and taking a loft in an abandoned, rat-infested building located in New York's flower district, where he lived between 1957 and 1965. While there he took over 40,000 photographs and secretly recorded 4,000 hours of the jazz played in the all-night jam sessions that were held in the building for years. These form the soundtrack for the movie, a kind of rare insider's view into an underground scene only a city like New York could produce. Zoot Sims, Pepper Adams and Bob Brookmeyer were among the "frequent fliers" and Sims in particular receives a lot of attention. There are jazz tales from other denizens of the building such as drummer Ronnie Free, who arrived from the South an innocent with much promise but got hooked on heroin and barely survived. And there's a stunning sequence between composer/arranger Hall Overton, who had a studio in the building, and Thelonious Monk, preparing the music for Monk's Town Hall concert featuring a ten-piece band which rehearsed in the building. This doc makes a fascinating peak period in jazz history come alive. I could watch it every day, but I'd never get anything done.
I'd like to add to this jazz Christmas list my best wishes to WholeNote readers everywhere for a safe and joyous holiday and a Happy New Year.
JAZZ NOTES QUICK PICKS
DEC 7, 8PM: Koerner Hall. Royal Conservatory of Music presents Paquito D'Rivera with the Harlem Quartet. The great alto saxophonist/clarinetist in an interesting program featuring some rags, Debussy, Bolcom, Webern and music reflecting his Cuban roots.
DEC 8, 8PM: Gallery 345; 345 Sorauren Ave. The Art of the Piano: Hilario Durán. If you like Cuban-inflected jazz piano – and who doesn't these days? – this is the concert for you; in an intimate setting with an excellent piano.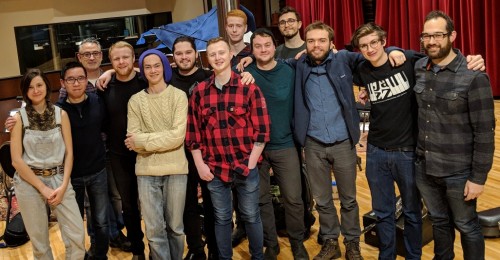 FEB 6, 7:30PM: Walter Hall, Edward Johnson Building. 80 Queen's Park. U of T 12tet, directed by Terry Promane. I love small big bands ranging from 9 to 14 members and this, comprising some of the best jazz students U of T has to offer, is an excellent one, expertly directed and arranged for by Promane.
Toronto bassist Steve Wallace writes a blog called "Steve Wallace jazz, baseball, life and other ephemera" which can be accessed at wallacebass.com. Aside from the topics mentioned, he sometimes writes about movies and food.