The Jazz Performance and Education Centre (JPEC) is now in its tenth year – my, that went fast – and is celebrating the milestone with a special concert on November 24 at the Aga Khan Museum called "The Music of Dave Brubeck and Paul Desmond." It will feature Remi Bolduc on alto saxophone and arrangements; Bernie Senensky on piano; Reg Schwager on guitar; Terry Clarke on drums; and yours truly on bass. With well over 30 concerts under its belt to date, and many other presentations and initiatives, JPEC has become an integral part of the Toronto jazz scene. To mark the occasion I recently did an email interview with Ray Koskie, who, along with his wife Rochelle, is co-founder of JPEC.
I've known Ray (a retired founding partner of the law firm Koskie Minsky) and Rochelle (a retired schoolteacher) casually as dedicated jazz fans for close to 40 years now. As JPEC is clearly a labour of love for this jazz-loving couple, I decided to begin by asking Ray a little about how he and Rochelle became such avid fans.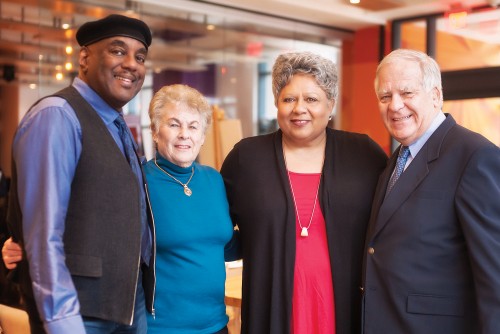 WN: How did you and Rochelle catch the jazz bug?
RK: We both grew up in Forest Hill and met when we were in our late teens. Rochelle was a couple of years younger but way ahead of me; she was already musically educated, played piano and cello and had accumulated some jazz records. I mostly teethed on stuff my father listened to at home – Benny Goodman, Artie Shaw and so on. Live jazz was kind of the soundtrack to our romance as some of our first dates were at the Town Tavern, where, thanks to part-owner and manager Sammy Berger, we were able to get in despite being underage. He took a shine to us for some reason and made a spot for us in the back room where we could nurse Cokes and split a club sandwich – about all we could afford in those days – while listening all night to incredible music by the likes of the Oscar Peterson Trio with Ray Brown and Herb Ellis, Art Blakey, Illinois Jacquet, Jackie and Roy, Ben Webster and many others. It became clear before too long that we were both hooked and we've never looked back.
I graduated from Law School around 1961 and we got married and eventually started a family. The late, great John Norris was a big part of us getting to know more about jazz in those years and during this time we became regulars at Bourbon Street where we heard the likes of Chet Baker, Barney Kessel, Dexter Gordon, Al and Zoot, Paul Desmond and so many of the great Toronto players – Ed Bickert, Don Thompson, Bernie Senensky and Terry Clarke, among many others. In fact, that's where we first heard you play, Steve. The rhythm section for the upcoming Brubeck/Desmond concert with Bernie, Terry and you is a nod toward those days. After Bourbon Street closed we frequented both the Café des Copains and the Montreal Bistro where we enjoyed the hospitality of Brigitte and Lothar Lang while hearing great music from people like Johnny Guarnieri, Jim Galloway, Doc Cheatham, Rob McConnell, Jay McShann, Geoff Keezer, Dave McKenna, Oliver Jones, Joe Sealy and so many others.
How did JPEC get started?
After The Top O' the Senator and the Montreal Bistro closed we were approached by some other well-known Toronto jazz people to help in obtaining alternative jazz venues and as result a working committee was formed. Part of this involved examining the concept of the successful Jazz At Lincoln Center (JALC), which we thought might be a new model for presenting jazz in Toronto. Following a tour of that beautiful facility and being supplied with certain pertinent documents, we recommended to the committee that this approach – i.e. becoming a not-for-profit charitable organization – might be the best way to go under the circumstances. Although this might prove more challenging than creating another jazz club, we felt it would likely have a longer shelf life. As a result, JPEC was incorporated in August 2008 as a not-for-profit charitable organization.
What were some of the early challenges?
Some members of the committee felt that the charitable organization route, while laudable, was too ambitious, which led to certain people leaving who were replaced by those who believed more in the JALC concept. Lack of funding was an early problem with respect to meeting some of our objectives, but various fundraising events were held and Toronto jazz fans really pitched in. When we began to make progress certain members of the TO jazz community mistakenly seemed to believe that we were in competition with their endeavours even though we were all supposedly working for the same cause, namely the furtherance of jazz. We went on to succeed despite such misguided thinking because there were many others who supported our efforts and believed in our objectives.
What are those objectives?
To provide performance opportunities for Toronto's jazz musicians, including jazz students, and to properly compensate them. To promote jazz in this city and reach out to new audiences. An educational element, namely to present community-based workshops in underserved areas at schools having little, if any, music education. This is something Rochelle, as a former schoolteacher, feels very strongly about. And eventually to establish a fulltime jazz hub similar in concept to, but smaller than, JALC.
After the inevitable early struggles, what kind of support have you received over the years?
We've been lucky to have the benefit of corporate sponsors such as TD Bank, BPA, LiUNA and private donors such as Jack Long of Long & McQuade, who has supported jazz so generously over the years. My law firm Koskie Minsky absorbs our administrative costs, which leaves more money for fulfilling our mandate. JPEC has been blessed with a talented board of directors and many other dedicated volunteers who have worked tirelessly to help deliver our mission.
How does JPEC plan its concert programming and choose the venues?
We try to present both international jazz stars and Toronto-based talent and often to combine them in one concert or even one band, as for example with Americans Ernie Watts and Brad Goode recently being backed by a crack Toronto rhythm section of Adrean Farrugia, Neil Swainson and Terry Clarke, with Rich Brown's band opening. We like to present performance opportunities for up-and-coming musicians – all of JPEC's shows include pre-concert duos or trios consisting of students from the three GTA jazz institutions or Mohawk College. As with most things JPEC, the programming is designed by a committee, some of the members of which are musicians, marketing people and those involved with the technical aspects of staging. All committee decisions are subject to board approval. As to venues, we've preferred more intimate concert ones with seating ranging from 150 to 300 people, such as the Glenn Gould, the George, and for the first time with our upcoming concert, the concert hall in the Aga Khan Museum, which we're very excited about.
There's also a community-outreach aspect to JPEC which is tied to both programming and education. In addition to the 170 music workshops we've presented in underserved schools over the last decade, we're proud to be supporting and participating in the initiative of the International Resource Centre for Performing Artists, an outgrowth of the old "Jazzmobile" model, using a mobile facility to present events in more isolated communities that will benefit the talent in those areas as well as the talent of Toronto's musicians. In other words, if the people can't get to the jazz, then take the jazz to the people – good jazz makes for a good society and vice versa.
Not that I think it's an odd idea, but why a Brubeck/Desmond concert at this particular time?
In consideration of JPEC's tenth anniversary, we wanted to reach out to a broader jazz audience by presenting a tribute to two such well-known and respected musicians who achieved enormous popularity not only internationally, but with Desmond in particular, on a local level. Desmond's late-career appearances at Bourbon Street were unforgettable to those of us lucky enough to have heard them, and his ringing musical endorsement of Ed Bickert in particular – but also Don Thompson and Jerry Fuller – gave Toronto jazz a major shot in the arm. Hence the addition of Reg Schwager on guitar to reflect Desmond's career after Brubeck. Unless Ed Bickert himself were to come out of retirement, it would be hard to imagine a guitarist more suited to the task.
What do you see for JPEC moving forward and do you think you've made a difference?
We'll continue to present quality concerts such as this one and of course the outreach workshops will continue. And we're still seeking to create a fulltime hub. As for making a difference, I like to think we have. In July of 2018 Rochelle and I received a special award and donation to JPEC from TD Bank for: "Giving back to the community by bringing jazz to public schools, educating students young and old, and providing Toronto with outstanding jazz concerts." I think that sums it up nicely.
Me too. Thanks for your time, Ray, and for all you and Rochelle have done for jazz in Toronto over the years.
JAZZ NOTES QUICK PICKS
NOV 8, 5:30PM: Old Mill – Ken Page Memorial Trust Annual Fundraiser. The Lairds of Swing – Warren Vaché, cornet and musical director; Guido Basso, flugelhorn; Russ Phillips, trombone; Ken Peplowski, reeds; Harry Allen, tenor saxophone; Rossano Sportiello, piano; Reg Schwager, guitar; Neil Swainson, bass; Terry Clarke, drums. I've written in greater detail about this star-studded event in the past – simply put, the finest in modern mainstream swing with both an international and local thrust.
NOV 16, 8PM: Toronto Centre for the Arts – Jazz at the George. Etienne Charles – Carnival. This concert by the brilliant young trumpeter/composer who explores his calypso/Caribbean roots in tandem with jazz, kicks off the five-concert Jazz at the George season.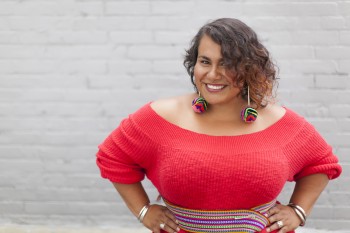 NOV 28, 12 NOON: Canadian Opera Company – Jazz Series "Songs In the Key of Cree." Tomson Highway, piano and vocals; Patricia Cano, vocals; Marcus Ali, saxophone. Never mind whether it's jazz or not, do not miss this rare chance to hear the musical – and I mean musical – side of one of our greatest playwrights. And Cano is a vocal powerhouse.
DEC 4, 8PM: Toronto Centre for the Arts – Jazz at the George. Dianne Reeves Christmas Time Is Here – For my money, the best jazz singer on the planet singing Christmas music can't fail to put you in a festive spirit.
DEC 5, 5:30PM: Canadian Opera Company – Jazz Series. "Music From the Claudia Quintet Playbook – McGill Jazz Sextet, John Hollenbeck, director. This is highly recommended mostly for Hollenbeck, a highly original drummer/composer with an audacious taste for combining – and bending – musical genres.
Toronto bassist Steve Wallace writes a blog called "Steve Wallace jazz, baseball, life and other ephemera" which can be accessed at Wallace-bass.com. Aside from the topics mentioned, he sometimes writes about movies and food.