Jazz is forever being pronounced dead, or at least sickly, yet it has continued to survive and grow, if not in terms of audience share, then at least musically speaking. On the local level it's a little difficult to assess the state of the music's health these days, and I'm often flip-flopping on the subject. On the one hand there's a pool of talent in Toronto growing deeper and more diverse all the time, but there are fewer gigs and places for everyone to play. It's certainly harder to make a decent living playing jazz than in the past, yet the music is being played at a higher and higher level. Part of the problem in assessing all this is the disconnect between financial and musical success: there's a lot of the latter but not much of the former for many. Further on the local Jekyll-and-Hyde axis, we have the continued success of the new grassroots Kensington Market Jazz Festival, contrasted with the recent troubles of JAZZ.FM91, which I'll return to later.
We're always being told by its keepers that jazz, like everything else these days, is a business. But to those who truly care about it – the fans, who consume it, and the musicians, who produce it – it's not a business, it's a music, a form of art and entertainment. (Louis Armstrong and countless others having long ago proved that the two are not mutually exclusive.) We care about it in terms of music, not dollars, and are thought to be naïve for this, yet saying that it's primarily a business rather than an art form is putting the cart before the horse: the only reason there's a business aspect to jazz is that people are willing to spend money to hear it because they're drawn to its artistry; it's that simple. The moment people stop being attracted to jazz as music there will be no business, because they'll stop spending money to hear it. This may seem obvious, but a lot of people fail to see it. We're constantly being told that the business side must take precedence otherwise there will be no music, but I think it's the other way around. I've always found that when the artistic/real side of jazz is stressed and presented honestly then it thrives, as in the case of the KMJF, but woe betide when that focus gets lost amid too many extrinsic considerations.
I'm not going to comment too much further on the JAZZ.FM situation because it's still up in the air and on a jazz musician's salary I can't afford a legal dream team, but I will say this: There's a lot of angst and outrage in the jazz community over a recent turn of events, which is seen as another black eye for jazz, a fail which the music can ill afford. As currently constituted the station probably can't continue, but there is a movement afoot to save it by making some changes. For those interested, I recommend going to savejazzfm.com and signing up; you'll be casting a vote to salvage jazz on the air in Toronto, with some changes in management and philosophy, some lessons learned, greater accountability and more input from listenership.
But even if the station goes under, I hasten to point out that JAZZ.FM and jazz itself are not the same thing, not even close. Sooner or later another jazz station will crop up because there's clearly sufficient interest in having one. In the meantime, make up for the dead air by going to hear more live music.
Jazz Survival 101: A Primer
Jazz Humour – With all the adversity the jazz life entails, how does one carry on? By boosting one's morale, that's how. What follows is a kind of jazz survival kit – to translate an old cliché into jazz terms: "When the blowing gets tough, the tough get blowing." The first requisite is developing a sense of humour. I'm biased, but jazz musicians are the funniest people I know, mainly because they have to be. Jazz humour is laced with a gallows irony, a dry "laughin' to keep from cryin'" wit. Here are some examples: Back in the early days of fusion when some jazz musicians were accused of selling out by trying to reach a wider audience through playing more rock-oriented music, Jim Hall turned to Paul Desmond (or perhaps it was the other way around) and asked "So…. where do I go to sell out?"
Or "How do you make a million dollars playing jazz? Start out with two million."
Or the one about a musician hiring another for a jazz gig, boasting that it pays "three bills" – two tens and a twenty.
Because jazz musicians improvise so much, the humour pool is constantly expanding on the fly, as when I recently bumped into Lesley Mitchell-Clarke on my way to a gig with John Alcorn at the KMJF. Lesley, well-known to WholeNote readers, is a jazz survivor extraordinaire on many fronts and one of the funniest people I know. She asked, "Steve, do you realize we're celebrating the 40th anniversary of the venerable $100 jazz gig?" I doubled over and nearly dropped my bass because the line was so darkly funny and true. While house prices have at least quintupled over the last 20 years, the pay for many jazz gigs has stayed the same. This may not seem funny to many, but to jazz people it has an inverse, "do your worst" kind of sick irony. What else can you do but laugh?
(Two asides, in the interests of fairness and full disclosure. After many years, The Pilot Tavern recently upped the pay for its Saturday jazz matinee to $120 per musician, to which I remarked "Hey, alright! Tonight we eat!!" And just to show that not all jazz gigs top out at $100, the aforementioned Alcorn trio gig at the tiny Jazz Poetry Café was sold out and paid almost twice as much as we were expecting. This is because the KMJF volunteers collect the cash and then give all but a tiny fraction of it to the band. Somehow or other this very direct jazz economy works, so not all is lost.)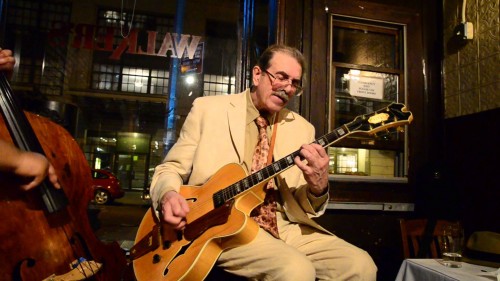 Take A Week and Learn the Classics
This was guitarist Peter Leitch's dryly sarcastic advice to a jazz beginner long ago. As in "listen to some records, for God's sake," and fortunately it takes much longer than a week. If the present seems chaotic and less than rosy, turn to the embarrassment of riches found in the back catalogue of great jazz records. This is not a matter of burying your head in the sand or living in the past, but rather a way of renewing yourself by taking a bath in the glories of the music while perhaps reminding yourself of why you love jazz in the first place. And you no longer need an extensive/expensive record collection to do so, because almost all of it is available on YouTube, another mixed blessing. Somehow things don't seem so bad when you've just heard some Hot Fives, the 1938 Basie band, Spiritual Unity or whatever else takes your fancy. I do this all the time and it buoys me up, sending me off to a gig with a spring in my step and my musical sights set higher because I've just spent some time in the company of the masters.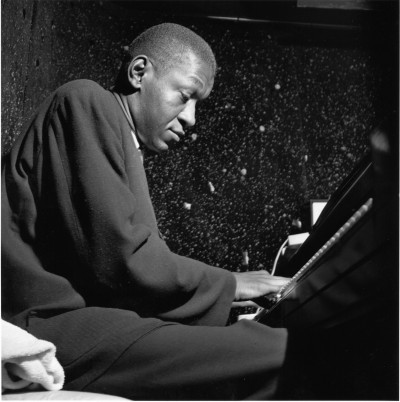 A variation of this is checking out some jazz history by reading about it, which can bring some much-needed perspective. You think things are rough now? Try reading Mark Miller's superb Herbie Nichols: A Jazzist's Life, which tells the story of the pianist/composer who literally died from neglect and yet lives on through the efforts of people like Miller, the late Roswell Rudd, who curated his music, and The Herbie Nichols Project, which keeps his music alive by playing it. This is called inspiration and can also be found in books such as Robin D.G. Kelley's exhaustive biography of a better-known giant who also endured much adversity – Thelonious Monk: The Life and Times of an American Original. Or one I'm currently reading about clarinettist Pee Wee Russell. Not only did Russell never own a house, he mostly lived in shabby apartments, was perpetually broke and often out of work. And yet he earned permanent jazz immortality because of his singular and fearless individuality. Things were always tough, why would they be any different now?
Communal Support – The local jazz community is a symbiotic relationship between fans, musicians and those employed as enablers of the music – writers, broadcasters, promoters, presenters, and so on. Essentially they're all jazz fans and offer support to one another by attending jazz shows and events, which is crucial. But even more important is the palpable moral support shown by this group when the chips are really down. A good example – among many – is the recent memorial service for Kiki Misumi, who died at 58 in late August after a long and brave battle with cancer. Kiki was a very talented and creative cellist, singer and songwriter who was married for many years to one of our great stalwarts, guitarist Reg Schwager. Her memorial, held in early September at a facility of the Buddhist society to which she belonged, was packed to overflowing with her fellow Buddhists and members of the local jazz community who had known her for decades and came to pay their respects. Despite the overwhelming sadness of her too-early passing, it was a singularly moving and inspiring service, marked by some uplifting chanting, some lovely music and eloquent speeches, including one by Reg which staggered everyone – he's normally quite reticent and I still don't quite know how he managed it. Kiki fought fast-moving terminal cancer and ten gruelling surgeries for 12 years through a unique, self-styled blend of prayer, chanting, diet, humour, and sheer courageous positivity. We could all learn a lot about dealing with adversity from the way she lived her life and faced her death. Rest in peace Kiki, we will all really miss you. And come what may, I'll take my chances with a jazz community as stout as this every day of the week. This video shows what Kiki was all about far better than I ever could in words: https://www.youtube.com/watch?v=MU0sZo13YWY.
I continue to face the fragility of jazz with a mixture of defiance and ambiguous world-weary irony, as in this paraphrase from the refrains of Mose Allison's Gettin' There: "I am not downhearted. I'm not discouraged. I am not disillusioned… But I'm gettin' there. Yeah… I'm gettin' there."
JAZZ NOTES QUICK PICKS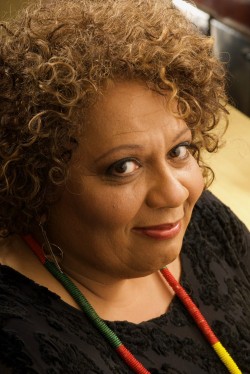 OCT 1, 8, 15, 22, 29 AT 6:30PM: The Rex Hotel 194 Queen St. W. - Jazz Ensembles from U of T and Humber College – The regular regimen of Monday performances by students and graduates from the jazz programs of these two schools. The music is varied, stimulating, honest, often surprising, and always worth hearing.
OCT 11 AND 12, 9:30PM: The Rex Hotel 194 Queen St. W. – The Mark Eisenman Quintet. I'm maybe biased (because I play in it), but this is one of my favourite Toronto bands, one which plays a bristling brand of contemporary bebop often laced with Eisenman's compositions, many of them ingenious contrafacts on standards. John MacLeod, cornet, Pat LaBarbera, saxophone; Mark Eisenman, piano; Mark Micklethwaite, drums; and yours truly, bass.
OCT 14, 4:30PM: Christ Church Deer Park 1570 Yonge St: Jazz Vespers: The Drew Jurecka Trio – An opportunity to hear one of Toronto's most brilliant and versatile multi-instrumentalists in a quiet and reflective setting.
OCT 18, 7:30PM: Garage at the Centre for Social Innovation 720 Bathurst St. – Jim Galloway's Wee Big Band, directed by Martin Loomer, special guest Pat LaBarbera, soprano saxophone. With its lively and retro repertoire, this unique band is always worth hearing, but having the encyclopedically talented LaBarbera as a guest soloist makes this a must-attend.
NOV 3, 7:30PM: Bravo Niagara! Festival of the Arts – FirstOntario Performing Arts Centre 250 St. Paul St., St. Catharines: "Voices of Freedom Concert" – For those willing to travel further afield, a concert featuring two of Canada's best-loved jazz singers, Jackie Richardson and Molly Johnson, backed by a superb trio of Robi Botos, piano; Mike Downes, bass; and Larnell Lewis, drums.
Toronto bassist Steve Wallace writes a blog called "Steve Wallace jazz, baseball, life and other ephemera" which can be accessed at Wallace-bass.com. Aside from the topics mentioned, he sometimes writes about movies and food.