Quite unexpectedly and after a long hiatus, I began teaching again in September of 2016. Mike Murley, director of the U of T Jazz Program, hired me to lead a small jazz ensemble with one unusual wrinkle: not only would I be coaching the group, I would also play bass in it. This two-headed function took some getting used to but has the advantage of being very hands-on: the students seem to benefit from playing with an experienced bassist and playing with them gives me a very palpable sense of their strengths and weaknesses, of what they need to learn.
I've thoroughly enjoyed being back at it, having the chance to pass on my knowledge and also to be involved with young people again – their energy, their enthusiasm and their curiosity – which has made me feel more connected and relevant. It's also been inspiring to meet and teach some of the impressive young players we'll be hearing from in the near future, even if this means they'll be stealing gigs from me and my colleagues.
This column will profile two bassists – neither of whom I've taught – who are graduating from the U of T Jazz Program: Bernard Dionne, who has earned his master's degree in jazz performance (double bass), and Irene Harrett, who has earned her bachelor's degree in the same category.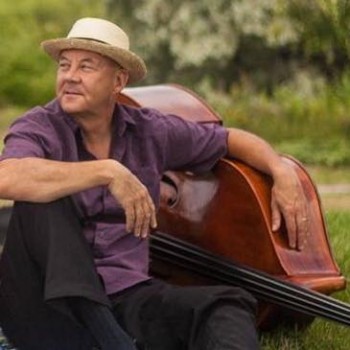 At 60, Bernard Dionne is a late bloomer and hardly a typical graduate. I first met Bernard way back in the summer of 1991 when I taught him for a week at the Interprovincial Jazz Camp at Manitouwabing run by Phil Nimmons, and we have stayed in touch ever since. Even then, at 33, he stood out as a mature student amongst all the teenagers, which may have prepared him for his similar experience at U of T. Bernard hails from Quebec City and has been interested in jazz and playing the bass since his teens. He earned a bachelor of music education degree and spent 29 years teaching in the Ontario French School system, first in Ottawa and then in Toronto. All the while he continued to play and study jazz bass, doing whatever gigs his schedule would allow and becoming a regular at weekend jam sessions.
He was able to retire a few years ago and was determined to use his newfound spare time to get more involved with the bass fulltime and to study composition and arranging. The master's program at U of T seemed ideal as it requires achievement in both playing and writing, so Bernard decided to apply. Realizing he needed to up his game for the audition, he took an intensive round of lessons from the superb Toronto bassist Neil Swainson while practising constantly. And it paid off; he was accepted. His enrollment coincided with my return to teaching and, knowing nothing of his master's plan, I was surprised to see him in the hallway one evening and was delighted for him.
It was a very intensive two years for Bernard – studying bass with Jim Vivian, composition and arranging with Terry Promane, and improvisation with Mike Murley, while playing in ensembles and completing numerous written assignments on jazz history and the like. He worked very hard and it showed in his master's recital in early April, which I attended. He led a group which ranged from a piano-bass duo to a trio to a sextet with three horns, playing a varied program which included some of his original compositions and his arrangements of standards and jazz tunes by others. I hadn't heard him play in some time and was immediately struck by how much he'd improved in all areas: a big, meaty sound, a confident rhythmic attack with a strong beat and incisive bass lines, gutsy and melodic solos with good range and an engaging way with the sizeable crowd on hand. His writing was also impressive: his originals included a very Quebecois-tinged folk song A La Legrand which showed his Scott LaFaro side; La Vida, a Chick Corea-inspired samba which demonstrated his admiration for Eddie Gomez; and For D.H., a modal-Latin composition in 7/4 written for Dave Holland. His more bluesy side came out in his arrangement of Christian McBride's funky In a Hurry for sextet. It was an impressive and well-received recital; a satisfying culmination for an individual who has worked so hard to come full circle.
With much the same group, Bernard staged a concert billed as "100 Years of Jazz Bass" on April 21 at Alliance Française de Toronto. Along with some of the works discussed above, the evolution of jazz bass was fleshed out with compositions by (or associated with) Wellman Braud, Jimmie Blanton, Oscar Pettiford, Ray Brown, Charles Mingus and Paul Chambers. I very much wanted to attend and perhaps review this concert but couldn't as my own band, Lesterdays, was playing a concert the same night. The concert occurred after the deadline for this article but judging by Bernard's recital it was a great success, aided by the intimate and good-sounding venue which has become one of Toronto's best.
Very much a Francophone, Bernard plans on moving to Quebec City and becoming involved fulltime in the jazz scene there, where he is sure to have an impact.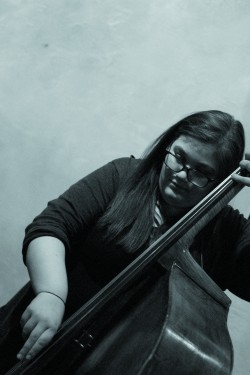 Irene Harrett is 22 and has just finished the four-year Jazz Program at U of T, earning her degree with flying colours. Mature beyond her years, she has become something of a linchpin in the program both because of her musical skills and her active involvement in organizing jams and gigs and also by playing in the U of T big band, one of the school's focal ensembles, for the last two years.
She was born in Etobicoke, not far from the Humber College campus, which held some early musical advantages. Bassist Corky Monahan, formerly of the TSO and for many years married to the late Tom Monahan – principal bassist of the orchestra and the dean of Canadian bass teachers – lived in the neighbourhood and she was able to study bass with her at the local high school. This gave her a thorough grounding in bass technique – bowing, correct fingering and hand positioning, tone production and so on; fundamentally, she's a very sound bassist. When her interests turned to playing jazz she was able to study with Neil Swainson, who had begun teaching at Humber. At U of T she has studied with Dave Young, Jim Vivian and Andrew Downing. As she put it to me: "There's no such thing as a bad bass teacher in Toronto." (Obviously, she hasn't studied with me.)
Recognizing how talented and hardworking she is, Monahan and Swainson arranged a deal for her to acquire a fine old German bass from Heinl's which bears the nickname "Frank," after the younger son of founder George Heinl. A large instrument, it is what is known in bass parlance as "a cannon."
I first heard Harrett play at The Rex in a trio led by pianist/singer Hanna Barstow with her brother Keith playing drums, and later on the same stage in a seven-piece U of T ensemble. I was immediately impressed by the authority of her playing: a big deep sound with a percussive edge, a powerful attack, good pitch, notes and a general bull-dog attitude of playing the bass like a bass – someone who can be heard and felt from the back of the room. The U of T ensemble was particularly powerful and after hearing her with it I complimented her, saying that her attack and the length of her notes – long but clearly defined and slightly bright – reminded me of the old bebop and Latin-jazz master Al McKibbon. This was met with something of a blank stare but I assured her it was a compliment. From that moment I resolved to write about her at some point.
That she's been in very high demand to play for other students' year-end recitals both at U of T and at Humber is an indication of how highly she is regarded among her peers, as these performances come with considerable pressure and carry a lot of weight. She told me that last year she did 11 of them, including four back-to-back in one day, leaving her ill with exhaustion. This year she's holding it down to five or six, though three of them came on April 14. I adjudicated the first of these, a recital by a wonderful trio led by third-year-piano student Josh Sinclair, which only increased my admiration of her playing. Along with the strengths described earlier she showed an open-minded, adventurous inventiveness and fine all-around musicianship in sight-reading and negotiating complex ensemble parts.
I asked her about her plans after graduating and she replied that she wants to take a year off school to let the dust settle, to practise and digest the many musical concepts that have been coming at her fast and furious. Also to investigate creating more gig opportunities and networking with students at other schools and with fellow bassists, a fraternity she has found to be welcoming and supportive. After that, she plans on returning to earn her master's degree at U of T, an essential as she wants to teach at the university level in the future. She also feels that the process of pursuing a master's degree puts you in touch with so many others in the jazz world – students and teachers alike – all of whom can be learned from. She's very community-minded and is always seeking to learn and improve, and to help others do so.
As for gigs, Harrett has been asked to lead a series of jam sessions this spring and summer at the 120 Diner. The evenings will start with her trio, followed by opening the stage for sitting in; the first of these was April 3 and the next one will be May 16. She is quite excited by this opportunity and has also been doing some playing at the Tranzac and The Rex, as well as some concerts and private gigging. I will be adjudicating Irene's recital on April 27 – well after the deadline of this article – and I look forward to hearing not only her playing, but some of her compositions too. She feels positive about the future and I feel optimistic about a jazz future with players like Irene Harrett in it; we'll be hearing a lot from her.
Toronto bassist Steve Wallace writes a blog called "Steve Wallace jazz, baseball, life and other ephemera" which can be accessed at wallacebass.com. Aside from the topics mentioned, he sometimes writes about movies and food.