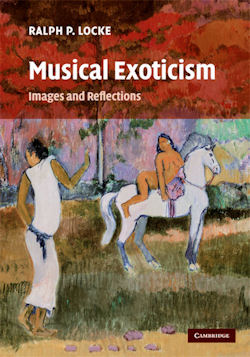 Musical Exoticism: Images and Reflections
by Ralph P. Locke
Cambridge University Press
440 pages, photos, musical examples; $110.95
In this rewarding study, Ralph Locke offers a broad-ranging approach to the use of exotic elements in western music. For Locke, who teaches at the Eastman School of Music, it's not just a matter of examining the notes of a score. Nor is it sufficient to study the context of a work. Equally important are factors like "the particulars of a given performance and the musical and cultural preparation of a given listener."
By uncovering an expanded range of meanings, Locke's analysis makes a work with exotic content "more durably enjoyable, continuingly relevant, and perhaps, by the very strength of its musical imagination, healthily problematic." I can't think of a work that wouldn't benefit from such an approach, but nonetheless it pays rich dividends here.
Starting in the baroque with Rameau's Les Indes galantes, he unearths political issues like colonialism, tyranny, nationalism, and racism, as well as cultural issues like the relationship between folk music and art music. He shows how, in Madame Butterfly (coming up in the COC's fall season) Puccini used Japanese folk  tunes – or what he thought to be Japanese folk-tunes – to make Cio-Cio San  "one of the most richly realized characters in the operatic repertoire."  Similarly Locke illustrates how Bizet's handling of Spanish, Cuban and Gypsy-flamenco themes  becomes part of the dramatic structure of Carmen (also on the COC's fall roster).
Though his main focus is on opera, Locke also looks at  piano works like Liszt's Hungarian Rhapsodies and Chopin's Mazurkas, orchestral works, jazz, popular songs and Broadway musicals like West Side Story (now on stage at Stratford).
Locke's ultimate concern is how to produce a work with ethnic or exotic colour most effectively. When controversial opera directors like Calixto Bieito relocate an opera, they are in effect removing the exotic elements. And when a contemporary composer like the Argentinian Osvaldo Golijov "merges all too readily the different chosen materials" he is treating a work as if it were "capable, somewhat like a food-processing machine, of smoothing out stubborn  tensions between nations and peoples." For Locke, the solution is "not to rip it apart and rewrite it to suit our own ideas, nor to refuse to perform it, but to get to know it better, contend with its original content and messages, and think about its implications for today."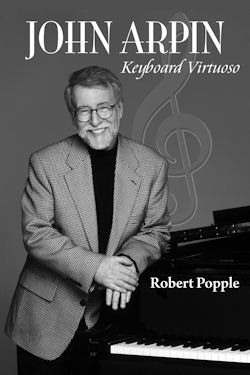 John Arpin, Keyboard Virtuoso
by Robert Popple
Dundurn Press
358 pages, photos; $26.00
Pianist John Arpin could play anything, from opera arias with Maureen Forrester, and  his own jazz arrangements with a big band, to solo rags. Yet he never achieved the kind of reputation he deserved, even at home in Toronto. Perhaps it was because he  played in so many styles, though biographer Robert Popple blames ineffective marketing, bad luck with insolvent recording companies and a too-gentle personality.
Popple, whose friendship with Arpin dates back over fifty years, is unstinting in his admiration. His familiarity with Arpin's life makes for lively anecdotes, especially about Arpin's numerous entanglements with women, many of whom were musicians.
But that closeness with his subject leads Popple to lay on descriptions of Arpin's genius too thickly. "No other Canadian," he writes, "has matched his stupendous musical reach – either in breadth or depth, nor has, arguably, any other keyboard musician worldwide." Then he  continues to call Arpin "gifted" or "excellent and proficient" at every turn.
The best material comes directly from Arpin's own comments, based on Popple's extensive conversations with him before he died in 2007. Popple quotes them often, and annotates them meticulously in his endnotes. About Glenn Gould, a friend from student days at the Royal Conservatory, Arpin says, "He wasn't welded in a rigid way to the strict, mechanical setting of the notes that the composer wrote. He'd try things, experiment a lot, and he was constantly analyzing the music, trying to get inside the composer's mind, always trying to imagine 'What was he thinking?' But he couldn't play anything that wasn't classical, written right there in front of him."
We meet  interesting figures from the Canadian classical and jazz worlds, like Victor Di Bello, John Arab, Percy Faith, and Ruth Lowe, but we learn little about them. And John  Weinzweig is identified merely as a "teacher at the Royal Conservatory of Music", and American composer  Ferde Grofé is referred to as 'Ferdy Grope'
This is a lively and sympathetic portrait of a seminal figure in Canadian music. Popple's ability to convey what is special about Arpin's music led me – to my delight – to listen to Arpin's recordings of Scott Joplin.
Tenor: History of a Voice
by John Potter
Yale University Press
316 pages, photos; $35.00 US
In 1837, tenor Gilbert-Louis Duprez stunned the audience at the Paris Opera by singing a performance of Rossini's Guillaume Tell -  including the famous high C's – in full chest voice. As John Potter writes in this fascinating history of the tenor voice, "This was the point of no return for tenors, a change in the very nature of the voice and a defining characteristic of the best (and worst) tenor singing ever since." It also precipitated one of the most tragic episodes in operatic history. Potter chronicles how the great Adolphe Nourrit, who had premiered the role, and whose singing Rossini actually preferred, attempted to remake his voice to compete with Duprez. He ended up committing suicide at age thirty-seven.
Potter is a tenor himself. He sang for years with the innovative Hilliard Ensemble and recently recorded Dowland with saxophone accompaniment. He traces the development of the tenor voice from its earliest documented origins in twelfth century church music, through the increasingly virtuosic demands on tenors due to the influence of the castrati, with their lightness and agility.  Since the demise of the castrati, Duprez's breakthrough, and the development of recordings, operatic tenors have been expected to fill huge opera houses with ringing high notes.
Inevitably most of Potter's focus is on opera singers, as he highlights the contributions of significant singers of the past and present. including Canadians  Léopold Simoneau, Jon Vickers, Ermanno Mauro and Ben Heppner.
He  looks at such recent phenomena as 'stadium tenors', writing that "if you start your career in stadiums, the chances of a retreat into an actual opera theatre are rather remote, as Mario Lanza found (ultimately to his cost)." Even though he appreciates each member of the Three Tenors individually, as an ensemble, he writes, they "reinforced the tendency for the public to be offered a very limited musical diet, anthologized in the form of a 'greatest hits' collection, with none of the vagaries of operatic plots or the contortions of recitative to contend with." On the other hand, early music tenors occupy "one of the few areas in which creative singers can have the expectation of a career outside the realm of opera," in spite of what he refers to in an endnote to a Handel aria as "the bland offerings of the twenty-first century early music movement."