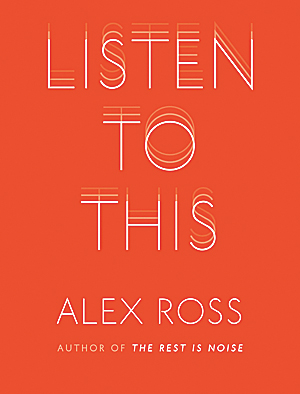 Listen to This
by Alec Ross
Farrar, Straus and Giroux
381 pages; $31.00
In his first book, The Rest Is Noise, music critic Alex Ross took an ambitiously sweeping approach to the whole history of 20th century classical music. His new book, Listen to This, is just as ambitious, as the title makes clear.  But this time, happy to leave loose ends and open questions,  he offers a collection of articles about specific musicians. Most of these pieces first appeared in Ross's column in The New Yorker magazine. They seem to have been chosen not because they are his best, but because they offer a sampling of the broad range of music and musicians that Ross feels passionate about, from Brahms to Björk.
Ross's goal here is to knock down the walls separating different types of music. Discussing Björk, he depicts a musical utopia where 'the ideologies, teleologies, style wars, and subdivisions that have so defined music in the past hundred years slip away". So he focuses on the musicians and music that inspire him. There's the 'free-wheeling spirit' of early music performers like Richard Egarr, and the joy that the St Lawrence Quartet takes in 'the act of connection" . There's the rock group Radiohead, who practices "a new kind of classical music for the masses". Then there's Brahms, whose Intermezzo op 117 no 1 is, he writes, "the music that you will hear when you die".
"I approach music not as a self-sufficient sphere but as a way of knowing the world", writes Ross.  There is something infectious about his enthusiasm for such a broad range of genres when, in a discussion of the history of the chaconne, he moves effortlessly from classical music into the realms of blues, jazz, and pop. As an attempt to show how  these various genres are all related, Listen to This was not thoroughly convincing. But as a compilation of terrific pieces on various musicians by the best music critic in North America, it's a stand-out – especially once the headache-inducing dust-jacket is removed.
Fortepianist Richard Egarr is performing a program of Mozart  and Haydn with Tafelmusik at Trinity-St. Paul's from Dec. 1 to Dec. 5.