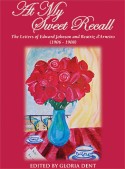 At My Sweet Recall: The Letters of Edward Johnson and Beatriz d'Arneiro (1906 – 1908)
edited by Gloria Dent
572 pages, photos; $45.00
This extraordinary volume of letters was given a dramatic debut when Canadian tenor Ben Heppner and actress Barbara Budd read from it at the recital Heppner gave for Stratford Summer Music this past July. Heppner's recital, a tribute to the legendary Canadian tenor Edward Johnson, was called Edward and Beatriz: A Love Story, and the letters were written between Johnson and his wife-to-be, Beatriz d'Arneiro.
When they met, Johnson was a twenty-eight year-old singer from Guelph, Ontario making his first visit to Paris. D'Arneiro was an aristocratic Portuguese pianist, seven years older, who was living there. After Johnson returned to North America to pursue his career, their already intense relationship continued to develop through these letters.
In her letters, d'Arneiro writes things like, "To live like I am living, it is better to die." She constantly demands greater emotional commitment – and more frequent letters. "Why should I count on hearing from you regularly? Why should I count on anything at all in life?" But she never forgets her new role as his vocal coach, writing, "Remember all my instructions about your voice." She even calls herself his "spiritual mother."
Johnson does bristle. He writes, "You have "roasted" me, my work, the music, the public, the company I am associated with, everything! Why?" But he nonetheless thrives on her rigorous musical regime, writing, "You were a God-send to me this summer. What I have accomplished!... And you were at the bottom of it." Her devotion also seems to work its charms. Just three weeks after they meet, he writes, "It makes me feel badly that you are unhappy and I would so love to see you happy." And later, "You are my main stay and strength."
Dent, a historian and musician, sets the stage for each step in their relationship with brief commentaries. She identifies the many notable characters who appear in these pages, like tenor Enrico Caruso, composer Franco Alfano, Guelph poet John McCrae, who wrote "In Flanders Fields, and pianist Artur Schnabel, who d'Arneiro inexplicably calls "a piece of inflated conceit". In an epilogue, Dent tells how d'Arneiro died just ten years after they married. Johnson never remarried. Right up until his death in 1959 he continued to credit her with his many successes.
Since being quoted in Ruby Mercer's 1976 biography of Johnson, The Tenor of His Time, these letters had lain in the archives of the Edward Johnson Foundation in Guelph until Dent discovered them. She has done a remarkable job of compiling and editing them, though I did find the eccentrically organized index confusing to use. Not only do these letters make compelling reading, but they can now claim their rightful place as a significant chapter in the history of Canadian music.