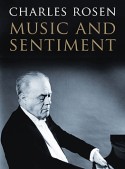 Music and Sentiment
by Charles Rosen
Yale University Press
156 pages, score excerpts; $24.00 US
Many performers write well, and a number of writers on music play an instrument well. But I can't think of a musician as accomplished as pianist Charles Rosen who writes about music as brilliantly as he does.
In Music and Sentiment, Rosen takes an exhilarating look at the ways composers represent feelings, and how what they do can both move us – and delight us – so deeply.
This book started life as a series of lectures. I don't know whether it's Rosen's oratorical skills, his special insights as a virtuoso performer, or simply his way with words, but he manages to conjure up a story-line as absorbing as that of a powerful novel, with the hint of a resolution in the end. Not that he would – or even could – offer a "special code" for relating a composer's score to specific sentiments. "Any theme," he writes, "can be given whatever emotional significance the composer chooses if he knows how to go about it." In one of his many examples, he points out that "Liszt, in his Sonata for piano, can make any one of his motifs sound successively diabolical, amorous, religioso, majestic, transcendent, or what you will."
Rosen is a passionate advocate for modern music. But by the time he reaches the end of the 20th century, he sees various dogmatisms competing against each other. "A representation of sentiment," he observes, "is not equally efficient in all of these rival trends." Among those trends he considers less efficient, he targets in particular neo-tonal music. Because of its "understandable delight in using perfect triads", he finds, "all large-scale richness of expressive tension has been drained away."
Despite his disclaimer at the beginning that "understanding music in the most basic sense simply means enjoying it when you hear it," Rosen makes a persuasive case for learning more about the basic materials of music. The more we understand how music works, the more we appreciate it – and the more moved and delighted we can be by it.