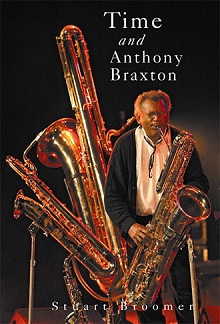 Time and Anthony Braxton
by Stuart Broomer
Mercury Press
240 pages, photos; $19.95
The influential American performer, composer and writer Anthony Braxton is best known for his work in experimental jazz. He's one of the most recorded jazz artists around, and he has received many honours, including a MacArthur genius award, which he used to create his opera Trillium R: Shala Fears For The Poor. "Ultimately, we know more intensely how jazz works as a result of how his music works," writes Toronto writer Stuart Broomer in this thoughtful study of Braxton's music.
"There's far more time inside a Braxton performance," he suggests, "than might be measured by a clock." Braxton's explorations in the many applications of the concept of musical time provide Broomer with a viewpoint on the workings of Braxton's compositions and performances. But this focus doesn't stop Broomer from ranging widely. He even manages to work in a discussion of Braxton's preference for wearing cardigan sweaters.
In his performances on saxophone, clarinet, and piano, Braxton plays the standard jazz repertoire as powerfully as his own compositions. While his mastery of jazz traditions keeps him in the continuum of jazz, his creative imagination takes him way beyond its outer limits.
Broomer reveals Braxton to be both a visionary composer and an imaginative improviser. Braxton is an exciting performer who plays as fast as – often faster than – anyone else around. Broomer describes Braxton's music as "unusual collocations of floating time and abrasive sounds". What concerns Broomer is to show just how important a voice in both jazz and classical music he is, and how he transcends the barriers between composed and non-composed music, working to keep both art forms evolving. Broomer goes a step further to make a case for Braxton as a classical composer as well, whose music should be performed in concert halls alongside composers he admires like Cage, Stockhausen and Xenakis
There are extensive notes, an index, and photos. I do wish there were samples of Braxton's innovative scores here, to complement this fascinating perspective on Braxton's music.