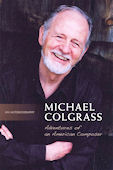 Adventures of an American Composer:
An Autobiography
by Michael Colgrass
edited by Neal and Ulla Colgrass
Meredith Music Publications
231 pages, photos; US $19.95
Toronto-based composer Michael  Colgrass is a natural story-teller - and he has some terrific stories to tell. So the unusual format of this memoir,  a series of vignettes ranging in length from a single page to four pages, works  well here. Without disturbing the narrative flow, he can switch moods, locations, and time frames. And with eighty-nine chapters, he has lots of opportunities  to come up with colourful title like Tormenting My Band Teacher, Romancing a Spy in Bucharest, and Post-Humorous Works.


Colgrass describes his childhood, his education (mostly acquired out of school), his career as a percussionist, and his meetings with remarkable people like Gene Krupa, Louis Prima, Aaron Copland, Dizzy Gillespie, Harry Partch, and Elliott Carter. He pinpoints crucial experiences, showing how they changed his life. It was after hearing Charles Munch conduct the Boston Symphony Orchestra in a program of Brahms, he tells us,  that he realized he was going to be a composer. And it was after getting involved with theatre and the  techniques of Neuro-Linguistic Programming that he decided to give up his career as a percussionist and devote himself full-time to composing .


For me, the best anecdotes deal with Colgrass's experiences performing and writing music. There's his description of  an all-night emergency session to create a score for the Joffrey Ballet. He had to use exactly the same tempo and counts as the slow movement of Ravel's Piano Concerto in G major, in order to make it fit  pre-existing choreography.  Then there's the recording session  for what ironically became a legendary recording of Stravinsky's Rite of Spring. The conductor, Stravinsky himself, was ailing, distracted, and slightly drunk. Colgrass describes how the remarkably skilled musicans in the studio orchestra, "hurtling forward like a Mack truck," pulled him through.


Colgrass's wife Ulla Colgrass, along with their son Neal, did the editing on this book. My own experience with Ulla Colgrass goes back to the 1980's when I wrote for the magazine Ulla founded and edited, Music Magazine.  Her skills as an editor and writer leaves me unsurprised that this delightful memoir reads so well.


In his title, Colgrass calls himself "an American composer". Colgrass has lived in Toronto for the past thirty-six  years, almost half his life-time. The Toronto Symphony is playing one of his best-known pieces, As Quiet As, next season. Yet he says nothing here about why he has stayed in Toronto all these years, and what impact living in Canada has had on him. Why the reticence in such an open-hearted and eloquent memoir?