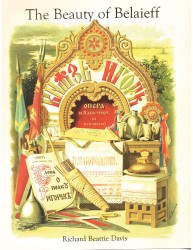 The Beauty of Belaieff
by Richard Beattie Davis
Clef Publishing
384 pages, colour plates; $125.00
available at www.beautyofbelaieff.com
While researching late 19th century Russian music, musicologist Richard Beattie Davis was struck by the elaborate title pages that adorned many of the original scores. He soon recognized how the chromo-lithographed title pages published by Mitofan Petrovich Belaieff stood out for their exquisite artistry. It wasn't just that they were so beautiful. As Davis points out in this definitive study of Belaieff's title pages, they were clearly intended to be more than decorative, since they revealed important information about the music itself. At their best, he writes, they can "illuminate one's comprehension, even intensify one's appreciation" of the music.
Belaieff was a wealthy timber merchant, music lover and amateur violinist living in St. Petersburg. By the time he started publishing music in 1885, he had already been supporting composers like Glazunov and Scriabin, organizing concerts, and hosting his legendary Musical Fridays — get-togethers where a string quartet, usually with Belaieff playing viola, would try out new compositions by composers like Taneyev, Tchaikovsky, Rimsky-Korsakov and Glazunov.
During a period of 16 years Belaieff published some of the most important orchestral, chamber, operatic, vocal and instrumental works of this immensely rich period in Russian music, including 80 full scores of orchestral works alone. Combining the expertise of a scholar with the obsessiveness of a collector, Davis managed to track down most of the original scores Belaieff published. Of the almost 200 title pages that Belaieff is estimated to have produced, over 150 are reproduced here.
Balakirev's influential collection of folksongs, which introduced the Volga Boat Song, bears a surprisingly simple title page. But the intricate title page for Borodin's Prince Igor manages to encapsulate the story of the opera. The unusual title page for Rimsky-Korsakov's Capriccio Espagnol features a dedication to the orchestra which performed at the premiere under the composer's direction. Underneath, the names of all 67 orchestra members are engraved. Davis notes that for the second performance Tchaikovsky played the castanets (so his name is not on the list).
The detailed essays that Davis pairs with each artwork add up to a veritable history of late-19th-century Russian music. But some details do nonetheless get left unexplained because of the format. He mentions that Belaieff published many operas, including seven by Rimsky-Korsakov alone. And according to Davis, Belaieff considered his edition of Prince Igor to be the jewel among his publications. Yet elsewhere Davis writes — with no further explanation — that Belaieff had an aversion to opera.
An epilogue to this beautifully-produced volume points out how Belaieff's publishing venture, which had ceased by the time of his death in 1904, once again thrives in Germany today as M.P. Belaieff Musikverlag, publisher of Blacher and Pärt — though they no longer produce such magnificent title pages.
Pamela Margles is a Toronto-based journalist and frequent contributor to The WholeNote. She can be contacted at bookshelf@thewholenote.com.