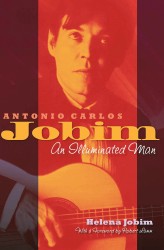 Antonio Carlos Jobim: An Illuminated Man
by Helena Jobim
translated by Dàrio Borim Jr.
Hal Leonard Books
314 pages, photos; $27.99 US
Like John Cage, Brazilian composer Antonio Carlos Jobim was as much an inventor as a composer. But what Jobim invented was a new style, rather than new sounds. By infusing traditional Brazilian samba with jazz rhythms, he came up with what became known as bossa nova.
Jobim's sophisticated melodies, complex rhythms, and unusual harmonies proved irresistible, and his popularity soon reached far outside of Brazil, with songs like Girl from Ipanema, Corcovado (Quiet Nights of Quiet Stars) and Desifinado becoming huge international hits.
Poet and novelist Helena Jobim has written a tender portrait of her older brother, who died 18 years ago. She is able to offer insights into the anguish and self-destructive insecurities that drove him. With her special access to his spiritual life she is equally able to reveal the deep sensitivities of a man who thrived on a tight-knit family atmosphere, and who, even after the break-up of his first marriage and subsequent marriage to a woman younger than his daughter, managed to maintain professional as well as emotional ties with his adult children.
Helena Jobim sets the stage for Jobim's disarmingly elegant and cool music of the 1950s and 60s by introducing the circle of gifted poets, musicians and intellectuals who contributed to his songs, like João Gilberto, whose 1958 recording of Vinícius de Moraes' and Jobim's Chega de Saudade marked the first time bossa nova was put on disc. It was Gilberto's wife at the time, Astrud Gilberto, who created a sensation with her singing on the legendary 1964 recording of the English versions of The Girl From Ipanema and Corcovado, with Stan Getz joining Gilberto and Jobim.
One of the things I enjoyed most about this biography is the way Helena Jobim shows the direct influence of Jobim's physical surroundings on his music, especially in Rio de Janeiro, where he spent most of his life. She describes his overwhelming need to be able to see Corcovado mountain from his window wherever he lived in Rio, and she evokes the atmosphere of the neighbourhood of Ipanema, where the family lived when Helena and Carlos were growing up.
Though Helena Jobim doesn't overplay her own role in Jobim's life story, she does have an essential part in it. So I was confused by the way she sometimes refers to herself as "I," and at other times as "Helena." Her focus is clearly on her brother, which leaves little room for a broader perspective on the development of bossa nova, the volatile political and intellectual currents it reflected, and its eventual decline. Yet Helena Jobim's writing, here sensitively translated by Dàrio Borim Jr., resonates with the power and sweep of a great romantic family saga centred around an altogether extraordinary musician.
Concert Note: The Art of Time Ensemble, with singers Guinga, Monica Whicher and Luanda Jones, presents "Brasil," a programme of Brazilian music featuring songs by Antonio Carlos Jobim, on March 3, 8pm at Koerner Hall.