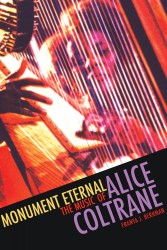 Monument Eternal:
The Music of Alice Coltrane
by Franya J. Berkman
Wesleyan University Press
148 pages, photos, score excerpts;
$27.95 paper
in 1965, McCoy Tyner left John Coltrane's legendary quartet, so Coltrane asked his wife, Alice Coltrane, to take over as pianist. AliceAwas an equally virtuosic, but more meditative player. John Coltrane died two years later, but the grumblings that she had ridden her husband's coat-tails to success never stopped.
In this first study of Alice Coltrane's music, musicologist Franya Berkman leadsAlice Coltrane out from under the shadow of her husband and treats her as a musician in her own right. When she met John Coltrane she was already an accomplished pianist and organist with her own distinctive sound. Berkman documents her early work as a church organist, gospel player, and jazz musician, and her studies with her mentor, Bud Powell, in Paris. She only had five years with John Coltrane before his early death, but she shared fully in his final explorations, not just musical but spiritual as well.
After John Coltrane's death, Alice Coltrane pursued her own path altogether. When she became the spiritual leader of an Ashram in Southern California, she even forged a new identity. She changed her name to Swamini Turiyasangitananda, and concentrated on writing ecstatic hymns influenced by Hindu and other eastern rhythms and harmonies. In bringing attention to the depth and beauty of her later devotional music, Berkman is able to show that even here Alice Coltrane never strayed far from her roots in gospel, blues, be-bop, and the classical music she studied when young.
Berkman's study is considerably enriched by the series of interviews she did with Coltrane before her death in 2007. Berkman paints a compelling portrait of an extraordinary woman. Fortunately Coltrane made many recordings — over twenty-five jazz albums alone — providing plenty of material for Berkman's thoughtful musical analyses.
Alice Coltrane stopped recording and performing in public in 1979. Then, after twenty-five years away from jazz, she gave a concert with her sons Ravi and Oran Coltrane on saxophones. It was a triumphant return, but the recording which resulted, Translinear Light, turned out to be her final album. Berkman has produced a fascinating and important study, showing that it's Coltrane's years away from the jazz scene, rather than any musical shortcomings, that have lead to her being so frequently overlooked. In fact, it's because Berkman offers such a powerful defence of Coltrane's oeuvre, including the liturgical music of her last years, that I would have welcomed more attention to what Translinear Light accomplished, and where it pointed.
Ravi Coltrane performs in Koerner Hall at the Royal Conservatory of Music on Saturday February 4, 2012 at 8.00.