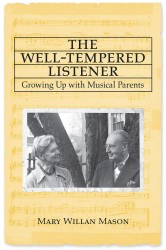 The Well-Tempered Listener:
Growing up with Musical Parents
by Mary Willan Mason
Words Indeed
230 pages, photos; $24.95
Because so much of Healey Willan's work was devoted to the church — as a composer of sacred music, organist, and choir director — he was often regarded as a serious, devout and rather gruff character. But in her delightful memoir, his daughter Mary Willan Mason gives us another side to this complex, brilliant man, describing just how mischievous, witty and irreverently funny he could be. She still recalls a benefit concert at the Toronto (now Royal) Conservatory of Music, where he taught for many years.
"My father walked on stage wearing a frilly yellow frock with my hair ribbon up on top of his head. I couldn't believe my eyes. He sat down at the piano pretending to be a very fidgety little girl doing her recital piece," and performed "The World is Waiting for the Bunrise." It was a dig at his colleague, Ernest Seitz, who, she later learned, had failed to acknowledge Willan's help in writing his popular song The World is Waiting for the Sunrise.
Music was the main topic of conversation between Mason's parents at home. Yet her mother, whose considerable musical accomplishments Mason describes with pride, had given up a promising career as a concert pianist in their native England because Willan would not allow his wife to work. "Although they had played together in public before their marriage," she writes, "Dad showed his Victorian upbringing by not wanting Mother to perform in public after their marriage." Willan's biographer and former student F.R.C. Clarke quotes a family friend who described Gladys Willan as "long suffering." Mason doesn't go that far. But she does remark on their strained relationship, and reveals the hurt caused by a husband and father who, though undoubtedly gentle, respectful and loving, was remote and demanding.
Some of the many pleasures here are provided by Mason's childhood memories of Toronto in the 1920s and 30s, when a water trough for horses sat outside the Royal Ontario Museum, and the Willan home on Inglewood Drive was surrounded by fields. One day she watched as the wooden Sunday school building originally from Christ Church, Deer Park was pulled by horses across the wooden planks of the St. Clair Avenue bridge to Glenrose Avenue, where it became the studio of family friends, sculptors Francis Loring and Florence Wyle.
Mason, a journalist and actor now in her nineties, is an astute observer with a remarkable memory. She is able to offer insights into Willan that no-one else could. Most memorable is the scene the evening after her mother's unexpected death, when Willan sat down at his piano. "He must have played non-stop for at least half an hour. It was music that I had never heard before, and it was transcendentally lovely, ethereal. I asked him what it was, and he said, very quietly, 'I was just thinking of your mother'."
Expert editing, the author's personal photos, and a detailed index help make this a memoir to treasure.