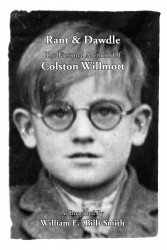 Rant & Dawdle:
The Fictional Memoir of Colston Willmott
As Imagined By William E. (Bill) Smith
Charivari Press
482 pages, photos; $28.95
There's nothing straightforward about Bill Smith's life and career, and his rambling, chaotic memoir is no different. It's not just that it jumps all over, provoking even the author at one point to comment, "You may be wondering where all this is leading, as indeed I am." For reasons Smith never actually explains, he presents this memoir as a work of fiction, telling the life-story of an imaginary character, Colston Willmott.
The life recorded here has been spent in extremes, driven by an obsession with jazz, and fuelled by an irrepressible imagination. But whose life is it? If it actually differs from Smith's — and we suspect it doesn't — we don't find out here.
But as merely the author, and not the subject, of this "fictional memoir," Smith gets to assume the voice of a third-person narrator. The text alternates between his narrative and that of his fictional doppelganger. It's a clever device. Smith can call Willmott a "grumpy, doddering, old sod," and Willmott can indulge his feelings of self-pity about everything from his declining health to the loneliness that possesses him.
As he moves into his seventies, Willmott takes pleasure in his considerable professional achievements, the books he reads so voraciously, the musicians he still listens to on disc, like Art Blakey, Miles Davis, Thelonius Monk, Sonny Rollins, Anthony Braxton and Albert Ayler, his enduring and rewarding relationship with the woman he calls Essjay, and his abiding love for his two daughters, here referred to as Bones and Giggles.
It's been over twenty years since Smith retreated from Toronto to Hornby Island. But he remains an essential presence on the Canadian jazz scene as a musician, photographer, record producer, radio host, editor, film producer and writer. This book provides a neat counterpart to Smith's previous book, Imagine the Sound, which documented his life in jazz with poetry, photos and reminiscences of family, friends, and the extraordinary musicians Smith has played with, photographed, interviewed and recorded. They're all here — in spirit, if not name. And so is his "old mate and business partner," fellow Brit John Norris (here called Welman), the founder of Coda Magazine. Together they produced Coda, started Sackville Records and ran the Jazz and Blues Record Centre. Smith was the avant-gardist of the team; Norris, who died in 2010, the traditionalist.
This is such a hilarious, poignant, and thoroughly captivating tale that typos, repetitions and misspellings seem not to matter. The assortment of fonts used may be confusing, and it's frustrating not to have the photos (many by Smith himself) identified. But better to preserve the rough edges than risk toning down and smoothing out the singularly authentic voice so brilliantly captured here.