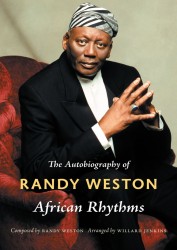 African Rhythms: The Autobiography of Randy Weston
Composed by Randy Weston and arranged by Willard Jenkins
Duke University Press
352 pages, photos; $32.95 US
• "IF YOU WERE to ask who is Randy Weston, it would be like making a stew. You throw in some Ellington, some Basie, some Monk, some Tatum, and some Nat Cole; throw in Africa, throw in some Coleman Hawkins, Dizzy Gillespie and Chano Pozo. You put all of those ingredients in the pot, you stir it up, and you have Randy Weston." Add this idiosyncratic autobiography to the mix and you have an even more vivid picture of who Randy Weston is – not just his influences, but his passions, experiences, and justifiable sense of having accomplished something worthwhile. On each page his personality comes through directly, especially since his "arranger" Willard Jenkins has taken care to preserve the rhythm and flow of Weston's voice as he told Jenkins his story during the lengthy series of interviews they did for this book.
Weston is now eighty-five years old. Apparently he has always had the singular vision that suffuses his compositions like Hi Fly and Little Niles as well as his playing. That, he explains, is why he was never an enthusiastic sideman.
Weston discusses the development of his technique as a pianist, recalling experiences with great musicians like Charlie Parker, Ellington, Basie and especially his mentor, Monk. But mostly he wants to show the influence of African traditional music not just on his own music, but on the very roots of jazz. This approach may be common now, but back when he first started looking to Africa rather than New Orleans as the birthplace of jazz, it was controversial. In 1967 he went as far as to move to Morocco, where he lived for a number of years, immersing himself in the music of traditional people like the Gnawa in Tangier. "The African concept of music," he writes, "is much deeper than the western concept and it's based upon very powerful, spiritual values and supernatural forces, and pure magic."
Inevitably, the meanderings that occur naturally in conversations make for some repetitions or fragments. But the voice that emerges here sounds convincingly like Randy Weston should – direct, passionate and utterly compelling.
Randy Weston is playing a solo concert at the Glenn Gould Studio on Sunday, June 26 at 6:00pm as part of the TD Toronto Jazz Festival.