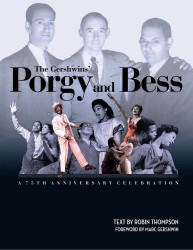 The Gershwins' Porgy and Bess:
A 75th Anniversary Celebration
by Marc Thompson;
forward by Marc Gershwin
Amadeus Press
200 pages, photos; $29.99 US
• AFTER THE FIRST full rehearsal of Porgy and Bess for the premiere in 1935, George Gershwin commented, "I think the music is so marvellous – I really don't believe I wrote it!" As Robin Thompson shows in this history of the opera, Gershwin was hardly alone in his enthusiasm for what has come to be regarded as the great American opera. Even though opening night led to misunderstandings over whether it promoted racial stereotyping, and confusion over whether it was in fact an opera, audiences cheered – and it had a remarkable run of 124 performances.
The librettist Dubose Heyward was an aristocratic white Southerner whose great–great-grandfather had signed the Declaration of Independence, and the Gershwin brothers, composer George and lyricist Ira, were Jewish New Yorkers. Yet they had carefully based Porgy and Bess on the authentic dialects and songs of the descendants of African slaves who lived in Heywood's hometown, Charleston, South Carolina. They insisted that only African-Americans could play the roles on stage, and refused to let Al Jolson play Porgy in blackface.
Their remarkably harmonious collaboration resulted in something entirely new – an operatic synthesis of European classical music and American jazz and blues. Thompson quotes Gershwin saying that that he hopes Porgy and Bess will combine the drama and romance of Carmen and the beauty of Die Meistersinger. It's a great story, and although Thompson uncovers nothing new, he tells it with style. But the most interesting aspect of his book is the way he describes the performances of Porgy and Bess throughout the years. With his own perspective as a stage director, he analyzes the performers, director and designers of the various stagings with uncommon insight.
This book has been beautifully produced (apart from the spotty index), and illustrated throughout with a wonderful collection of photos of productions and casts, letters between Heyward and Gershwin, and paintings by the multi-talented brothers themselves, including some startlingly revealing self-portraits.
Lorin Maazel, who in 1975 conducted the first performance of the complete version of Porgy and Bess since the premiere, will lead his Castleton Festival Orchestra and soloists in selections from the opera at the BlackCreek Festival on Friday, July 22 at 8.00 pm.